GBP/USD's Recovery Hinges On Top-Tier UK Data, Further Fed Speculation
Brits are back to the pubs after 97 dry days, and this great British reopening has been one of cable's boosters, alongside inflation-related dollar weakness. Apart from covid news, GBP/USD is set to rock in response to a series of top-tier UK data points.
This week in GBP/USD: Back to the pub and Powell's taper talk
A hangover – that is perhaps the worst side effect of the return to the pubs, part of the UK's reopening. Anecdotal evidence that Brits are back to stores has supported sterling. Fortunately, it is accompanied by an ongoing decrease in COVID-19 cases, at least for now.
In the US, infections are edging higher, albeit at a moderate pace. At the time of writing, nearly half of Britain's population received at least one vaccine shot, while America's rate is below 40%.
Covid infections in the US, the EU, and the UK
(Click on image to enlarge)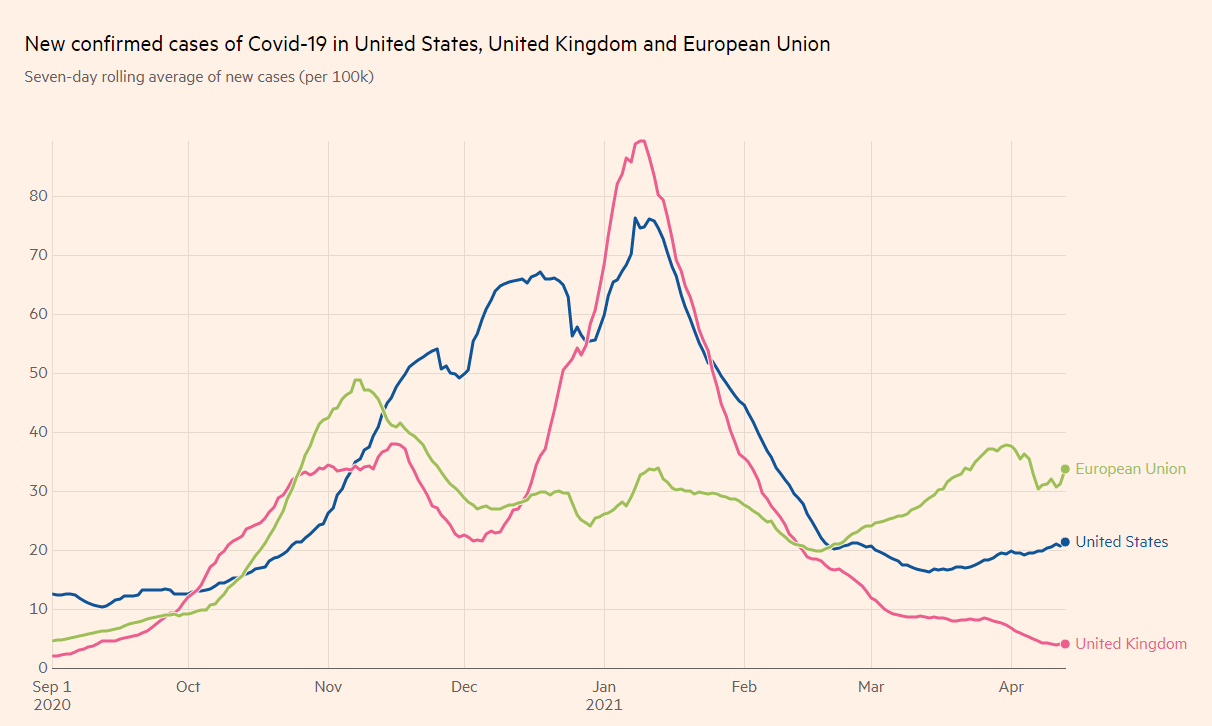 Source: FT
The US immunization drive suffered a minor setback after authorities halted the administration of Johnson & Johnson's single-shot inoculation, owing to rare cases of blood clots. Even if the delay extends beyond several days, the US had more than enough doses to vaccinate its entire population before the announcement. Moreover, Pfizer has ramped up its dose deliveries.
The main dollar drivers came from critical data points. US inflation bumped up in March, but less than markets had anticipated following the robust producer prices report. The Core Consumer Price Index hit an annual rate of 1.6%, similar to levels last seen in the autumn and below the pre-pandemic range.
While the global chip shortage and anecdotal evidence of supply strains are mounting, prices are far from being pressured to the upside – at least not now.
However, the next bulk of US economic figures already boosted the greenback. Retail Sales soared by 9.8% in March, smashing estimates as Americans armed with stimulus checks went on a shopping spree. Yet it is not only that sugar rush that contributed to an upswing in the economy, but also a sharp drop in those out of work – weekly Unemployment Claims fell to 576,000, the lowest pandemic-era read.
Disclaimer: Foreign exchange (Forex) trading carries a high level of risk and may not be suitable for all investors. The risk grows as the leverage is higher. Investment objectives, risk ...
more