Futures, Global Markets Soar In Biggest 4-Day Rally Since November 2020
US equity futures and global stocks from Europe to Asia were headed for the biggest four-day rally since November 2020, supercharged by blockbuster earnings AMD and Google, which hit an all time high overnight after rising 9%. As of 745am, Emini S&P futures traded at session highs, up 40 points or 0.9%.
(Click on image to enlarge)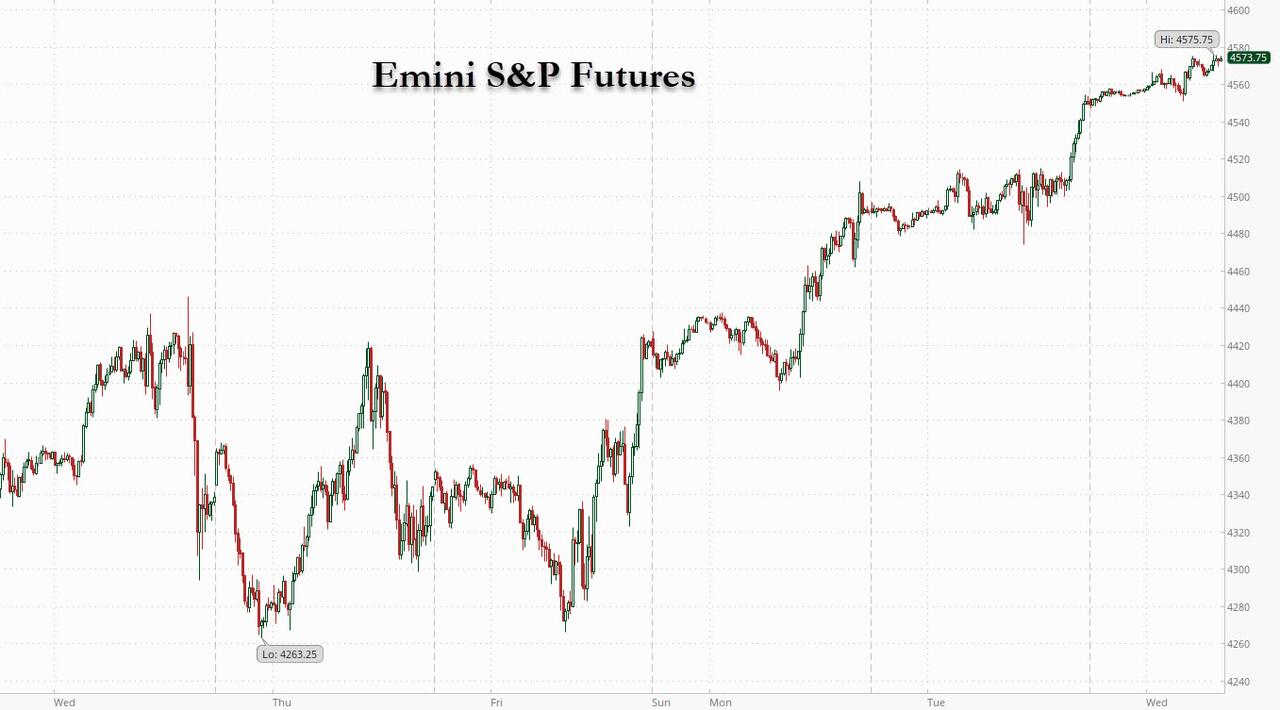 While Nasdaq futures were up roughly double, some 252 point to 15,247 or 1.7% higher.
(Click on image to enlarge)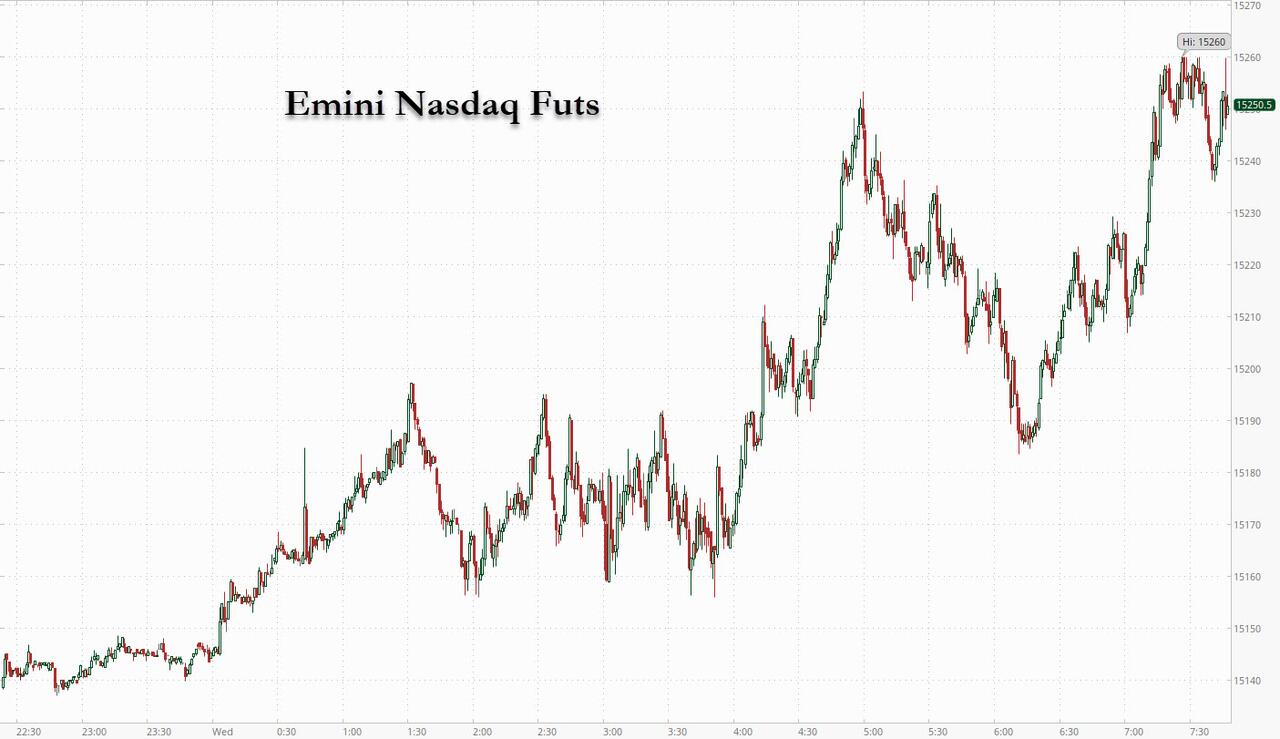 And the Dow was roughly flat. Oil fluctuated around a seven-year high as OPEC+ agreed on just a 400Kb/d increase in output, as expected to discuss increased supplies. Treasury yields, the dollar and Bitcoin were marginally lower.
MSCI's index of world stocks added 0.4% on Wednesday, taking its four-day increase to 4.6%. While Alphabet and AMD exploded higher on stellar earnings, with GOOGL reversing all the losses from the recent tech tumble and trading at all time highs, PayPal was a rare disappointment and plunged after missing analysts' forecasts. Here are some of the biggest U.S. movers today:
Advanced Micro Devices (AMD) shares are up 2% after the chipmaker reported fourth-quarter results that beat expectations and gave an outlook that is seen as strong.
Arbutus Biopharma (ABUS) shares gain 4% after Jefferies upgrades to buy from hold, citing "lots of long-term potential" from the company's Hepatitis B portfolio.
Brinker (EAT) shares jump 5% after the Chili's parent reported adjusted earnings per share for the second quarter that beat the highest analyst estimate.
Capri Holdings (CPRI) climbs as much as 2.3% after the accessories company boosted its forecasts for the full year, and topped average analyst estimates.
Dynatrace (DT) shares are down 3% after the infrastructure software company reported its third- quarter results and gave a forecast.
Electronic Arts (EA) announced results with adjusted revenue results for its third quarter that missed analysts' expectations, and a forecast for the metric in the fourth quarter also missed consensus. Analysts pointed to the video-game maker's Battlefield 2042 disappointment, and shares are down by 2%.
General Motors (GM) shares are up 2.5% after the automaker reported adjusted fourth- quarter earnings that beat expectations and gave an outlook.
MicroStrategy (MSTR) shares are down 1% after the software maker reported fourth-quarter results. Analysts wrote that the results show improved software growth.
PayPal (PYPL) share sink 2% after the company said spending growth continued to slow in the fourth quarter, prompting a wave of downgrades and price target cuts from analysts including Raymond James, BTIG and Oddo.
Shares of companies that derive revenue from online advertising are climbing in U.S. premarket trading following stronger-than-expected results from Google-parent Alphabet.
Software companies ironSource and Matterport were both initiated with buy ratings at Deutsche Bank, with analyst Bhavin Shah noting their growth potential.
Under Armour (UAA) upgraded to overweight at Morgan Stanley on attractive setup for 2022 relative to peers and after pullback in the apparel maker's shares since November's earnings report. Stock up 1%.
"Robust fundamentals should support a resumption of the equity rally, " said Mark Haefele, chief investment officer of UBS Wealth Management. Haefele expects markets to remain volatile as investors navigate the shift from a high-growth, high-inflation environment to one of more moderate growth and inflation. Meanwhile, none of six Fed officials speaking so far this week have backed the idea of a half-point rate increase in March, a sharp contrast with Street expectations of seven rate hikes in 2022.
Investors have been swinging between nervousness over Federal Reserve tightening and confidence in the economic recovery as they navigate a volatile start to the year. A robust earnings outlook is helping to ease the uncertainty, at least for the moment. However, a wall of worries including stubborn inflation, regulatory risks in China and pandemic flare-ups still lingers in the background.
"Fed tightening is still the path forward," said Dennis DeBusschere, founder of 22V Research. "But a short term rebound in equities will continue -- led by growth and cyclicals -- as investors focus on a narrative of 'peak tightening' ahead of what is likely to be a weak payroll report."
Traders also continued to monitor tensions between the U.S. and Russia over Ukraine. Western officials say Russia has massed more than 100,000 troops near the Ukraine border. Diplomatic talks have yet to make a breakthrough.
In Europe, the Stoxx Europe 600 Index gained, led by travel and leisure, financials and technology stocks. FTSE MIB and FTSE 100 outperformed at the margin. Novo Nordisk A/S contributed the most to gains in the European benchmark as traders welcomed its 2022 guidance and assurances on the supply of an obesity drug. Vodafone Group Plc. advanced after sales growth beat expectations. Data showing euro-area inflation accelerated to a record sent Germany's 10-year yield to as high as 0.046%, a level last seen in May 2019.
The moves echoed in the U.S. premarket session where Alphabet and AMD led stocks rising on the strength of earnings. Of the 200 S&P 500 companies that have reported results so far, 80% have met or beaten estimates. Profits are coming in 5.3% above levels predicted.
Earlier in the session, Asian stocks advanced as investors shifted their focus to positive earnings from consumer and technology firms amid dissipating concerns over U.S. monetary-policy tightening. The MSCI Asia Pacific Index jumped as much as 1% as consumer-discretionary and information-technology sectors rose. Japan's Sony Group and Keyence were among the single largest contributors to the day's advance. Sony raised its fiscal-year forecast on Wednesday, while Keyence posted record 3Q operating profit Tuesday. Futures on the Nasdaq 100 rose after upbeat earnings from Google-parent Alphabet, which lifted sentiment for its Asian peers. The internet giant reported 4Q sales and profit that topped analysts' projections, showing the resilience of its advertising business in the face of major economic upheaval as the pandemic persists. "Buying continues to return to growth stocks," said Naoki Fujiwara, chief fund manager at Shinkin Asset Management. Following the recent selloff and solid results from heavyweights like Apple and Google, "people seem to realize these stocks will be alright after all, with their valuations now having been adjusted downwards." The Asian stock benchmark is extending its four-day gain to about 3.2%, and poised for its best such performance since August. The rally was preceded by a stock rout that sent the measure down by more than 4% in January on concern over steeper and faster-than-expected rate hikes by the U.S. Federal Reserve. Many markets in Asiaremain shut for the Lunar New Year holidays including China, Hong Kong, South Korea, Singapore and Taiwan.
Japanese equities rose, with the Topix capping its best four-day gain since May 2021, amid an extended global equity rally. Electronics and auto makers were the biggest boosts to the Topix, which climbed 2.1%, pushing its four-day advance to 5.1%. Tokyo Electron and Shin-Etsu Chemical were the largest contributors to a 1.7% rise in the Nikkei 225 on Wednesday. "Earnings have been good," said Naoki Fujiwara, chief fund manager at Shinkin Asset Management. "Growth stocks were subject to selloffs due to worry over faster-than-expected U.S. rate hikes, but following Apple's earnings release people seem to realize these stocks will be alright after all."
Indian stocks rose, adding to gains in the previous two sessions, on optimism among investors that the government's budget proposal of higher capital spending will drive growth in Asia's third-largest economy. Shares of lenders helped the benchmark S&P BSE Sensex rise 1.2% to 59,558.33 in Mumbai -- its highest level in two weeks and its biggest three-day gain in nearly a year. The NSE Nifty 50 Index also advanced by a similar magnitude. HDFC Bank Ltd. rose 2.3% and was the biggest boost for the Sensex. All 19 sectoral gauges compiled by BSE Ltd. were in the green, headed by a measure of bank stocks. Finance Minister Nirmala Sitharaman proposed boosting capital spending by 35% to 7.5 trillion rupees ($100 billion) in the financial year that starts in April. The government also pushed for infrastructure-led growth with spending centered around sectors like roads, rail, logistics and energy. "Focus on higher infrastructure spend has a strong multiplier effect on business activities and job creation," Mitul Shah, head of research at Reliance Securities Ltd., said in a note. "Preference to higher growth over fiscal discipline was cheered by the market participants."
Australian stocks advanced as materials, banks gained. The S&P/ASX 200 index rose 1.2% to close at 7,087.70, supported by miners and banks. All sectors gained, except for utilities and tech. Champion Iron was the top performer, jumping to its highest since early August. Block was among the worst performers, falling with other payments shares after PayPal's earnings results. In New Zealand, the S&P/NZX 50 index rose 1.9% to 12,289.64.
Elsewhere, Australia's central bank governor said the monetary authority will do what is necessary to maintain low and stable inflation, indicating that policy makers will act should prices accelerate too sharply.
In FX, the Bloomberg Dollar Spot Index fell a third consecutive day and the greenback was steady to weaker against its Group-of-10 peers as they continued to rebound after last week's sell-off. The yen and Scandinavian currencies led G-10 gains while the euro also climbed, boosted by the higher-than forecast euro-zone inflation data. The pound was also higher against the dollar. Front-end volatility in the major currencies turned modestly bid Wednesday ahead of meetings of the ECB and the BOE as well as the U.S. payrolls report. Australia's bonds underperformed as Reserve Bank Governor Philip Lowe's comments did little to ease market expectations for a rate hike later this year. New Zealand bonds gained despite a record low unemployment rate.
In rates, Treasuries were steady, with front-end marginally underperforming as German 2-year yields extend climb after hot preliminary euro-zone inflation print for January. U.S. stock futures trade above Tuesday's high. Treasuries slightly cheaper across front-end, richer in long- end, all within 1bp of Tuesday's close; 10-year ~1.785% outperforms German counterpart by ~0.5bp. Focal points for U.S. session include ADP employment and quarterly refunding announcement. In front-end 2-year German yields cheapen by 1.2bp, while 5s30s curve flattens sharply following block trades, reaching lowest level since March 2020.
Treasury quarterly refunding announcement at 8:30am ET reveals size of next week's 3-, 10- and 30-year new issues and expected sizes for all coupon auctions (including TIPS) in February, March and April. Half of the 24 primary dealers expect nominal coupon auction sizes to be cut by the same amounts as last time; the other half expect smaller cuts to at least one tenor in anticipation that Fed balance-sheet reduction will necessitate larger auction sizes in the future.
In commodities, crude futures are choppy ahead of today's OPEC+ gathering. WTI holds above $88, Brent trades either side of $89. LME copper rises 1.2%, outperforming in the base metals complex. Spot gold climbs back above $1,800/oz
To the day ahead now, and data releases include the Euro Area flash CPI reading for January, whilst in the US there's also the ADP's report of private payrolls for January. From central banks, we'll hear from Bank of Canada Governor Macklem. Finally, earnings releases include Alphabet, Meta, AbbVie, Thermo Fisher Scientific, Qualcomm, T-Mobile US and Spotify
Market Snapshot
S&P 500 futures up 0.6% to 4,563.50
STOXX Europe 600 up 0.6% to 477.63
MXAP up 1.0% to 187.36
MXAPJ up 0.4% to 609.67
Nikkei up 1.7% to 27,533.60
Topix up 2.1% to 1,936.56
Hang Seng Index up 1.1% to 23,802.26
Shanghai Composite down 1.0% to 3,361.44
Sensex up 1.1% to 59,517.82
Australia S&P/ASX 200 up 1.2% to 7,087.69
Kospi up 1.9% to 2,663.34
Brent Futures up 0.5% to $89.64/bbl
Gold spot little changed at $1,800.33
U.S. Dollar Index down 0.20% to 96.20
German 10Y yield little changed at 0.02%
Euro little changed at $1.1281
Top Overnight News from Bloomberg
In contrast to tightening efforts by the Fed and BOE that have prompted investors to bet on such moves in the euro zone, ECB Governing Council members are focusing on potential "normalizing" as they ponder an inflation outlook close to their 2% goal
U.K. currency and bond markets are testing levels last breached before the Brexit referendum as the Bank of England looks poised to leave the ECB in the dust by tightening monetary policy again this week
U.K. retailers raised their prices at the fastest pace in more than nine years in January, passing on soaring costs to consumers already grappling with a cost-of- living squeeze, a survey by the British Retail Consortium showed
Vladimir Putin repeated his claim that it's the U.S. and NATO stoking security tensions over Ukraine, while suggesting further talks could help defuse them
Boris Johnson's latest effort to get the British public's attention back onto his policy plans was drowned out on Wednesday by more reports of lockdown parties at 10 Downing Street
A stronger zloty would amplify the impact of Polish interest-rate increases, central bank Governor Adam Glapinski said, pledging to do whatever it takes to drive down spiraling inflation
If women invested at the same rate as men, the global fund management industry could have had more than $3 trillion in additional cash to allocate last year, according to a new study
Citigroup Inc. offered a glimpse of the conditions facing India's debt when it withdrew a buy call within a day of recommending purchases. Yields surged the most in almost two years Tuesday after Finance Minister Nirmala Sitharaman unveiled a bigger-than-anticipated borrowing plan without signaling who could buy the paper
Ten million dollars, $15 million, $25 million, more: Big money is back on Wall Street. Not since the late 2000s, when lavish bonuses rained down before and after federal bailouts, have pay packages at U.S. investment banks swelled as much as they have right now
A more detailed look at global markets courtesy of Newsquawk
Asian stocks were positive as the region took impetus from Wall St's best 3-day performance since 2020. ASX 200 (+1.2%) was led higher by outperformance in the commodity related sectors and after RBA Governor Lowe stuck to his dovish message that the board is prepared to be patient and the end of QE does not imply an imminent hike. Nikkei 225 (+1.7%) climbed above 27,500 amid a predominantly weaker currency and as Japan continues to hold off on considering a state of emergency.
Top Asian News
HSBC Raises 2022 Bund Yield Call to -0.30%; Still -0.50% in 2023
Morgan Stanley Tie Up Helps MUFG Lead Profit at Japan Banks
Asia Stocks Head for Best Four-Day Gain Since August on Earnings
Novo Tries to Catch Up With Booming Demand for Obesity Drug
European bourses are firmer benefitting from after-market US updates amid a number of European earnings releases including Novartis (-2.5%) weighing on the SMI/Healthcare names. Sectors are predominantly in the green with Tech outperforming post-Google while Energy names pull-back slightly from yesterday's gains. US futures are bolstered across the board as the NQ outperforms given Google's +10.5% gains in the premarket and its heavyweight status in the index; note, Meta and Amazon earnings are due Wednesday and Thursday respectively. Alphabet Inc (GOOGL) - Q4 earnings beat, approved 20-for-1 stock split via special dividend. EPS 30.69 (exp. 27.32), revenue 75.33bln (exp. 72.13bln). Google Services revenue USD 69.40bln (exp. 66.64bln), advertising revenue USD 61.24bln (exp. 58.2bln, vs 46.2bln Y/Y), Google Cloud revenue USD 5.54bln (exp. 5.42 bln), Google Cloud operating loss USD 890mln (exp. loss 820.9mln) (Newsquawk). CFO said slower YouTube ad sales reflected lapping strong brand sales a year ago, FX expected to be a headwind this year, expects a meaningful increase in capex this year.
Top European News
Julius Baer Falls; Results May Spur Earnings Downgrades for Citi
Europe Gas Edges Higher as Russia Keeps Market Guessing on Flows
HSBC Raises 2022 Bund Yield Call to -0.30%; Still -0.50% in 2023
Kepler Sees Carrefour Acquired in 2022, 'French Solution' Likely
In FX:
Greenback continues to soften on repositioning and a paring of 50bp Fed liftoff bets.
Euro pops as Eurozone inflation exceeds expectations by a significant margin in advance of the ECB.
Kiwi capped by mostly sub-consensus NZ labour and wage metrics, bar a record low jobless rate.
Sterling underpinned ahead of anticipated BoE rate hike and as UK shop prices rise at the fastest pace in a decade
In commodities:
Crude benchmarks are steady near the unchanged mark, but within reach of recent peaks, in a continuation of the contained APAC trade pre-OPEC+.
Newsflow has been minimal but focused on Geopols amid marginally more positive commentary out of the Kremlin.
Spot gold/silver remain within yesterday's parameters and as such the cluster of DMAs for the yellow metal around USD 1800/oz are still in-play.
US Private Inventory Data (bbls): Crude -1.6mln (exp. +1.5mln), Cushing -1.0mln, Gasoline +5.8mln (exp. +1. 6mln), Distillates -2.5mln (exp. -1.5mln)
Texas Governor Abbott said that no one can guarantee there won't be power outages amid winter storms, according to Axios.
US Event Calendar
7am: Jan. MBA Mortgage Applications, prior -7.1%
8:15am: Jan. ADP Employment Change, est. 184,000, prior 807,000
DB's Jim Reid concludes the overnight wrap
I was back in my home office yesterday after knee surgery and was hooked up to a machine that pumps ice around my knee and compresses it every couple of minutes. Given I also have a bad back, I've ordered an electric massage heat pad that arrives today. So at some point today I'm going to have the mains help pump ice around my knee and also heat in my back. The ESG rating of my body is going to plummet and the bid-offer of my high/low skin temperatures is going to be wild.
The wild markets of the last week were put to one side yesterday even after stronger than expected US data releases led to renewed expectations that the Fed would not be deterred from hiking rates in order to clamp down on inflation. In turn, sovereign bonds gave up their gains from the European morning and US equities got the month off to a decent start after yet another late rally. Alphabet's strong earnings after the bell cemented this. Meanwhile, with commodities continuing their relentless march higher, there was no sign of relief from inflationary pressures there either. The Euro Area flash CPI comes out this morning and will make for interesting reading ahead of the ECB meeting tomorrow. The strong regional prints from earlier this week mean that this will not fall anywhere near as much as hoped in January.
Reviewing the last 24 hours now and the S&P 500 spent most of the day little changed before making another late-day rally to finish +0.69% higher, while the Vix index of volatility continued to fall, dropping another -2.86pts. Within the S&P energy was the standout sector yet again, increasing +3.54%, driven by a very strong earnings release from ExxonMobil, which had its biggest profits in nearly a decade. The S&P 500 energy sector is now +23.18% year-to-date. The next closest sector is financials at +1.35%, while every other sector is in the red along with the broader index.
Back to yesterday, and other cyclical sectors performed well, while defensive sectors lagged. Outside of energy, four other S&P 500 sectors wound up advancing more than 1%: materials (+1.67%), financials (+1.43%), industrials (+1.42%), and communications (+1.28%). Mega-cap and technology stocks also performed well, with the FANG+ Index gaining +1.13% and the NASDAQ climbing +0.75%. After a slow start to the year, mega-cap shares have done well the last three days, with FANG+ gaining a massive +10.24%. Small-caps also rode the wave higher, with the Russell 2000 outperforming other major US indices, climbing +1.10%. European equities performed even better, although much of that reflected a catch-up to the late rally in the previous US session, with the STOXX 600 up +1.28%.
After the close Alphabet was the latest mega-cap to report earnings, with both earnings and revenue estimates beating consensus expectations. They also announced a 20-for-1 stock split. All this drove shares +8.56% higher in after-hours trading. We're now about halfway through the Q4 equity earnings season, and Binky and team have wrapped up where we stand so far (link here). Earnings beats versus consensus are running above average, as the team expected, but well below the beats from earlier in the recovery. Sales are also beating consensus expectations strongly, though margin beats are drifting back in line with historical averages.
Moving onto the data. One of the more interesting releases yesterday came from the JOLTS job openings numbers for December, which has been very closely watched over recent months as investors seek to understand just how tight the US labour market is. The latest numbers showed that it remains very tight indeed, with the total number of job openings unexpectedly rising in December to 10.925m (vs. 10.3m expected), whilst the quits rate (the number voluntarily quitting their jobs) came in at 2.9%, which is just shy of the record 3.0% reading in September and November but still very elevated historically. Other measures similarly pointed towards a tight labour market, including the ratio of job openings per unemployed person, which hit another record high in December.
Alongside that we also had the ISM manufacturing reading for January, and although the headline number was basically in line with expectations at 57.6 (vs. 57.5 expected), the prices paid measure came in some way above consensus at 76.1 (vs. 67.0 expected), thus bringing an end to the last two months of declines. To be fair, that reading is still below the 80+ numbers we had for much of 2021, but the single month jump of +7.9pts on December's 68.2 reading is actually the biggest monthly gain for the measure in over a year.
With price pressures showing no sign of abating, sovereign bonds sold off once again and yields on 10yr Treasuries were up +1.4bps to 1.79% having been 1.74% at the day's lows. Nevertheless, for the first time in a week we actually saw the 2s10s curve steepen yesterday, with a +2.8bps rise to 62.4bps. Bear in mind for each of the last 3 weeks, the 2s10s curve has flattened on 4 days and only steepened on 1, so the direction of travel has been pretty much one way lately. Meanwhile in Europe, sovereign bond yields continued to set fresh milestones ahead of tomorrow's ECB and Bank of England policy decisions. Yields on 10yr bunds had moved back into negative territory in the European morning, but the afternoon selloff saw them close up another +2.6ps at 0.03%, marking their highest closing level since April 2019. At the same time, yields on 10yr OATs (+2.6bps) also closed at their highest level since March 2019.
While we're on the topic of inflationary pressures, it's worth noting that commodity prices more broadly are showing no signs of abating and are instead continuing to trend higher. In fact, Bloomberg's commodity spot index was up another +0.66% yesterday to a fresh record, and leaves the index up +9.59% on a YTD basis already. Obviously a decent chunk of that is an energy story, but other commodities and agricultural products in particular have seen sizeable gains in recent days, with soybean futures (+2.55%) climbing to their highest level since June yesterday. As we've previously been discussing, it'll be much more difficult to get the inflation numbers to move lower if a number of important commodities continue to show sizeable year-on-year gains.
Overnight in Asia, several equity markets remain closed for the Lunar New Year holiday, including China and South Korea. However, the Nikkei (+1.65%) is trading higher this morning, extending its gains into a 4th consecutive session. Elsewhere, Australia's S&P/ASX 200 (+1.24%) is trading in the green after the RBA Governor Philip Lowe watered down speculation of imminent rate hike in his speech today. Lowe reiterated that the end of money printing does not mean the central bank will swiftly move on interest rates while acknowledging that inflation has risen faster than the RBA had expected. Looking ahead, US stock futures are trading higher with contracts on the Nasdaq 100 (+1.07%) higher following strong earnings number from Alphabet, whilst S&P 500 futures are up +0.52%.
In terms of yesterday's other data, German unemployment fell by a much bigger than expected -48k in January (vs. -6k expected), which is the biggest decline since August. That pushed the unemployment rate down to a post-pandemic low of 5.1% (vs. 5.2% expected). Separately, the Euro Area unemployment rate in December fell to 7.0% (vs. 7.1% expected), which is the lowest since the formation of the single currency, but French inflation only subsided to 3.3% in January on the EU-harmonised measure (vs. 2.9% expected), which follows the upside surprise in Germany the previous day. Otherwise, the final manufacturing PMIs for January were mixed relative to the flash readings we already had. The Euro Area number came in at 58.7 (vs. flash 59.0), but UK's was revised up to 57.3 (vs. flash 56.9).
To the day ahead now, and data releases include the Euro Area flash CPI reading for January, whilst in the US there's also the ADP's report of private payrolls for January. From central banks, we'll hear from Bank of Canada Governor Macklem. Finally, earnings releases include Alphabet, Meta, AbbVie, Thermo Fisher Scientific, Qualcomm, T-Mobile US and Spotify
Disclaimer: Copyright ©2009-2022 ZeroHedge.com/ABC Media, LTD; All Rights Reserved. Zero Hedge is intended for Mature Audiences. Familiarize yourself with our legal and use policies ...
more