Fossil Fuel Stocks Are On Fire This Year
Alternative energy may be the future, but the past isn't dead yet.
Companies focused on developing and selling fossil fuels are having another moment in the sun. Whether this turns out to be the last hurrah is unknown, but for the moment old-school energy shares aren't quietly fading into history.
A broad measure of energy stocks via a set of ETFs (see table below) shows a wide range of results in 2021 through yesterday's close (Oct. 11), with a strong upside bias for the likes of oil and gas firms.
The top performer on our list for 2021 to date: VanEck Vectors Unconventional Oil & Gas ETF (FRAK), which has soared more than 100% this year. (Note that this year's roaring success for the fund will be cut short in a few days: VanEck has announced that it plans to liquidate the ETF after the close of trading on Oct. 15. This delisting event is a rare bird since pulling the plug on funds tend to focus on losers.)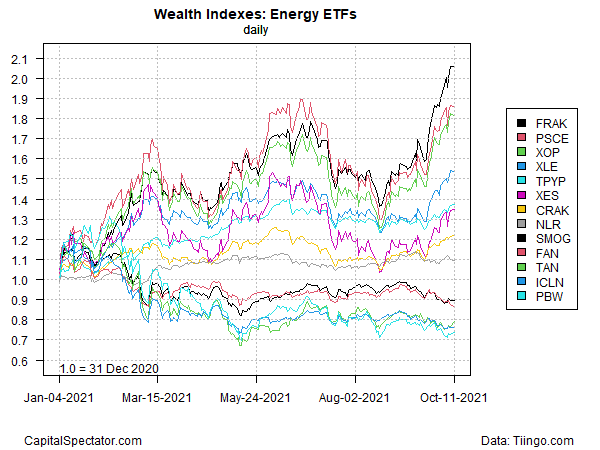 The second-best performer this year: small-cap energy stocks (PSCE), followed by third-place performer SPDR S&P Oil & Gas Exploration & Production (XOP).
It's telling that our Big Oil ETF benchmark — Energy Select Sector SPDR Fund (XLE) – is the fourth-best energy performer this year via a 53.7% total return.
Fueling the bullish aura for oil and gas stocks is an escalating supply crunch. With winter approaching, which brings higher demand, analysts are still penciling in higher estimates for energy prices.
The US benchmark for crude oil – West Texas Intermediate – topped $80 a barrel yesterday for the first time since 2014. "There is definitely this fear of the supply side going to dry up," says Fiona Cincotta, senior financial markets analyst at City Index.
No one should discount the opportunities in green energy and other alternatives to fossil fuels. But this formerly high-flying slice of the energy business is taking a backseat to Big Oil and its minions, at least for now.
The best green-energy performer on our list at the moment: VanEck Vectors Low Carbon Energy ETF (SMOG), which has shed more than 10% year to date. The worst performer: Invesco WilderHill Clean Energy ETF (PBW), which is down 26.2% in 2021.
Renewable energy companies aren't going away, of course, and are almost certainly on track to be the long-term winners relative to the fossil-fuel businesses. That raises the question: Does the weakness in green energy stocks represent a buying opportunity? Probably, with the caveat that you shouldn't expect a quick turnaround in this corner.
But there are some big-picture winds blowing in favor of renewable energy, including government policies. The Biden administration, for instance, is pushing for 80% renewable energy use by the end of this decade and shifting the economy so that all of US electricity output comes from renewables by 2035.
Overly ambitious? Possibly, but the writing's on the wall and the push toward these goals will roll on. Meanwhile, if renewable energy shares fall further, there's a reasonable case for assuming that the long-term expected return in this corner rises.