EUR/USD Weekly Forecast: ECB Defends Hikes Despite Instability
The EUR/USD weekly forecast is bullish as the ECB is determined to continue its battle against inflation despite the financial instability.
Ups And Downs Of EUR/USD
EUR/USD had a volatile week fueled by macroeconomic events and economic data. On Friday, European Union officials and the ECB presented a unified front on the banking industry to ease market anxieties. They claimed that EU lenders are properly capitalized and liquid due to the lessons learned from the 2008 Lehman Brothers collapse.
Lagarde defended the ECB's efforts to raise interest rates during financial instability to combat high inflation. She claimed there was no trade-off between fighting inflation and keeping the banking sector stable.
On Wednesday, the Fed increased interest rates for the ninth consecutive time, this time by a quarter of a percentage point.
Investors believe it was the last rate increase, and Fed Chair Jerome Powell mentioned there was discussion about pausing now.
On the data front, jobless claims in the US fell in another sign of labor market tightness. The housing sector had fairly upbeat data while core durable goods orders fell.
Next Week's Key Events For EUR/USD
(Click on image to enlarge)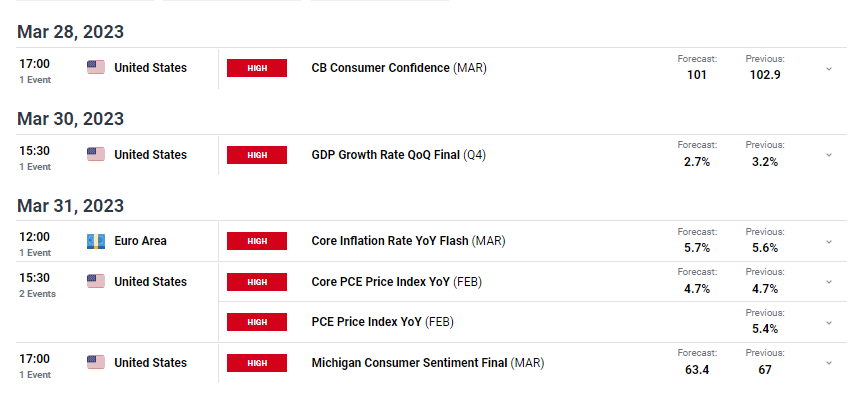 Investors will pay more attention to inflation data from the US and the Eurozone in the coming week. These reports influence the rating outlook for the ECB and the Fed. The focus will also be on the US GDP data that will give a clear picture of the economy in Q4.
EUR/USD Weekly Technical Forecast: Rejection At The 1.0900-1.1004 Resistance Zone
(Click on image to enlarge)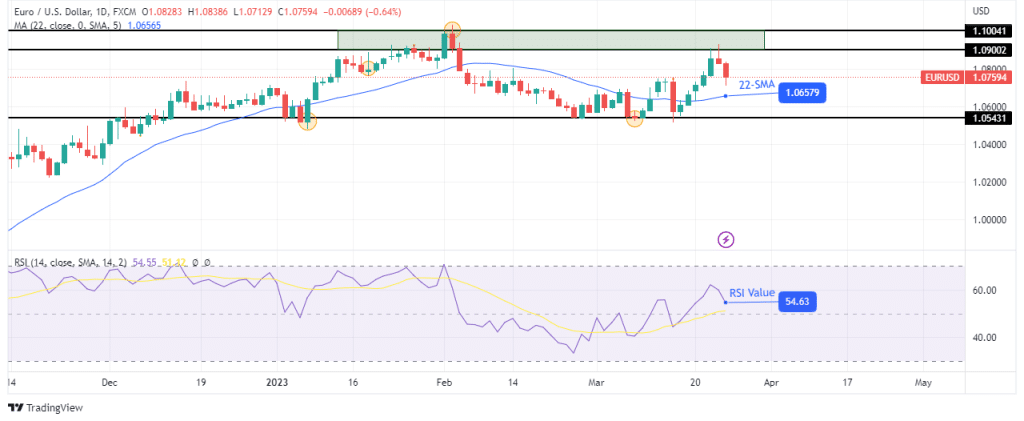 The daily chart shows EUR/USD pulling back after touching the 1.0900 resistance. This resistance level and the 1.1004 level make up a strong resistance zone that has stopped the bullish trend before, leading to a reversal.
The price trades above the 22-SMA with the RSI above 50, indicating that bulls are still in control. The pullback might find support at the 22-SMA, leading to a retest of the resistance zone.
The bullish trend will strengthen if the price breaks above the resistance zone. However, if it holds firm, we might get a reversal leading to a retest and likely break below the 1.0543 support.
---
More By This Author:
AUD/USD Weekly Forecast: RBA's Tightening Cycle To End
EUR/USD Price Tumbles As Dollar Soars, Focus On Key Data
Gold Price Halts Rally By $2,000, Focus Shifts To FOMC