EUR/USD Begins Test Of Key Resistance, USD Bounces From Monthly Lows
NEXT WEEK'S CALENDAR CALMS, BUT WILL EURO BULLS, DOLLAR BEARS SHOW THEIR HAND?
This week's economic calendar was rather heavy, particularly Thursday, and this leaves FX markets in a state of limbo as we lead into a quieter calendar for next week. The big question surrounding FX markets at the moment concern two of the world's most popular currencies, as both the Euro and the US Dollar appear to be in some state of transition. While the Euro spent the bulk of 2017 and the first quarter of 2018 moving-higher, a bearish reversal developed in Q2 as a series of events surrounded the Euro-Zone and the ECB. This helped the US Dollar to finally stage some element of strength after a brutal 13-month sell-off that saw as much as 15% of the currency's value erased.
But US Dollar bulls and Euro bears have been able to show much promise in Q3, and as we now have two weeks until the end of the quarter, the prospect of those bigger-picture 2017 trends returning appears to be a bit more likely. On the economic calendar for next week - we have Central Bank rate decisions out of both Japan and Switzerland, set to take place on Tuesday night and Thursday morning. We will see inflation prints out of both the UK and Canada (Wednesday morning and Friday morning), and we'll even get some Central Bank commentary from ECB President Mario Draghi in a speech mid-week.
DAILYFX ECONOMIC CALENDAR: HIGH-IMPACT EVENTS FOR THE WEEK OF SEPTEMBER 17, 2018
(Click on image to enlarge)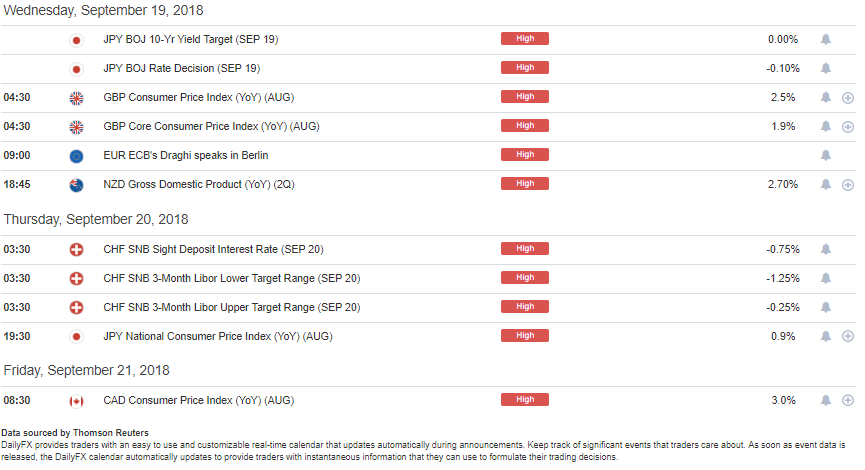 Chart prepared by James Stanley
US DOLLAR BOUNCING FROM FRESH MONTHLY LOWS
Probably one of the bigger takeaways from this week was the weakness in the US Dollar, as the currency sold-off every day Monday-Thursday until, eventually, we had set a fresh monthly low earlier this morning. The week started in a seemingly positive way, as USD quickly moved-up to test the same 95.53 level that had helped to offer resistance last week and, bigger-picture, over the past few months. This was somewhat of an extension of strength that had shown around last week's NFP report, but that was soon reversed as USDbears took control of near-term price action.
US DOLLAR TWO-HOUR PRICE CHART: BOUNCE FROM FRESH MONTHLY LOWS AFTER SELLING-OFF MONDAY-THURSDAY
(Click on image to enlarge)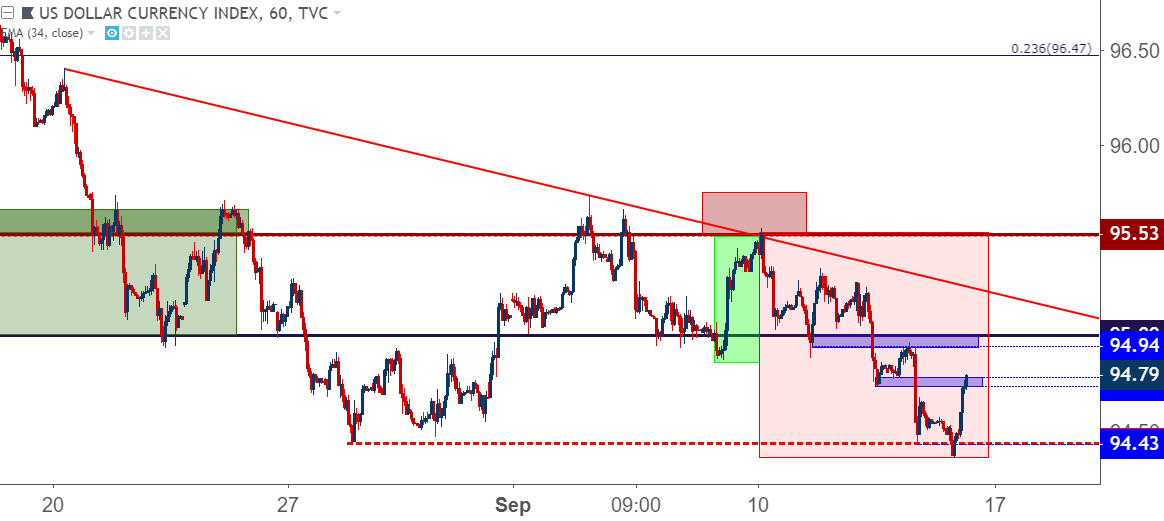 Chart prepared by James Stanley
The big question around the US Dollar for next week is whether bears will be able to make additional ground to fresh lows. Given the dearth of US drivers on the calendar, it would appear that we have ample opportunity for Dollar bears to show their hands. The US Dollar is bouncing off of those fresh monthly lows that were set earlier this morning, and if sellers show to offer lower-high resistance below prior support, the door for bearish continuation can remain open.