Euro Forecast Weakens As Paris Riots Threaten Macron Presidency
Political risk has been emanating out of Europe for some time now. The derailment of the Brexit negotiations at the start of this week coupled with ongoing tension over the Italian budget have kept European politics front and center since at least the end of September. But as the latter of these two influences appeared to be coming to a head – both European Commission policymakers and Italian politicians seemed willing to find a middle ground – a new risk has been introduced, from France: the threat of a Emmanuel Macron's presidency failing.
French-German Spreads Have Widened While Italian-German Spreads Have Not
The "gilet jaunes" or "yellow vest" protests have engulfed Paris, among other major cities, in riots for the past several weekends. Given that the cause was fiscal in nature – protestors were unhappy with a tax hike – markets have been keen to see how French President Macron would react. In response, a desperate President Macro promised to raise wages and step up government spending. There are two risks that have developed as a result of President Macron's quick cave to the protestors' demands.
First, there is no reason for the protestors to stop rioting until they get everything they want; Macron caved quickly once, so he probably will again. Accordingly, it is now a risk that the Macron government fails; a no-confidence vote is possible if the riots don't dissipate. As the riots have persisted, the French-German 10-year bond yield spread has increased; meanwhile, their Italian-German counterpart has narrowed since mid-November and have stayed unchanged in December. If there is political risk hurting the Euro, it's coming from France at the moment.
French-German and Italian-German 10-year Yield Spreads (August to December 2018) (Chart 1)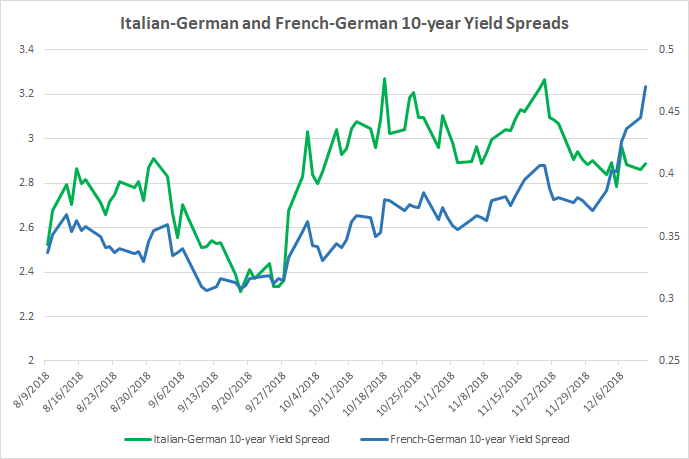 Second, by promising to reverse his tax hike, increase wages, and boost government spending in general, President Macron has promised to deliver a budget deficit, as a percentage of GDP, likely around 3.5%, according to French Budget Minister Gerald Darmanin. Why does this development matter? The European Commission's threshold for budget deficit is 3.0% of GDP.