Estimating Future Stock Returns, September 2020 Update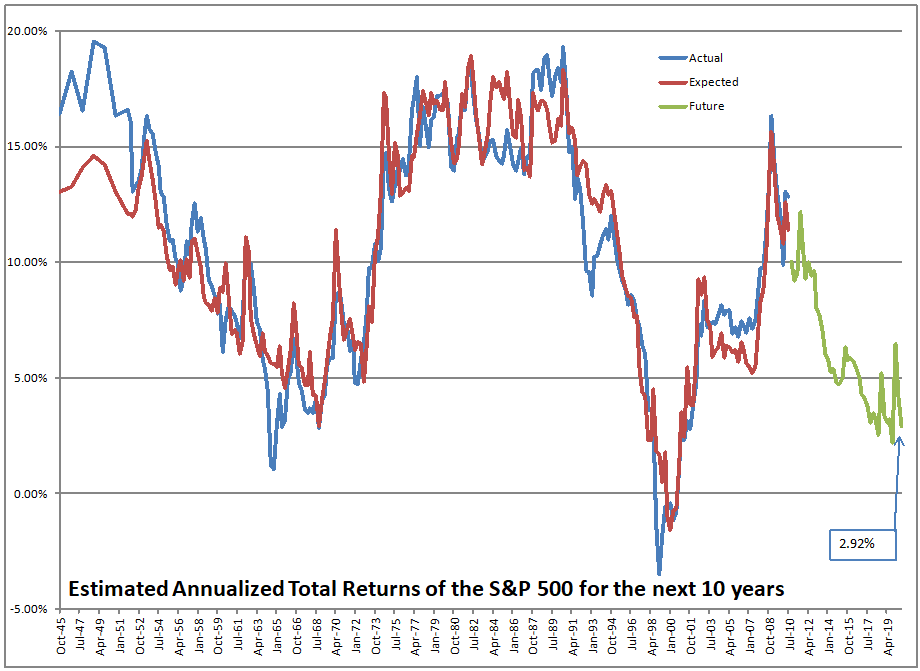 Image Credit: Aleph Blog || No, abnormal monetary has many significant costs, not the least of which is an asset bubble that feeds a debt bubble.
Welcome to Wonderland, boys, and girls. At the end of the third quarter, the S&P 500 was priced to return 2.92%/yr for the next ten years, with no adjustment for inflation. You might say, "But David, you've reported levels that low in the past, and you were concerned, but you never said 'Wonderland.'"
True, but the market has rallied further since the end of the quarter, and the level of the S&P 500 now is priced to return 1.79%/yr for the next ten years, with no adjustment for inflation. That's in the 97th percentile of valuations. Another reason I didn't say 'Wonderland' in the past was that there were a few values in the 1960s that were comparable to valuations. Now the only comparables are from the dot-com bubble. Thus, welcome to Wonderland.
Now, the valuation levels of the Wonderland era lasted for 3 years and 3 months, from the end of the first quarter of 1998 to the end of the second quarter of 2001. It was a period where monetary policy was extremely loose, before tightening enough to send the market into a tailspin, even as many claimed that interest rates have no effect on growth stocks.
Let me post the rest of my graphs, and I will finish my thoughts.
Image Credit: Aleph Blog
Note that we are considerably closer to the maximum valuation levels than to the minimum levels. If we wanted to create a new maximum level, we would have to rally 19.4% from the present levels.
Image Credit: Aleph Blog
Note: this model fits reality a lot more tightly than most models… but it is not a short-run model. It is very accurate for over ten years. My, but this model seems to be forecasting another "lost decade."
Image Credit: Aleph Blog
There are only seven values from history that compare with present levels. I choose scenarios where the expected return then was within 1%/year of the expected return now. Now, the estimate for where the S&P 500 will be 10 years from now is 3,555, which is lower than today, but given a 2% dividend yield, that still gives a 1.79%/year total return.
Disclaimer: David Merkel is an investment professional, and like every investment professional, he makes mistakes. David encourages you to do your own independent "due diligence" on ...
more