EC

Epic Flip-Flop: From Surefire Inflation To 'Muted' In Three Weeks
And like that, it's all different. For more than a year, two years, really, we've heard constantly about wage pressures. The US economy buoyed by several domestic factors as well as globally synchronized growth was in danger of getting too far out of hand. The unemployment rate said it was time – three years ago in 2015.
The lower the unemployment rate fell, the more likely the dangers of labor pressures. Orthodox thinking is consistent in its Phillips Curve rituals. This was the basis for "rate hikes" plus balance sheet normalization (what some call QT, or quantitative tightening).
The last hike was barely three weeks ago. In announcing it, the Federal Reserve's Chairman Jay Powell played resoundingly confident. Not just in the view of economic risks, inflation, but also why. The economy was strong, stronger, and stronger still.
The minutes of that meeting, just released, curiously paint a very different picture of both the debate and offered result. This actually isn't a surprise. Outwardly, officials project what they think is required. Monetary policy has no money in it, therefore what's left is confidence and confident-sounding declarations. Powell featured exactly that.
Markets responded quite differently, of course, explaining the not-so-subtle change. The Chairman bluffed, eurodollar futures, oil prices, stocks and UST futures (pretty much everyone) called him on it.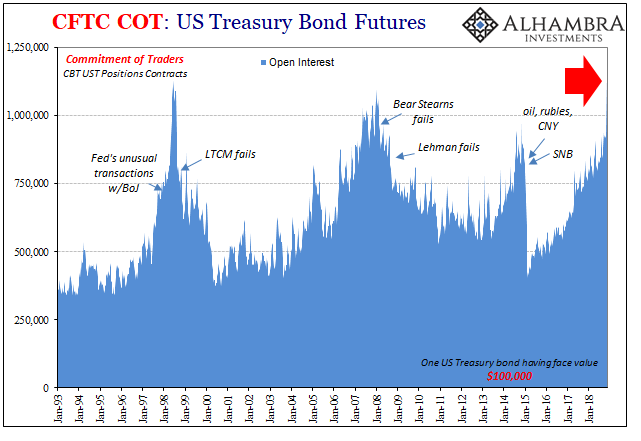 The result is how the same FOMC meeting has produced very different interpretations of it. Powell says strong, the official minutes say "muted". As in:
With an increase in the target range at this meeting, the federal funds rate would be at or close to the lower end of the range of estimates of the longer-run neutral interest rate, and participants expressed that recent developments, including the volatility in financial markets and the increased concerns about global growth, made the appropriate extent and timing of future policy firming less clear than earlier. Against this backdrop, many participants expressed the view that, especially in an environment of muted inflation pressures, the Committee could afford to be patient about further policy firming. [emphasis added]
Disclosure: This material has been distributed for informational purposes only. It is the opinion of the author and should not be considered as investment advice or a recommendation of any ...
more