Energy Stocks Continue To Lead
Fed chair Jay Powell wasn't to blame for Thursday's equity market sell-off, no matter what journalists thought. His comments were dovish, reaffirming the Fed's desire to see meaningful improvement in employment before moderating their bond buying. Tightening is nowhere in sight. Had he said the opposite, markets would have probably fallen further, which simply means bonds are in a bear market.
Powell's comment that he would only be concerned about bond weakness if it led to tighter financial conditions suggested that the Fed would be inclined to counter such a development, perhaps by increasing their own bond purchases. He expects any increase in inflation to be temporary. Fixed income investors aren't so sanguine and are demanding fair compensation for increased risk. To own bonds at current yields requires a faith in the Fed's forecasting ability not supported by their track record. They have no insight that isn't found in many private sector forecasts; but they do have the power to act.
The Fed's beige book provided a mildly encouraging outlook, but mentioned the word "shortage" 31 times, the most in a decade. It applied to difficulties in filling many different job types, petrochemicals and chips used in automobiles. CNBC reported that raw materials costs for a new car had risen $1,152 in the past year. Today's Fed cares more about unemployment than adequate returns to bond buyers. It's correct and democratic, but translates into inadequate interest rates.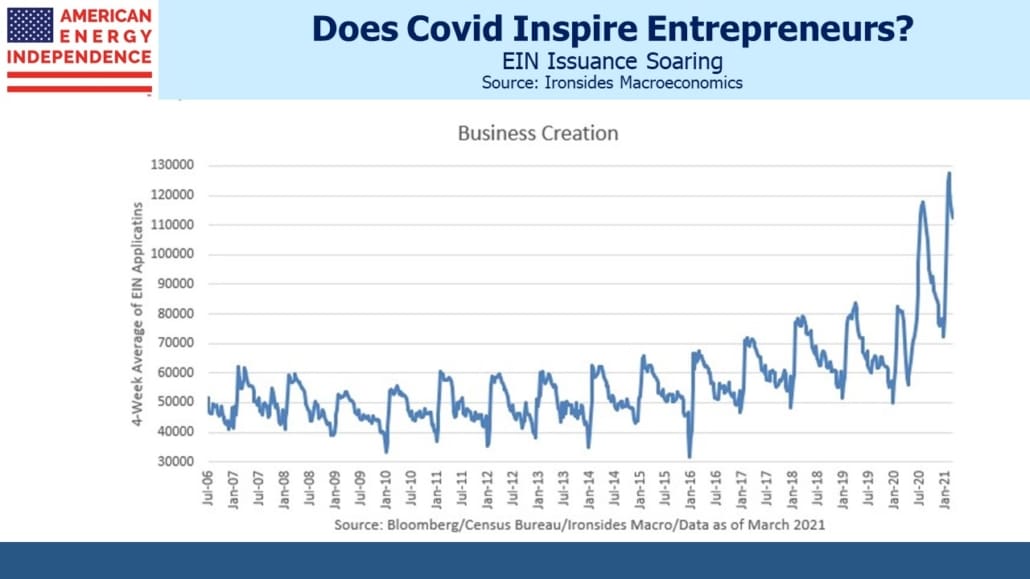 We were also surprised to see evidence of very strong new business formation. Thanks to Barry Knapp of Ironsides Macroeconomics for pointing out the surge in IRS issuance of Employer Identification Numbers (EINs), one of the first steps in launching a new business.
Stocks are attractive but, in some sectors, vulnerable to higher rates. This is most apparent among growth sectors such as technology, which has been supported by low rates for years. Ten year treasuries at 2%, 0.5% higher than now, still wouldn't make bonds a buy. But because the NPV of a growth stock is more reliant on distant cashflows than is the case for the overall market, rising rates hurt more. If you think of a growth stock as analogous to a zero-coupon bond (returns backloaded) and compare it with a similar maturity coupon-bearing security, you'll appreciate that growth stocks have greater interest rate sensitivity (duration), just like a zero-coupon bond.