Electric Vehicles Are Picking Up Speed
Last month saw U.S. Electric Vehicle (EV) sales up 40% year-over-year. Every Tesla (TSLA) owner I know loves their car – although the February jump was helped by the launch of Ford's (F) Mustang Mach-E. EV market share (which includes hybrids as well as all-electric vehicles) rose from 1.8% to 2.6% in February. Nonetheless, EV sales fell last year due to Covid, from 331K to 296K.
Forecasts of booming EV sales are so common as to scarcely be news anymore. It's possible to go back and find old forecasts that were way off. This one from 2011 looking ahead to 2020 includes a few the authors would like us to forget. Deutsche Bank's forecast of U.S. sales was off by 2X. However, McKinsey's global estimate was only slightly high.
David Victor recently published Energy Transformations in association with Engine No. 1, the activist investor pushing for Exxon Mobil to respond more quickly to the energy transition. The chart below is from his report – the small chart in the inset is a 1992 forecast from Shell on EV sales which has turned out to be wildly inaccurate. But the point of the main chart is that sales really are going to take off over the next decade.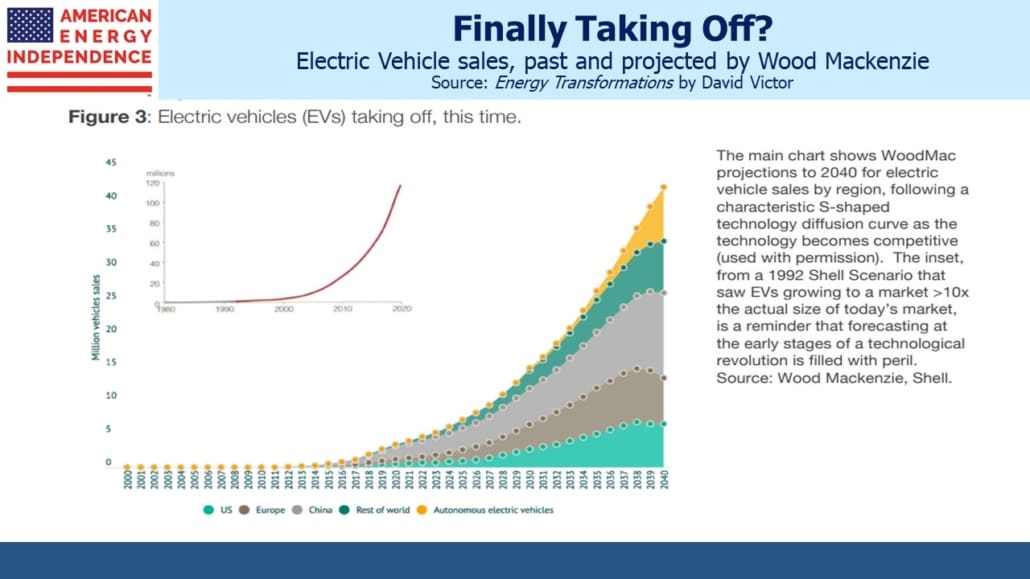 It's possible to find other old forecasts that were wildly inaccurate. Futurist Tony Seba predicted in 2017 that by 2030 100% of auto sales would be autonomous (self-driving) EVs (see A Futurist's Vision of Energy). It's still nine years away, but for autonomous EVs in the U.S. to reach that level would require their market share to double approximately every 20 months.
Growth in renewables and EVs have been about to break out for years. The world will need more energy – the U.S. Energy Information Administration (EIA) expects global energy consumption to increase by 50% over the next three decades. They expect every source to increase, including coal.
High among Elon Musk's many talents is marketing, because he's successfully linked EVs with clean energy in the minds of consumers. America generates around 60% of its power from coal and natural gas, with renewables (including hydro) and nuclear each providing around a fifth.