Dow Tumbles Into 10% Correction As Futures Crash, 10Y Yields Plunge To Record Lows On Pandemic Panic
After three days of tentative attempts to BTFD in the overnight session, on Thursday for the first time, the puke in futures and global markets was so widespread that "pajama traders" did not pass go and proceeded to sell without prejudice...
(Click on image to enlarge)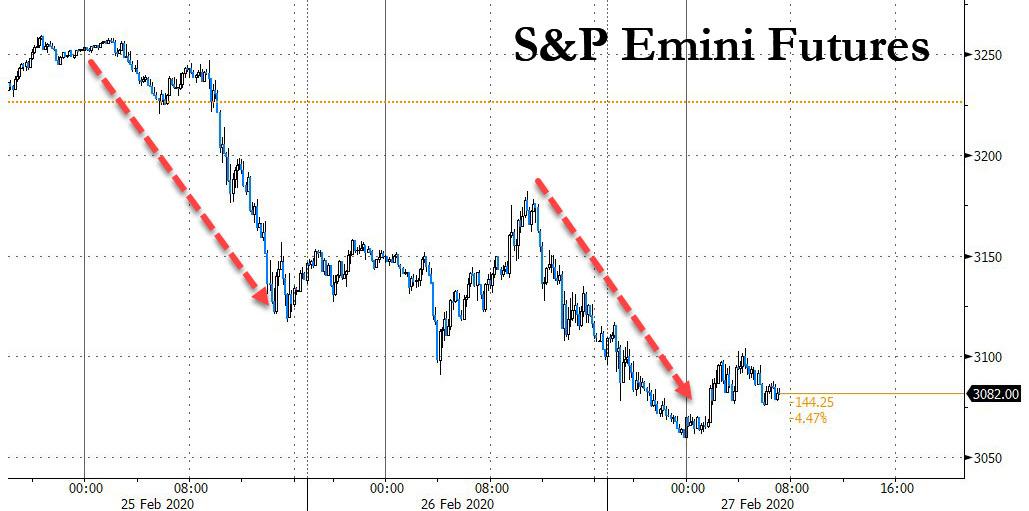 ... as S&P 500 futures dropped as much as 1.6% and threatened to slide below 3,000 today, while Dow Jones futs were down more than 375 points lower, sending the broad index into correction territory, down 3000 points from its last week highs.
(Click on image to enlarge)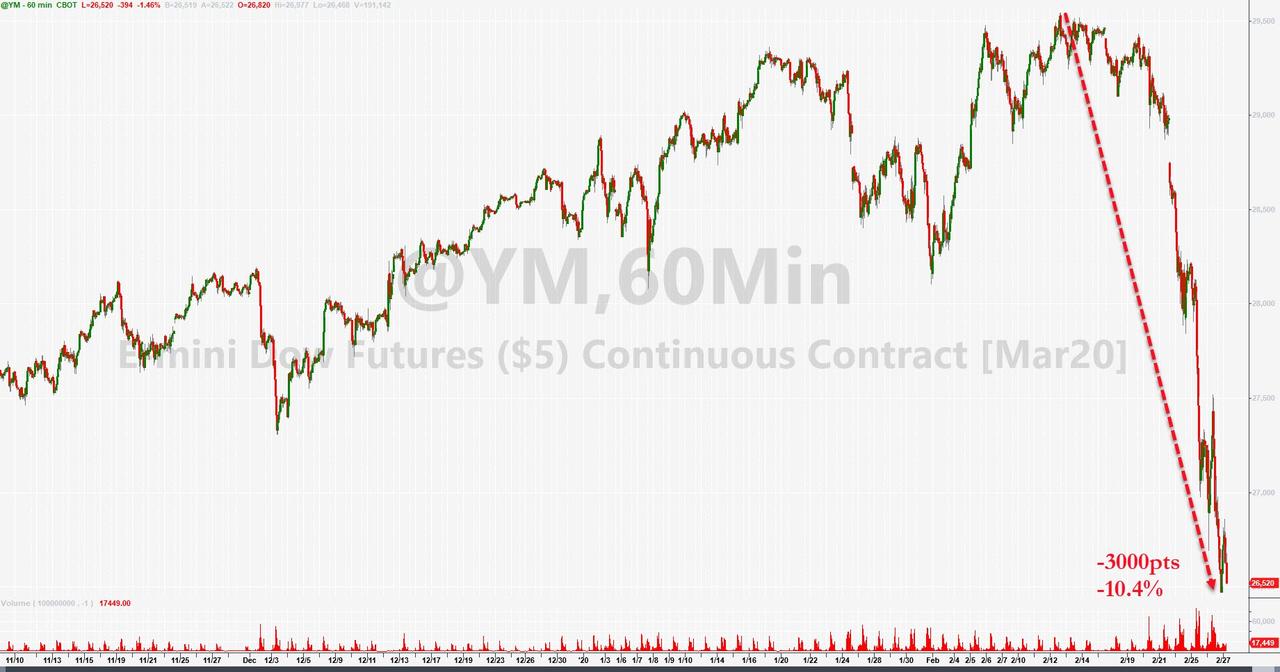 The MSCI All-Country World Index fell for a sixth straight day, with Japan's Topix and the Stoxx Europe 600 leading declines among major indexes.
The same risk aversion that was sparked in recent days by a growing pandemic panic, drove global stocks lower on Thursday, increasing their drop in value this week alone to more than $3 trillion...
(Click on image to enlarge)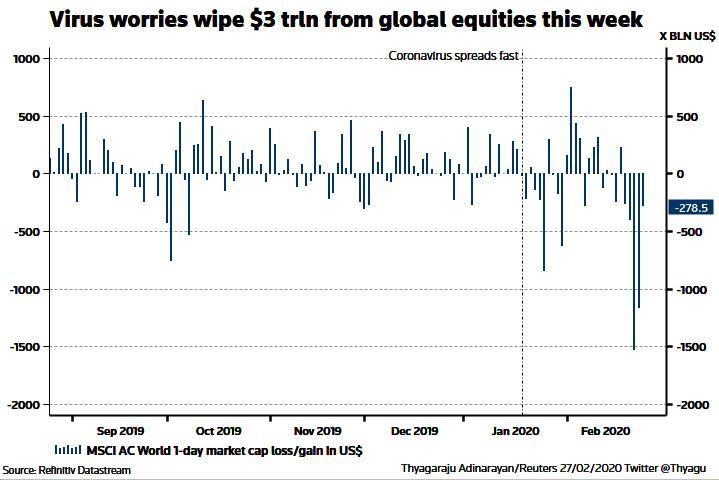 ...and U.S. Treasuries yields hit record lows just below 1.28% after the Centers for Disease Control and Prevention reported the first U.S. coronavirus case of unknown origin.
(Click on image to enlarge)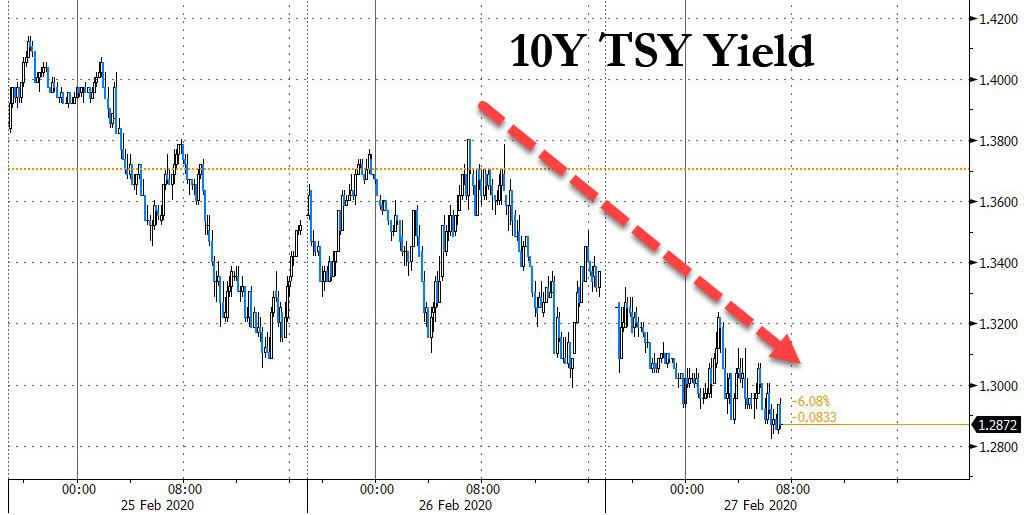 ... as the coronavirus spread faster outside China than in, with South Korea reporting a whopping 505 new cases, nearly double the 284 on February 25, pushing total cases to 1766 and a 13th coronavirus-related death reported. Overnight President Trump named Vice President Mike Pence to lead the government's preparations to tackle the virus outbreak and sought to reassure the public that the authorities are ready to handle the situation; at the same time California reported the first US coronavirus case which had been the result of "community transmision", and whose origin was unknown.
(Click on image to enlarge)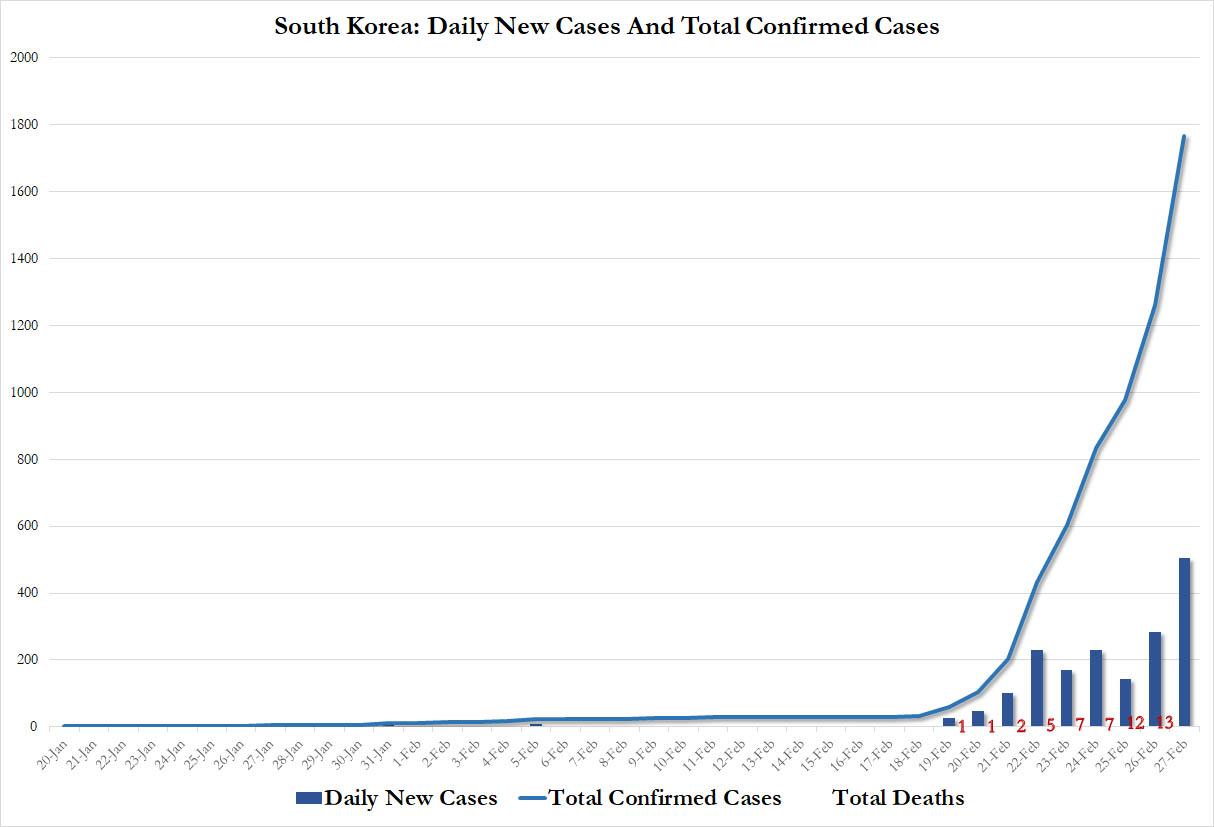 "The fact that, not only is there no sign yet of the pathogen being contained, but rather we now also face the specter of it spreading through the U.S., will continue to weigh on the global macro outlook for the coming months," Simon Ballard, chief economist at First Abu Dhabi Bank, wrote in a note. "Buckle up for continued high volatility and escalating risk aversion."
Meanwhile, next door Japan's ruling party is reportedly considering an extra budget to tackle the virus outbreak, according to Nikkei, as Germany reported 9 new cases of coronavirus so far on February 26, whilst Denmark reported its first case.
As traders scrambled for some clarity amid the panic, global equities have now fallen for six straight days, and Wall Street's volatility gauge was near its late-2018 highs.
European stocks were pummeled from the open, with the STOXX 600 index falling 3%, the lowest level since Oct 22, 2019, and the blue-chip index in Italy - the worst-hit country in Europe - sinking as dozens of European companies issued warnings about potential damage to their profits. Travel stocks underperformed, down ~12% since the start of the week, with all sectors in the red. Anheuser-Busch InBev NV was among the worst performers in Europe after a dismal forecast. Several large companies on the benchmark, including HSBC Holdings Plc, are today trading without the right to dividends, potentially exacerbating declines.
In the United States, Microsoft became the second trillion-dollar company to warn about its results after Apple. Its Frankfurt-listed shares were down 3%.
Earlier in the session, Coronavirus fears sent Asian stocks toward their biggest six-day losing streak since August, with the IT and energy sectors falling the most. Markets in the region were mixed, with the Jakarta Composite Index and Japan's Topix falling, while Thailand's SET and Hong Kong's Hang Seng Index climbed. The U.S. urged travelers to reconsider trips to South Korea as cases there rose above 1,500. While Bank of Korea left its key interest rate unchanged, it lowered its annual growth forecast on mounting evidence of an economic hit from the coronavirus. The Topix declined 2.4%, with PIA and Sanix falling the most. The Shanghai Composite Index rose 0.1%, with Tianjin Songjiang and Shanghai Shenhua posting the biggest advances.
Goldman Sachs said the equity market sell-off would create opportunities to add risk eventually and that it did not expect a deep bear market or U.S. recession. "However, near term we feel that positioning and valuations are not yet depressed enough and uncertainty on the global growth impact from the coronavirus is likely to remain high," Goldman Sachs said in a note to clients.
"Safe-haven currencies are doing very well and gold is heading back higher, and unless we see a slowdown in the coronavirus cases outside China, risk sentiment will continue to be undermined," said Peter Kinsella, global head of FX strategy at UBP in London
Yields on U.S. Treasuries, which fall when prices rise, dropped to a record low 1.28 for 10-year debt and the yield curve continued to send recession warnings. German 10-year debt fell to -0.5140%. Italian debt underperformed as the spread of the virus there raised fears of a recession. Australia's 10-year yield dropped to a record low on accelerated demand for haven assets as the nation initiated an emergency pandemic plan.
Meanwhile, as the market begs for a Fed bailout, fed funds futures are now pricing a quarter-point rate cut by the end of April, while the benchmark three-month London interbank rate for dollars fell Thursday by the most since January. The May 2020 fed funds contract has an implied rate of 1.305%; that's more than a quarter of a percentage point below the fed funds effective rate, currently 1.58%. The January 2021 fed funds future shows close to three quarters of a percentage point of easing by year end. The three- month U.S. dollar Libor rate fixed lower by 3.287bp on Thursday, ICE data show, the largest decline since Jan. 8.
In FX, the dollar fell against most major currencies as investors worried over the U.S.'s vulnerability to the spread of the coronavirus. The pound reversed gains to lead G-10 losses after the U.K. said it would prepare for a no-trade-deal exit if negotiations with the European Union did not proceed swiftly.
"The dollar is being broadly sold as risk-off sentiment heightens on the report of the infection in the U.S.," said Takuya Kanda, general manager at Gaitame.com Research Institute Ltd. in Tokyo. "The currency is also under pressure because Trump's speech may have disappointed the market." The yen enjoyed support from purchases by local banks, rising nearly 2% on the week; it pared gains after Japanese Prime Minister Shinzo Abe reportedly called for all elementary, middle and high schools in the country to close from Monday through to the end of the spring holidays as part of measures to combat the virus spread. The safe-haven Swiss franc also gained on Thursday. Sweden's krona advanced against all major peers, supported by flows from the Norwegian krone, and after retail sales data and an economic tendency survey surprised to the upside.
Predictably safe haven gold rose 0.8% to $1,652 per ounce, just shy of the seven-year high it hit on Monday, and silver gained 1% to $18.03 an ounce. Meanwhile oil - sensitive to global growth - fell more than 2% to its cheapest in 14 months
To the day ahead now, there's an array of data in the US, including the second reading of Q4's GDP, the preliminary January readings for durable goods orders and non-defence capital goods orders ex-air, weekly initial jobless claims, the Kansas City Fed's manufacturing activity index for February, and January's pending home sales. From central banks, we'll hear from ECB President Lagarde, as well as the ECB's Panetta, Schnabel, Lane, de Guindos and Lane. In addition, the Fed's Evans and the BoE's Cunliffe will also be speaking. Autodesk, Best Buy, Dell Technologies, and VMware are among companies reporting earnings.
Disclaimer: Copyright ©2009-2020 ZeroHedge.com/ABC Media, LTD; All Rights Reserved. Zero Hedge is intended for Mature Audiences. Familiarize yourself with our legal and use policies every ...
more