Dow Jones Industrial Average Today Adds 67 Points As Oil Surges
U.S. oil prices closed at a year-to-date high of $37.90 today, pulling energy stocks, material stocks, and the Dow Jones Industrial Average higher. Crude prices have been extremely volatile over the last year, but the latest round of market speculation is that OPEC and several non-cartel nations are looking for a price floor of roughly $50 per barrel. They could be in for a surprise, however, if daily U.S. shale production – which is poised to fall by more than 100,000 barrels in April – gets another boost and reignites concerns about a global glut in supply. But that's not the only thing that happened today…
Here's what you might have missed on Monday, March 7, 2016.
First up, check out the results for the Dow Jones, S&P 500, and Nasdaq: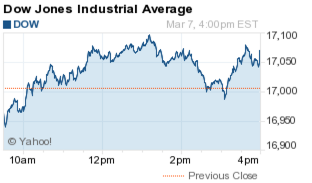 Dow Jones: 17,073.95; +67.18; +0.40%
S&P 500: 2,001.76; +1.77; +0.09%
Nasdaq: 4,708.25; -8.77; -0.19%
Now, here's the top stock market news today…
DJIA Today: Apple Hacked, Manning Retires, Brent Crude Back Above $40
Shares of Apple Inc. (Nasdaq: AAPL) dipped 1.1% on news its customers were the subject of a cyber attack over the weekend. Reports indicate this is the first attack on Macintosh computers using "ransomware" software, according to research from cyber firm Palo Alto Networks Inc. (NYSE: PANW). Ransomware encrypts data on infected machines and then demands that users pay ransoms in digital currencies so they can obtain a key to unlock their data. AAPL's downturn weighed on the Nasdaq, which declined eight points on the day.
Future NFL Hall of Fame quarterback Peyton Manning announced his retirement from the league. Manning won two Super Bowls during his career, and, in 2015, earned a whopping $12 million from endorsement deals that included DIRECTV, Nationwide Mutual Insurance Co., and Buick, a vehicle division of General Motors Co. (NYSE: GM). Manning has also been a longtime spokesperson for Papa John's International Inc. (Nasdaq: PZZA).