Deflation Talk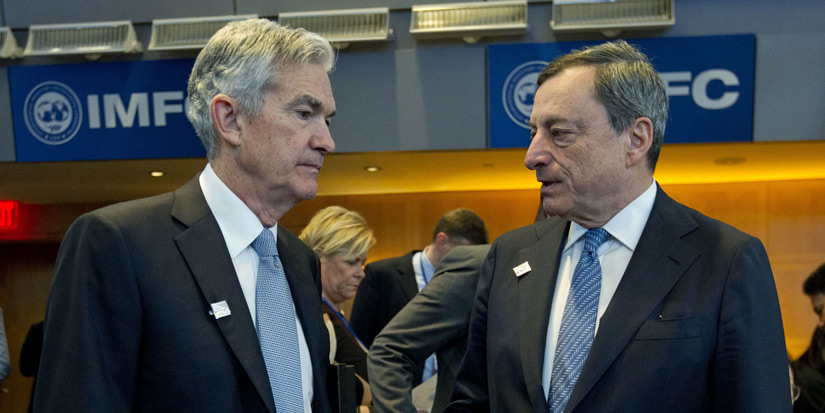 If you could ask the world's top central bankers what really terrifies them, I think the honest answer would usually be "deflation." It is their greatest nightmare. They think a little inflation is good (thus the 2%+ target), and they're confident they can subdue it if necessary. Deflation is a bigger problem.
Let's note, however, that these aren't either/or conditions. They have degrees of severity. Indeed, the last four decades we've seen disinflation—a mild form of deflation—in many segments of the economy. Compared to that, even relatively mild inflation looks quite concerning. And many smart people are concerned, as I described in last week's review of SIC inflation talk.
Today we'll consider the other side of the SIC inflation/deflation argument.
It's All Just Math
Dr. Lacy Hunt of Hoisington Management is a perennial SIC favorite, and for good reason. He's been consistently right about inflation (little or none), interest rates (flat or down), and Treasury bonds (bullish) for decades. He built that track record by simply standing his ground. To Lacy, it's all just math: The equations have specific answers and thus do his investment choices. That may sound easy, but it takes a lot of courage.
In Lacy's view, today's core problem is that excess debt suppresses economic growth, without which demand can't rise enough to generate inflation or push up interest rates over the medium term. This is a structural problem, which at this point we really can't fix.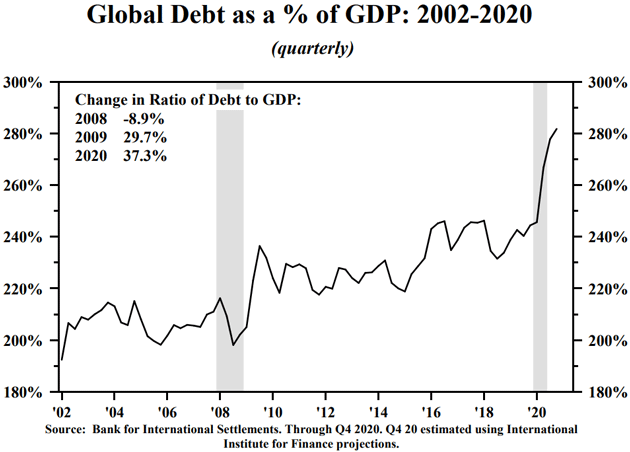 Source: Hoisington Management
Going back further, Lacy showed the US has experienced five major debt bubbles in the last two centuries, all of which led not to inflation, but to disinflation or deflation.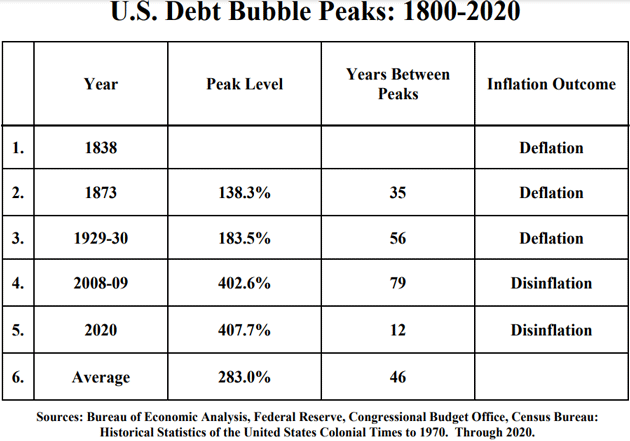 Source: Hoisington Management
Lacy also pointed out that inflation is actually a lagging indicator. It doesn't usually turn higher until well into a recovery phase.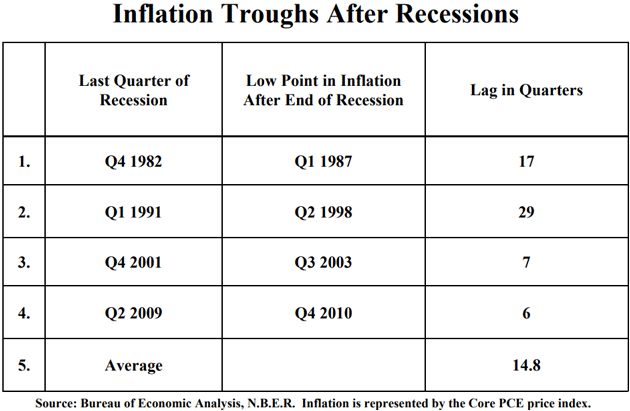 Source: Hoisington Management
This runs counter to today's popular narrative (discussed last week), which says to expect strong recovery and rising inflation at the same time. Lacy explained why that doesn't happen:
"The typical lag between the start of a recession and the low point of inflation is almost 15 quarters and even when the lags are shorter, only six to seven quarters, in those particular two cases, the inflation rate was still near its low, two and three and four years later. And there's a good reason why inflation's a lagging indicator.

"If you go into a recovery or attempt to recover, and the inflation rate takes off, that will truncate the recovery. You'll have a wider trade deficit, inflation will push up interest rates and that will work against the recovery. And since prices rise faster than wages, you reduce real income. In other words, to have a major acceleration in inflation means that the expansion will not hold."
Lacy also explained why he isn't worried about the increased money supply. It gets back to his point on debt. The amount of money is less important than the speed with which it circulates, or "velocity," which is at the lowest level ever.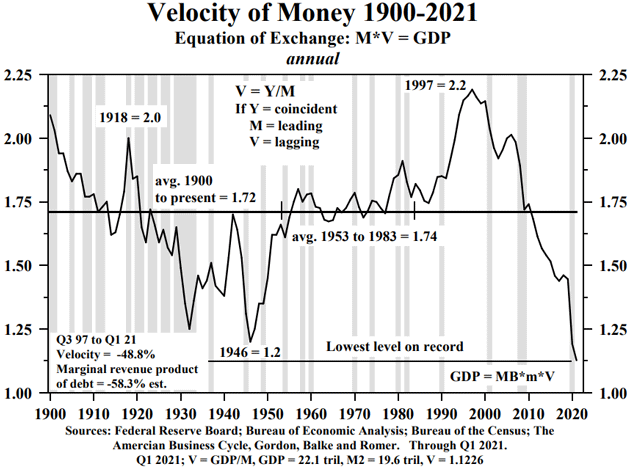 Source: Hoisington Management
At least 10 years ago Lacy and I were talking about what it would take to get the velocity of money lower than during the Great Depression or post-World War II. We were both watching velocity slow significantly and I was curious as to when that would end. Lacy explained at the SIC:
"We have to take into account what's happening to the speed at which money turns over and the velocity of money hitting an all-time low. And what is causing velocity to decline is that we're taking on too much debt, it's triggering diminishing returns and non-linear relationship and this pulls the marginal revenue product of debt down and it also takes the banks out of the process and that pulls velocity lower."
Another problem, Lacy believes, is that debt reduces savings. His next chart takes some explaining. I'll quote him right below it.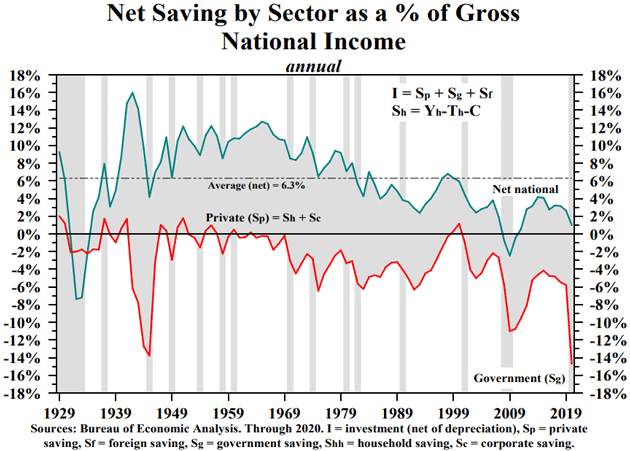 Source: Hoisington Management
"The critical variable for the macro-economy is net national saving. And net national saving has three components. It has the gray shaded area which is the private sector; household incorporated; and then the government deficit which is the red line and the green line is the sum of the two. Now, look at the little equation at the top of the page. This is one of the most important fundamental relationships in economics and it says (in effect—JM) 'I, physical investment, must equal saving out of income.'

"If you do not have saving out of income, you cannot get sustained growth in investment. Without sustained growth in investment, the standard of living does not rise. Now, the deficit as a percent of national income, the red line, was over 14%. That took out the percentage peak during WWII. The green line is the sum of the three and you'll notice it's just barely above zero.

"And if you look at the chart, which goes back to 1929, you'll see there's only two situations that are worse, during the 1930's and also during the late 2000's. We simply do not have the resources to fund ourselves and to obtain a higher standard of living, which means that the economy will falter as we go forward, inflation will move lower."
Disclaimer: The Mauldin Economics website, Yield Shark, Thoughts from the Frontline, Patrick Cox's Tech Digest, Outside the Box, Over My Shoulder, World Money Analyst, Street Freak, Just One ...
more