Dealer Behavior Leads Us To Another Big (Collateral) Warning
The latest liquidations began right after October 3. Oil shifted toward contango/crash, curves collapsed, even stock markets which looked like they had skated past disruptions early in the year were slammed. It was as if every market hit the same air pocket all at once, therefore identifying (global) liquidity as the major issue-driven, of course, by reversing economic and risk assumptions. In other words, money dealers.
Usually, in these situations, we can identify telltale signs of that sort of pullback, places like repo meaning collateral. As has been the case for much of this year, there isn't any indication of distress at least in the domestic repo. In that one sense, the FOMC has it all wrong as they've tried to blame T-bill issuance for some of the money market distress still building up; according to repo fails anyway, contrary to the pleading of Powell the bill "deluge" is more likely to have helped than harmed.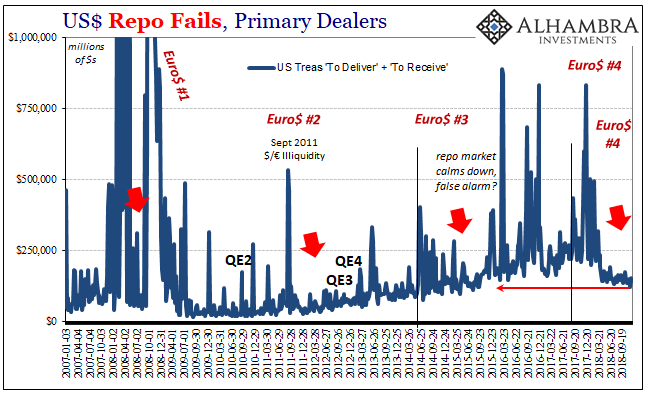 This is also not unusual, in fact, consistent with prior episodes of global monetary tightening (unrelated to the Federal Reserve). There has been a spike in fails which announces the beginning of each one, and then it's as if the domestic repo market goes quiet. The ripples of monetary disturbance go out from there and disrupt other pieces of the system. It has certainly been unusually calm in fails this year since March.
We have to be careful in that the data on repo fails provided by FRBNY is derived only from what dealers report, leaving a vast amount of the repo market undiscovered in good or bad condition. There is a lot that takes place outside what transactions may be captured by this one data series (fails).
This shadow of a shadow market includes cross-border, offshore stuff. Getting a sense of function in those places is much more difficult since there just isn't much data. There are some figures that exist, though not explicitly and directly tied to collateral used in repo.
Disclaimer: All data and information provided on this site is strictly the author's opinion and does not constitute any financial, legal or other type of advice. GradMoney, nor Jennifer N. ...
more