COT Black: Futures Curve Twisting
There is an interesting, ongoing academic debate about what shape the crude oil futures curve "should" take. Quite naturally, it seems backwardation is the market baseline. Most people, I think, presume otherwise because of their familiarity with commodities like gold. Backwardation in that market implies a physical shortage.
Unlike that precious metal, crude oil is a usable commodity whose value deteriorates over time. This doesn't mean the stuff spoils in storage, rather the longer it remains siloed away the more costs are incurred to keep it there. The market's incentive is for front-end use, thus backwardation in futures.
Historically speaking, however, the curve has only been in this condition about half of the time. We are roughly as likely to encounter contango in WTI futures as backwardation. What that might suggest is in some ways simple logic; it is a dynamic marketplace where things are always changing, often in very big ways as we've seen over the four years since the last time backwardation was evident.
Even when there is backwardation in the curve as there is now, how much is the right amount? It's a trick question unanswerable for the same reason there isn't such a thing as market equilibrium. Any equalizing point, should one actually exist, would only exist for the shortest of timeframes. What might be perfectly balanced contango one minute is improperly imbalanced structure the next.
With all that in mind, briefly, the WTI curve has been noticeably twisted the past few days of this selloff. Prior, going back to May, spot oil prices were rising much, much faster than futures. The very front end was jumping out of line with the back end, producing a pretty blatant extreme of backwardation.
(Click on image to enlarge)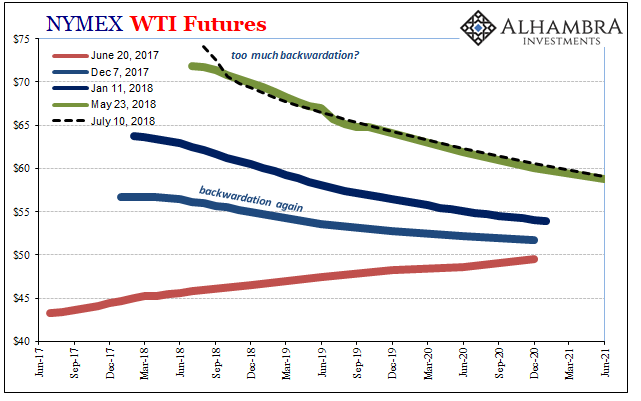 Was that too much? Who knows. During the selloff particularly yesterday the curve flattened out again. In trading today, the twist continued where the front month price was actually down while most other parts of the futures curve were up nearly all by $1.25 or more.