Christine Lagarde Takes Another Step In Her "Whatever It Takes" Approach
Since yesterday's session, Christine Lagarde has not only endorsed the famous phrase of her predecessor, Mario Draghi, from July 2012, but also taken "Whatever it takes" to another level, after announcing an expansion of the current stimulus program in the last meeting of the year.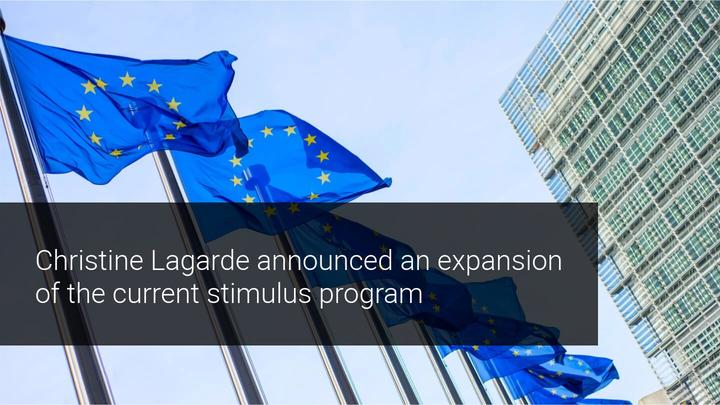 During her press conference, she announced:
The current program to fight the pandemic (PEPP) will increase by half a billion euros, expanding this program to 1.85 billion euros, just 6 months after its last expansion in the month of June
This guarantees the validity of this program up until March 2022.
This movement has caused the 10-year bonds of various countries like Spain to trade negative for the first time, thus joining countries such as Portugal or France, while Italy continues to pay 0.566% for its 10-year bonds.
In addition to this measure, the European Central Bank also announced:
An increase in its liquidity auction injection program known as TLTRO III until June
They are considering maintaining its veto on the distribution of dividends from banks, although there will be some exceptions, thus affecting the banking sector, once again keeping interest rates at 0%.
On the other hand, it seems that the European Union is finally unlocking its aid program for post-covid recovery, although these will probably not arrive until summer after both Hungary and Poland withdraw their veto.
Waiting for America
After last Friday, we learned of bad employment data in the United States. A new stimulus package of 908 billion dollars seemed closer, but it appears that we will have to wait a few more days since uncertainty is growing.
While we wait for the United States to definitively approve a new stimulus plan before the end of this year 2020, the Japanese government has announced an extraordinary stimulus plan of 3 billion euros in which 80% will go to a plan to subsidize travel within the country to reactivate internal tourism and, thus, reactivate this sector so badly affected by the pandemic.
Disclaimer: The given data provides additional information regarding all analysis, estimates, prognosis, forecasts or other similar assessments or information (hereinafter "Analysis") ...
more