Cannabis Stocks Back In An Uptrend
They say history rhymes (not repeats) in the markets and that appears to be the case for the cannabis sector. CGC was the cannabis stock back in August 2018 that started a major leg higher for the sector when it moved higher on a massive volume on news that STZ was taking a major stake in the company.
Cannabis stocks went on a big run after that announcement. But they topped out in October along with the stock market and many stocks in the sector went into a decline that broke below the 30-week moving average. A select few cannabis stocks have held up during the decline and stayed above the 30-week MA showing some relative strength but many of the largest companies including CGC and ACB pierced the MA and went below it.
From a Stage Analysis perspective, there are a couple of things not as favorable about this breakout. First is that the stock market is still in a Stage 4 decline. Odds for success are dramatically higher when the stock market is in Stage 2 when a sector starts ripping higher on volume. However, for the time being, I think the stock market will most likely continue to grind higher for at least a few more weeks, and possibly well into February or longer. The reason is that the stock market still has room to work off the oversold condition of late December. The percentage of stocks above the 50-day moving average is still below 40 percent in the S&P 500, so it has time to work its way above 70 percent where it is more likely to be vulnerable to a bigger decline.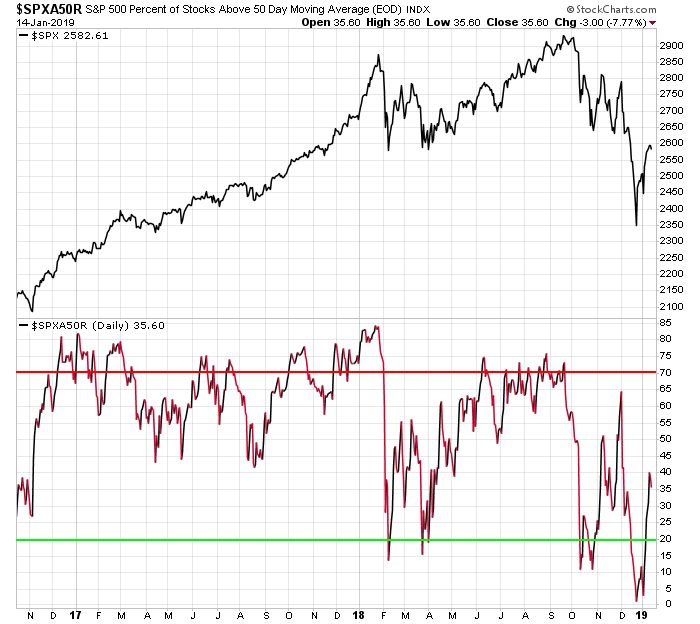 The second not as favorable part of this breakout is that most cannabis stocks now have overhead resistance to fight back through, and they also don't have a tight base they are moving higher from but instead a snapback from a recent low. If you look back at the setup in cannabis stocks in late 2017 you will see that none of these conditions existed (no resistance, tight base, the stock market in Stage 2) which is why that run was such a powerful move (over 100% gains in many cannabis stocks).
Disclosure: I am long CGC.
Disclaimer: The views and opinions expressed are for educational and informational purposes only, and should not be considered as investment advice. The author of ...
more