Buy These 3 Undervalued Biotech Stocks Ready To Breakout
When an already attractive company in the small cap biotech space announces positive developments, it can take the market weeks or even months to price the news into the shares. Bret Jensen identifies three cheap companies with strong catalysts to power the next leg of their rallies.
There are few things more exciting than buying a small biotech stock just before it goes on a massive tear. Subscribers to Small Caps Gems have experienced this feeling with small biopharma Eagle Pharmaceuticals (EGRX) which has shot up from the $14.20 a share when recommended in mid-December to a current level of above $70.00 a share, a return of better than 400% in less than six months.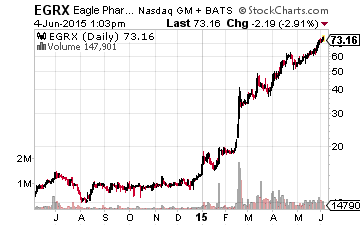 Obviously a stock does not have this sort of massive run without a substantial catalyst to trigger the rally. In Eagle's case it was a game changing collaboration deal with generic giant Teva Pharmaceuticals (TEVA) in mid-February around its main drug candidate. As can be seen from the chart above, the stock has never looked back since the time that transaction was announced. This makes sense given that FY2016 earnings per share consensus estimates have gone from under $2.00 a share when the deal was made public to a current $5.65 a share profit projection.
I have learned to recognize when an already attractive company in this small speculative sector receives a positive catalyst that sometimes takes the overall market several days, weeks or months to fully price the news into the shares. Here are several stocks I have written about on these pages at much lower prices that have recently have been the recipient of positive catalysts that should power the next leg of their rallies.
Let's start with Halozyme Therapeutics (HALO), a biotech with a market capitalization of just under $3 billion. The stock has just about doubled since I first profiled it in these pages in early January. However, the run in this equity feels like it is just beginning. In April the company announced it will begin a critical Phase III trial commencing in the first quarter of 2016 to evaluate its drug PEGPH20 in patients with metastatic pancreatic cancer, using a trial design that will support a New Drug Application if successful. Obviously if results are positive, this could be a huge catalyst for the stock given the prevalence and complexity of treating this lethal disease.
Disclosure: Long EGRX, HALO, PGNX and SGYP
For more on how I find these ...
more