EC

Bull Vs. Bear Death Match! Yield Curve Vs. Earnings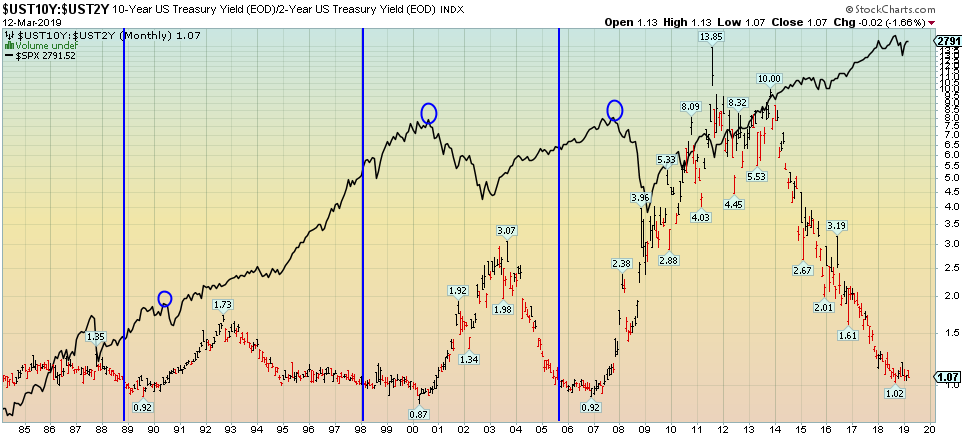 Last week I put out the article "Double Earnings Drop = Double Trouble":
Since publishing this, the data has changed. Today we are going to explore the change in data and how it is vying for supremacy with the yield curve inversion thesis. In other words, your classic bull vs. bear death match!
The core change in data came last week when Howard Silverblatt (S&P global) released the newest S&P500 Operating Earnings Data for Q4 2018:

This varies greatly with the data we had in hand just a week ago in our original post: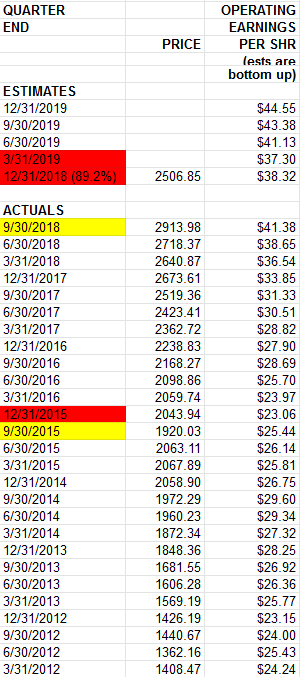 The core difference is that with 89.2% of the S&P having reported originally, the operating earnings he had listed as the estimate were $38.32 for Q4 2018. Now, with 98.6% having reported, they have plummeted to $34.98. Sequentially this change is meaningful as it changed from a 7.39% sequential drop to a 15.46% sequential drop in operating earnings. We have had 2 other sequential drops in operating earnings of this magnitude: Q2-Q3 2007 was a 13.25% drop and Q4 2000-Q1 2001 was a 18.15% sequential drop. Both instances led to lower lows and a cascading of equity prices. You can see those instances here:


As you will see, in all other instances of sequential earnings drops over the past 30 years, they were for 1 quarter only (in which case you had your market correction of 10-20% and moved on about your business to new highs over time – NO LOWER LOWS).
We are at a critical crossroads now:
The good news is that the drop in Q4 operating earnings now makes Q1 2019 look like it will be positive relative to Q4 2018 – which would fall in line with previous instances of a 10-20% market drop and no lower lows (in other words the pain is behind us as we completed the 20% drop in December). The bad news is, IF Q1 Operating earnings estimates drop $2.15 or more, that would take them from $37.12 ( a positive sequential against Q4 2018) to $34.97 or less which would be the second negative sequential drop.
Disclaimer: Not investment advice. For educational purposes only: https://www.hedgefundtips.com/terms-of-use/