"Bubble Markets... If Only There Were Signs": Here Are BofA's Bull, Bear And Base Cases For 2021
The recent bearish reversal in fund flows, which earlier this week saw hedge funds sell stocks on 7 of the past 8 days (according to Goldman Prime, a development which we correctly predicted would lead to a violent short squeeze as today's all time high in the S&P demonstrates) following record fund inflows which saw more equity inflows in the past 5 months than in the prior 12 years...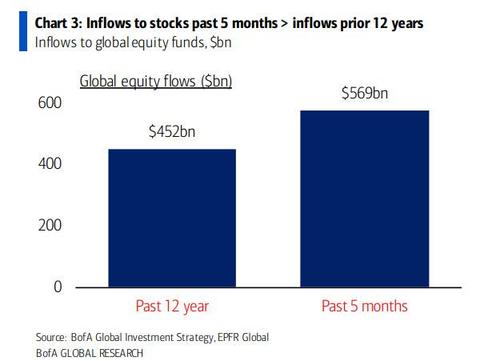 ... and resulted in record gross and net hedge fund leverage...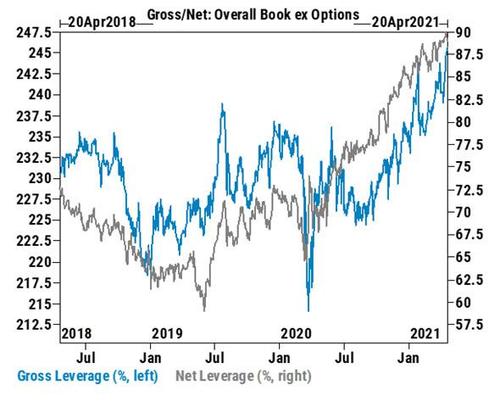 ... has itself reversed, and according to the latest EPFR data compiled by BofA, in the last week there was renewed investor euphoria with $14.6BN inflows into stocks ($10.6bn into ETFs, $4.0bn into mutual funds), $13.7BN into bonds, $8.7BN into cash, and $0.1BN into gold. In short: every risk asset was bought, even gold (it is unclear what the source of the new funds was but it may well have been proceeds from crypto liquidations).
The latest weekly burst of stock buyng pushed BofA's private clients to a total $3.2 trillion in AUM, of which a record 64.3% was in stocks, 18.1% debt, 11.3% cash. Of note: the bank's high net worth clients are buying financials, energy, HY, while selling healthcare and gold.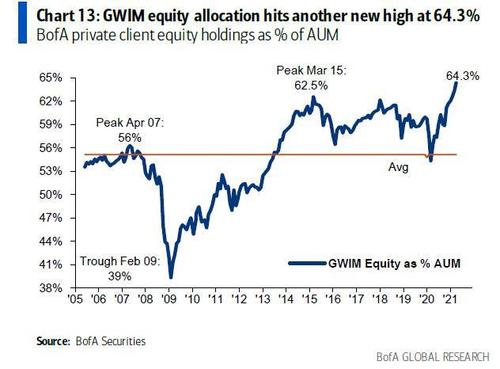 And yet despite the renewed risk on sentiment, BofA's prorpietary "Bull & Bear Indicator" dipped again to 7.1 from 7.2, and well below its Reddit-mania inspired high of 7.7 in February.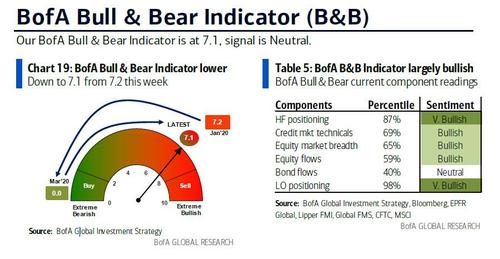 Latest weekly flows aside, Hartnett then takes readers through his latest and greatest Bull, Bear and Base cases which are as follows:
Bull Case
Q1 taper tantrum: credit & stocks weathered 100bps jump in bond yields in Q1and hit to speculative froth.
CIO's vs CEO's: $2.5tn into bonds since '08 vs just $1.1tn into stocks; CEO's not CIO's have driven stocks higher past decade via $6.3tn buybacks; in coming years CIO's could drive bond to equity rotation.
Warp speed ≠ warp speed: warp speed vaccinations not leading to warp speed reopening = policy stimulus for longer.
Breadth & Value: 1557/3042 global stocks still >20% below all-time highs.
Markets lead Macro: $30tn stimulus = $50tn jump in global stock market cap...PMIs >60, EPS >30%, GDP >6%; Fed knows this...bubble in stimulus = bubble in markets.
Disclaimer: Copyright ©2009-2021 ZeroHedge.com/ABC Media, LTD; All Rights Reserved. Zero Hedge is intended for Mature Audiences. Familiarize yourself with our legal and use policies every time ...
more