Big Drop In Black Friday Retails Store Traffic Compared To 2019 As Many Shoppers Opt To Go Online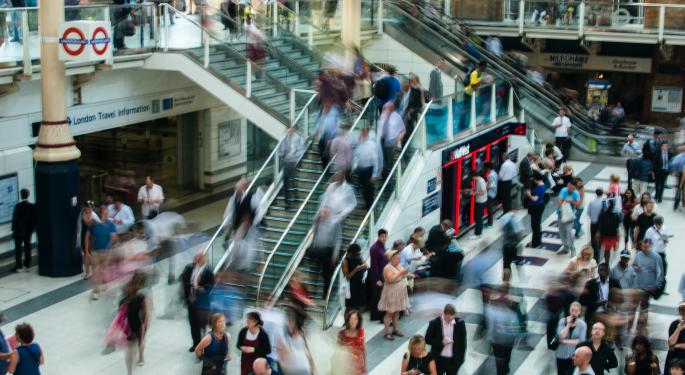 Preliminary data shows a drop of 28.3% in foot traffic at U.S. retails stores on Black Friday as compared to 2019 levels.
What Happened
Sensormatic Solutions found that the drop was even bigger for Thanksgiving Day, as visits to brick-and-mortar stores plummeted by 90.4% compared to 2019. Retailers including Target Corp (TGT), Walmart Inc (WMT), and Best Buy Co Inc (BBY) chose to remain closed on the holiday.
On a positive note, in-person shopper traffic on Black Friday was up 47.5% compared with 2020, when many shoppers stayed home. Traffic was closest to returning to 2019 levels in the South, followed by the Midwest and then the Western U.S., according to a report from CNBC.
Brian Field, senior director of global retail consulting for Sernormatic, said concerns over the newly identified omicron variant of COVID-19 did not likely impact in-store sales.
Meanwhile, online retailers registered $8.9 billion in sales on Black Friday, down from the record set in 2020 of about $9 billion, according to data from Adobe Analytics. The analysis also found that on Thanksgiving Day consumers spent $5.1 billion online, similar to last year's numbers.
What's Next
Adobe is anticipating e-commerce sales to be between $10.2 billion and $11.3 billion on Cyber Monday. Out-of-stock messages on the websites of retailers are up 124% through Friday compared to pre-pandemic levels. Appliances, electronics, housekeeping supplies, and home and garden accessories are the most likely items to be out-of-stock.
© 2021 Benzinga.com. Benzinga does not provide investment advice. All rights reserved.