Auto-Loan Denials Hit Six-Year High As Distress Cycle Shifts Into Gear
The Federal Reserve has managed to aggressively raise interest rates and tighten financial conditions so much that it sparked a regional banking crisis and unleashed contagion in European banks. Even before the banking meltdown, financial conditions were tight, pressuring subprime consumers the most.
A new Federal Reserve Bank of New York survey shows the auto loan denial rate rose to 9.1%, a six-year high in February -- and up from 5.8% in October.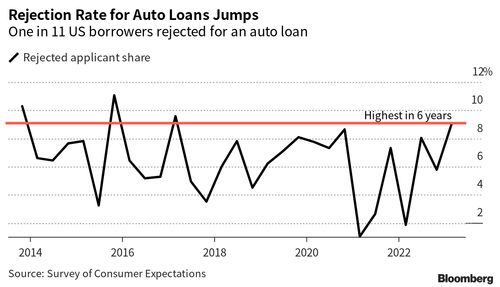 "The findings show how higher interest rates are squeezing consumer credit in some key areas, in line with the Fed's goal of cooling inflation. But in recent days, the collapse of three US banks has spurred fears of a sharper credit crunch that risks tipping the economy into a recession," Bloomberg said.
We suspect denial rates will continue increasing as banks lose faith in subprime consumers. Earlier this year, when discussing the "perfect storm" hitting the US auto market, we showed that according to Fitch, "More Americans Can't Afford Their Car Payments Than During The Peak Of Financial Crisis"...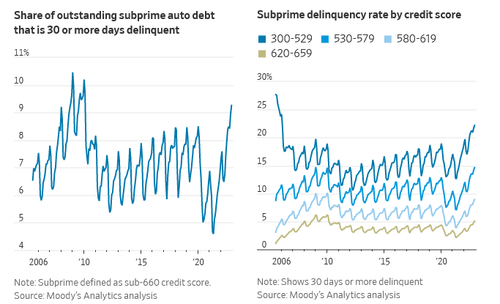 Since 1H21, the average rate on a new-car loan has nearly doubled, making vehicles much less affordable.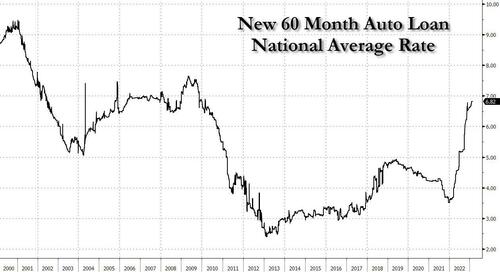 And the number of folks with $1,000 monthly car payments has soared in recent years, with the average loan amount financed hitting a record high of $40,000 -- a disaster in the making...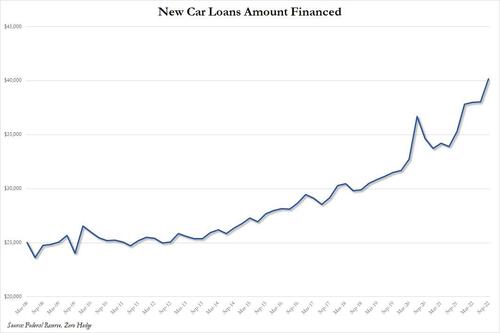 The good news for the auto market is that tighter financial conditions have reduced the number of people buying new cars. However, that could only shift more consumers to the used car market in search of deals. As we noted in recent weeks, used car prices are reaccelerating.
---
More By This Author:
20Y Auction Sees Solid Demand Despite Jarring Treasury Volatility
Record $304 Billion In Weekly FHLB Debt Issuance Hints At Staggering Size Of US Bank Run
Biden In Touch With Buffett On Bank Crisis
Disclosure: Copyright ©2009-2023 ZeroHedge.com/ABC Media, LTD; All Rights Reserved. Zero Hedge is intended for Mature Audiences. Familiarize yourself with our legal and use policies ...
more