Are "Growth" And "Value" Exclusive Of Each Other? No!
"Davidson " submits:
Are the growth companies the F.A.N.G. type issues which occur every investment cycle or simply well managed but typically over-looked basic year-over-year improvers of our standards of living? The answer lies in the story of Danaher (DHR), which most of Wall Street tends to ignore, and companies operated similarly to DHR. The performance history from Jan 1976 thru Dec 2018 of 330,300% compared to that of the SP500's 2,587%(more than 100x higher return) so stretches one's imagination as to what is possible that such a record receives a typical dismissive response that not only is this not possible but that it is not repeatable. Largely missed by Wall Street is that the long-term performance of the major indices is determined by companies like DHR. What is a growth company? F.A.N.G.-type or DHR-type?
The better companies are the DHR-types.
(Click on image to enlarge)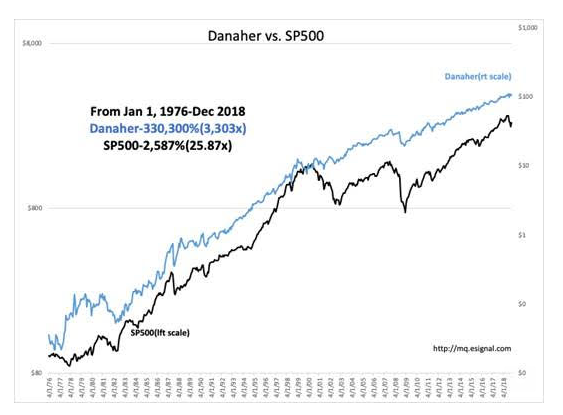 The truth behind well-managed companies is that Wall Street does not understand them. Currently taught financial analysis techniques are heavily reliant on mathematical models adjusted quarter-over-quarter. The short-term reliance on mathematical analysis misses entirely the basis of long-term sustained corporate performance as responsible for price performance. The basis for long-term performance rests squarely on management culture. One needs to learn to listen carefully to management. The better management cultures spell out what they plan to do and what they expect the outcomes to be. Investment analysis then monitors this process and the outcomes. Crucial to this type of analysis is how management behaves during periods of business stress, i.e. unexpected downturns. Identifying which managements qualify as 'well-managed' is a skill derived from actual investment experience over an investment cycle. Academic programs have no focus on this aspect of business.
Multiple years of studying management's performance reveals that corporate culture is correlated to share performance over the long-term. A focus on corporate culture does not fit any mathematical model. Understanding corporate culture requires developing judgment regarding management decision-skillsets over a broad range of business activity including but not limited to selecting other key management personnel, product/service offerings, acquisitions, business extensions, and investor presentation skills. Identifying better management, developing one's own investment judgment, comes from experience which is something that cannot be taught. It couples close attention to management's decisions with business financials and investor responses. DHR's long-term performance results from strong corporate business culture consistently renewed. Even with changes in management, DHR's corporate culture remained on course.
Disclosure: The information in this blog post represents my own opinions and does not contain a recommendation for any particular security or investment. I or my affiliates may hold positions or ...
more