Apple's Next Big Thing
Later this year, Apple (AAPL) CEO Tim Cook wants to cement his legacy by revealing the company's 'next big thing'. He hopes that Apple's mixed-reality headset will become the next iPhone.
The stakes are high for Cook because this is his baby – the first new hardware platform developed entirely under his leadership. The iPhone, iPad and even iWatch were all originally conceived under Apple's co-founder Steve Jobs, who died in 2011.
Cook thinks he really needs this new product, being stung by criticism that Apple has been resting on its laurels, with no innovation since he took over from Jobs.
But it's not clear this launch will go all that smoothly…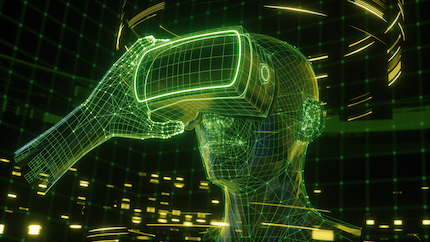 This criticism comes despite the company's spectacular growth while Cook has been in charge. Apple's market capitalization has soared from around $350 billion in 2011 to about $2.4 trillion today. Part of that has been due to the twin hit launches of Apple Watch in 2015 and AirPods a year later. These products have helped turn Apple's accessories division into a $41 billion business.
Headset Delayed No More
The headset has been in development for seven years — twice as long as the iPhone, having been delayed for a few years in its launch. The complex device will contain an array of cameras and high-resolution screens.
It is believed the unveiling may come as early as June for the headset, which will feature both virtual and augmented reality. However, it may be delayed again… thanks to internal company disagreements.
Apple's operations team wanted to ship a "version one" product, a ski goggle-like headset that will allow its users to do a number of actions such as watching immersive 3D video and performing interactive workouts.
However, Apple's famed industrial design team (with its fabulous reputation) continues to urge patience. It wants to delay any launch until a more lightweight version of AR (augmented reality) glasses became technically feasible. But that could take several more years and Tim Cook does not want to wait.
In deciding to press ahead with a debut this year, Cook has overruled the objections from Apple's designers to wait for the tech to catch up with their vision and sided with the operations side.
Apple Headset: Starting Slowly
This is not surprising, considering that Tim Cook was once Apple's operations chief.
But I do wonder if Apple's shift from the industrial design team running the show to the operations team running the show is the right way forward for a technology company like Apple.
A related worry is the large amount of staff turnover in the design team ever since its leader, Jony Ive, left in 2019. Ivy steered the development of the iMac, iPod, iPhone and iWatch.
The success or failure of the headset could have huge, long-term implications for Apple's reputation and perceived ability to keep innovating and producing high-quality products. That would worry me as a shareholder.
However, initially, sales of the headset will be no more than a rounding error for Apple. Apple is expected to sell around a million units of its headset in its first year. That is fewer than what the first generations of the iPhone or Apple Watch did in the year following their launch.

The expected price of the headset is said to be around $3,000, triple the price of Meta's (META) Quest Pro, potentially severely limiting its appeal.

Selling those one million headsets ($3 billion in sales) would be about 10% of the still-nascent VR market. The technology research firm CCS Insight estimates just under 10 million mixed-reality headsets were sold globally last year.
Keep in mind that Apple has a long history of starting slowly when it enters new product categories. But then it takes the market by storm within a few years. Analysts at Morgan Stanley wrote in a note to clients earlier this month that "The market has historically underestimated the long-term impact of new [Apple] product/services launches."
While I do not expect AR to go mainstream overnight, researchers at Citi do forecast that one billion people — roughly the number of iPhone users today — will be wearing headsets by 2030, supporting a market worth up to $2 trillion in revenue.
So it's easy to see why Apple is interested.
---
More By This Author:
If You're Worried About Banks, Invest In Municipal Bonds Instead
Netflix Is Back On Top
The SVB Effect Is Spreading
Disclaimer: Information contained in this email and websites maintained by Investors Alley Corp. ("Investors Alley") are provided for educational purposes only and are neither an offer ...
more