Aegion Corp. Leads Top-Five Upgrade List
Data are presented by one-month forecast return. Aegion Corp (AEGN) is the leader here.
Aegion Corporation provides cured-in place pipe and other technologies and services for the rehabilitation of pipeline systems. The Company is engaged in providing proprietary technologies and services to protect against the corrosion of industrial pipelines and for the rehabilitation and strengthening of sewer, water, energy and mining piping systems and buildings, bridges, tunnels and waterfront structures. Aegion Corporation, formally known as Insituform Technologies, Inc., is headquartered in Chesterfield, Missouri.*Note: These picks are all rated "BUY." There are no "STRONG BUY" rated upgrades for today.

Below is today's data on Aegion Corp (AEGN):
Recommendation: We updated our recommendation from HOLD to BUY for AEGION CORP on 2016-07-22. Based on the information we have gathered and our resulting research, we feel that AEGION CORP has the probability to OUTPERFORM average market performance for the next year. The company exhibits ATTRACTIVE Momentum and Price Sales Ratio.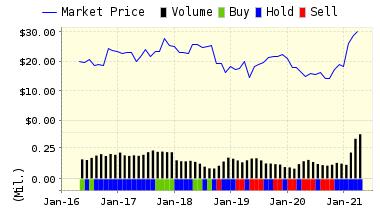 ValuEngine Forecast

Target
Price*

Expected
Return

1-Month

20.26
0.55%

3-Month

20.76
3.03%

6-Month

21.42
6.31%

1-Year

21.48
6.60%

2-Year

24.54
21.81%

3-Year

25.55
26.78%
Valuation & Rankings

Valuation

15.29% overvalued

Valuation Rank

21

1-M Forecast Return

0.55%

1-M Forecast Return Rank

87

12-M Return

15.87%

Momentum Rank

79

Sharpe Ratio

-0.04

Sharpe Ratio Rank

52

5-Y Avg Annual Return

-1.44%

5-Y Avg Annual Rtn Rank

52

Volatility

36.09%

Volatility Rank

50

Expected EPS Growth

23.08%

EPS Growth Rank

61

Market Cap (billions)

0.75

Size Rank

62

Trailing P/E Ratio

17.22

Trailing P/E Rank

70

Forward P/E Ratio

13.99

Forward P/E Ratio Rank

62

PEG Ratio

0.75

PEG Ratio Rank

50

Price/Sales

0.57

Price/Sales Rank

79

Market/Book

11.56

Market/Book Rank

11

Beta

2.08

Beta Rank

10

Alpha

-0.01

Alpha Rank

58
Disclosure: None.
Disclaimer: ValuEngine.com is an independent research provider, producing buy/hold/sell recommendations, ...
more