AAII Sentiment Survey Results: Know When To Hold 'Em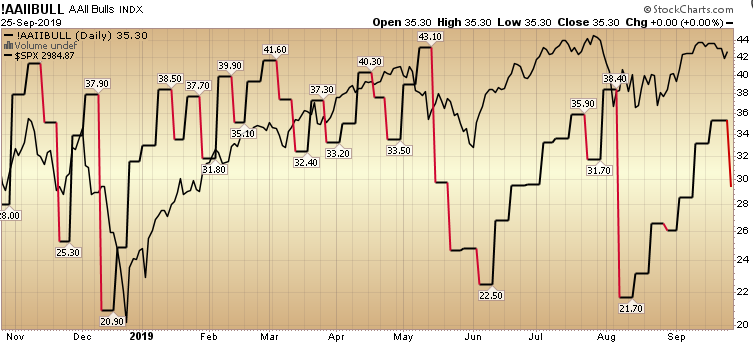 As a long time Country fan, the song that came to mind when writing this piece today was Kenny Rogers' "The Gambler."
He said, "If you're gonna play the game, boy
You gotta learn to play it right
You've got to know when to hold 'em
Know when to fold 'em
Know when to walk away
And know when to run"
Since mid-August, we had been suggesting buying stocks when everyone else was running to bonds. After the price recovery – last week we suggested, "if you got 'em, hold 'em," and this week, Kenny Rogers sings the same tune along with us – "know when to hold 'em."
So what do the AAII Sentiment Survey Results point to this week?
We have what is potentially a "pause that refreshes." If you look at the move off the lows in January of this year, after the first big thrust off the bottom, folks were so shell shocked from what happened in December that they were looking back in the rearview mirror waiting for the next shoe to drop (see chart above). Bullish sentiment dropped ~5% (~38.5 back to ~33.5) after that first big move off the bottom (from 20.90 to 38.5). You will see that while it appeared sentiment had made its full move and was reversing, the stock market was less than halfway done at that point. It simply needed to bring in more "bricks" to build the wall of worry – which would subsequently be scaled back to new highs.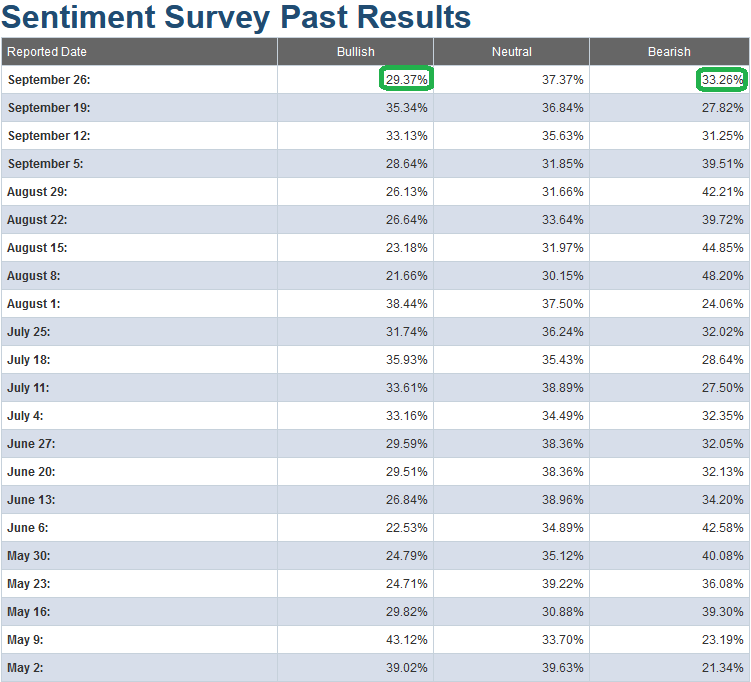 We got a similar "pause that refreshes" this week with Bullish Sentiment dropping ~6% (from 35.34 to 29.37) and Bearish Sentiment rising from (from 27.82 to 33.26). Everyone is looking for another big flush because "that's what happens in September and October" (and most managers are still overweight cash and need a pullback to catch up). September was also supposed to be the "worst month of the year" and we're positive. When everyone's looking for the same thing, you might not get it. The implication here is that we have to "know when to hold 'em." This week's retreat in sentiment may also have created an opportunity to add selectively in laggard names and sectors which we will discuss below.