4 Post-Sell-Off Bargain Stocks In Biotech
Investors are getting whipsawed as the market cannot overcome increasing concerns around China, slowing global growth, the continuing collapse of both energy and commodity prices as well as a corresponding decline in currencies and economies of commodity based countries like Brazil, Malaysia, Australia, Russia and Canada among others. The slide continued Monday as Shanghai had its largest one-day drop since 2007 in trading to begin the week.
Equities posted their biggest declines in a week since September 2011 as the S&P 500 fell back almost six percent in five trading sessions. The Volatility Index doubled for its biggest one week advance on record. High beta sectors have been particularly vulnerable during this sell-off. The Russell 2000 small cap benchmark is off some 11% off their recent highs.
The biotech sector after a miraculous run that saw the main indices shoot up more than 50% in a year until this recent pullback have given up 15% from their recent peak. On a brighter note, myriad promising and attractive small cap biotech stocks are selling for substantial less than they were a few weeks ago. I continue to put more of my "dry powder" into the less volatile large cap growth plays in the sector and added a few shares of Amgen (NASDAQ: AMGN) and Gilead Sciences (NASDAQ: GILD) late last week.
In the small cap part of this space I am sticking with concerns that have upcoming catalysts on the foreseeable horizon that could boost their share prices if positive. Here are several possible new positions I am currently considering.
Let's start with Merrimack Pharmaceuticals (NASDAQ: MACK) which is down some 20% from its highs in July despite easily beating both top and bottom line expectations when it reported quarterly results on August 10th.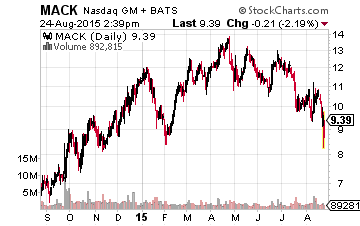 The company should know whether its lead oncology candidate MM-398 is approved by the FDA for the treatment of pancreatic cancer after the compound produced positive phase III trial results sometime in late October. Phase I results for MM-398 for the indications of glioblastoma and pediatric sarcoma should be out by the end of the year as well. Over the past few weeks, Oppenheimer, Cantor Fitzgerald, and Brean Capital have reiterated or initiated Buy ratings on Merrimack with price targets ranging from $13.00 to $16.00 a share. After its recent sell-off, the stock goes for just less than $10.00 a share.
Disclosure: Long CELG, ZIOP, AMGN, GILD.