3 Reasons Reflation Won't Crimp Economic Growth In The Charts
The narrative surrounding inflation, or "reflation" as Finom Group (for whom I am employed) recognizes it to be, is pretty compelling. The financial media does a stand-up job of driving a fearful story that introduces many negative consequences from inflationary prices. History suggests that such fears are, indeed, overblown and generally only produce momentary equity market consequences. So before you get overly concerned about the impacts from a "reflationary" period...
Ben Carlson recently addressed one of the key concerns surrounding inflation from the perspective of rising prices and its correlation with rates. Interest rates and inflation do have a strong relationship over time but it's not a foregone conclusion that higher prices would lead to higher borrowing rates.
"I keep coming back to the WWII scenario because that's really the only time we've experienced debt levels on par with this crisis. All of that wartime spending did lead to a surge in prices as inflation hit nearly 20% in the years following the war: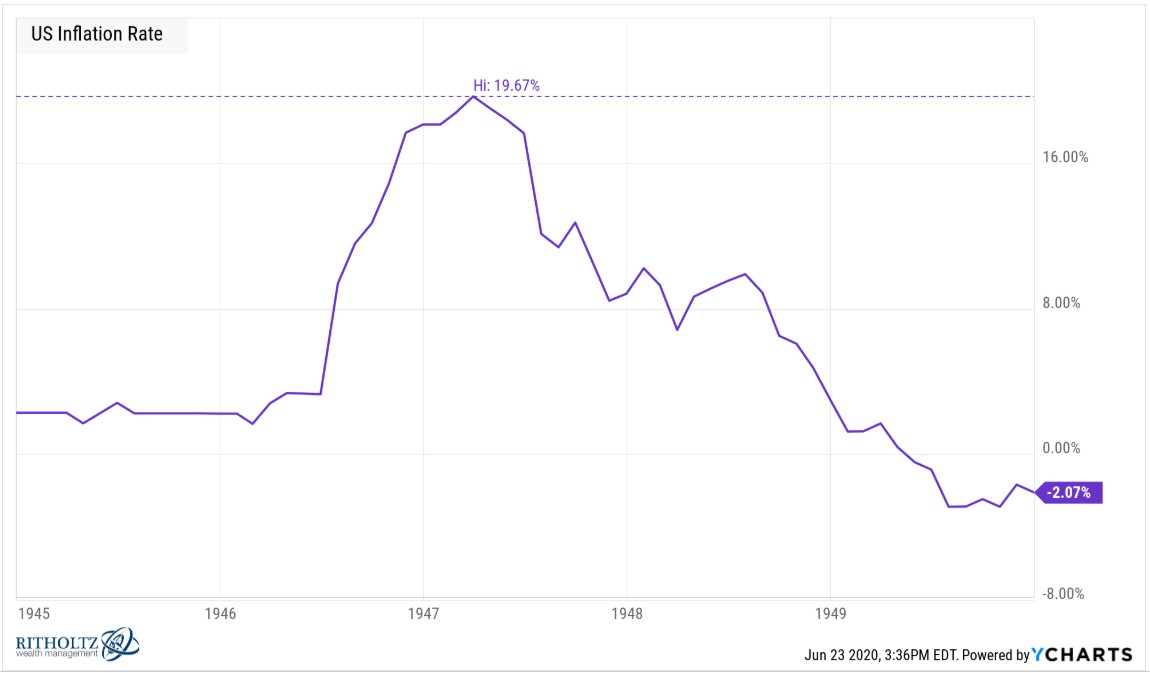 "But borrowing rates didn't budge. In fact, there were three separate inflationary spikes in and around the war years and none of them led to an increase in rates. Here is the trailing 12 month inflation rate along with the 10 year treasury yield from 1939-1959: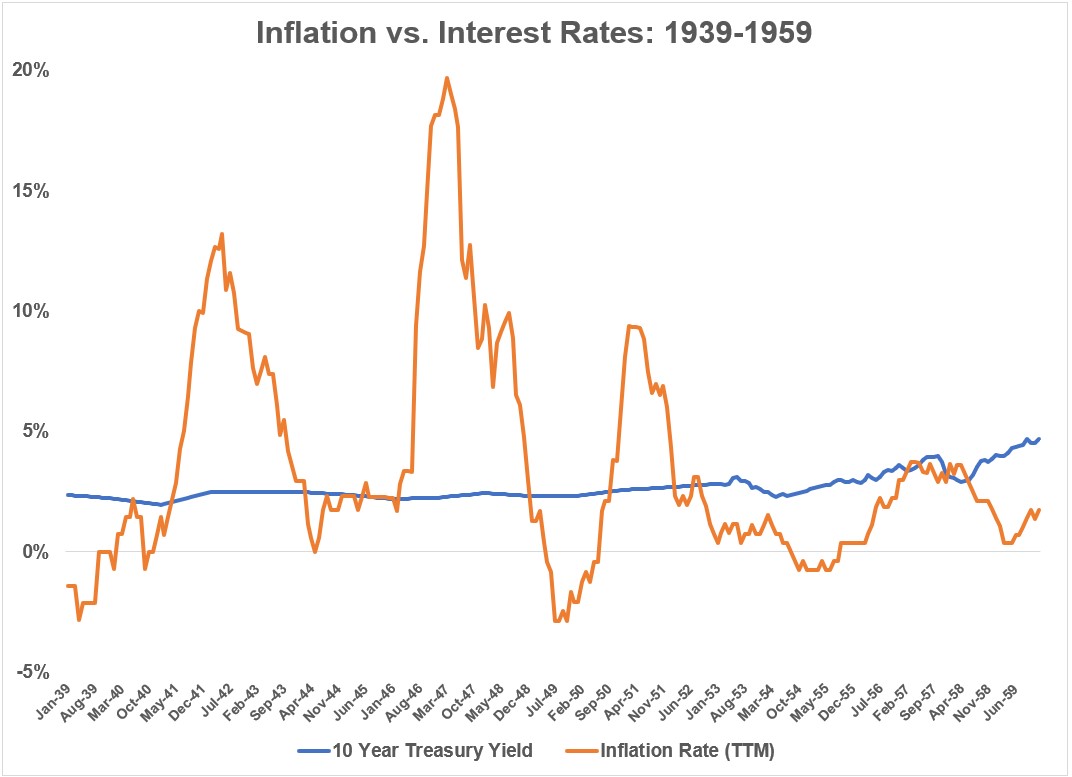 Rates were unfazed by that huge post-WWII price spike because the government essentially put a cap on them. Rates didn't start rising until the late-1950s, long after this spending had worked its way through the system. That inflation was also accompanied by robust economic growth and higher wages for the lower and middle class."
There is a lesson here for economists, strategists and investors alike: Where there is a "problem", there is always a solution". As an investor, you don't want to find yourself in a position whereby the narrative populated by the financial media, which is largely pessimistic and critical of the central banks, leads you to focus on the problem and without recognizing the history of central bank intervention, problem-solving skills. Generally, the market forces central bank action, it's just a matter of the market speaking loudly enough. That speech by the market often takes the shape of a brief, yet steep downturn. The savvy investor desires this downturn but approaches it from the perspective of optimism given the aforementioned problem-solving skills of the central bankers. With this in mind, let's discuss today's survival playbook. What do we aim to survive? The popularIZED and fearful INFLATION narrative, of course!
Every week, Finom Group disseminates a weekly Research Report for members. In last week's Report, we prepared members/investors for the likely base effect, inflation reports from the April Consumer and Producer Price Index. Below is a snapshot of that dissemination:
Finom Group is anticipating strong rises in the PPI and CPI readings this coming week. We also believe that is the majority expectation, and as such, surges in prices should be recognized as commonplace and part of the typical "base effect" previously discussed. We should expect the base effects of Consumer Price inflation over the coming 3-5 month period to show up in CPI. The chart above identifies the clear inverse from the 2020 trough (even negative CPI) in 2021 forecast.
Disclaimer: The risk of loss in stock, stock/options, futures, futures/options, and forex trading is substantial, and site visitors and subscribers should consider whether trading these markets ...
more