2015 Bankruptcy Watchlist: Avoid These Stocks
As promised, it is time to take a look at the companies that won't be around come 2016. We made some bold predictions last year, and we're doing the same for 2015 including one stalwart technology company that nobody expects. Every investor needs to shield their portfolio from these rotten eggs.
Just five months ago we put a number of companies on our bankruptcy watchlist for 2014. Since then, one company is already bankrupt and another is well on its way, and the stock prices of two others are down more than 40%.
Call it zealousness, or just good old fashioned over confidence, but we're adding to our bankruptcy watchlist for 2015.
While everything in me wants to believe that this market will continue to defy gravity and move higher, 2015 could be a painful year for investors that aren't forward looking.
There seems to be more fads than ever and the pace of tech innovation continues to render more and more products obsolete. Then there's the halving of oil prices, which will have far reaching effects.
With that in mind, here is the three areas of the market that will see several bankruptcies this year:
2015 Bankruptcy Watchlist No. 1: More Blood In Electronics Retail
Recall how great Circuit City was, right before it went bankrupt in 2008? Well, it looks like we have our first major Circuit City redux. Wall Street has been calling for RadioShack (NYSE: RSH)'s head for well over six months now and it looks like they might finally be getting it.
The electronics retailer is reportedly planning to file for bankruptcy protection later this month. Shares are trading at just around 25 cents a share — a far cry from the $75 the stock traded at in its heyday back in 1999.
Again, GameStop (NYSE: GME) – which we profiled in our last round of bankruptcy predictions — could face the same fate, but there could be a couple electronics retailers that follow RadioShack even sooner than GameStop.
First there's HHGREGG (NASDAQ: HGG), which lacks the scale, e-commerce presence and purchasing power of Best Buy (NYSE: BBY) to really weather a transition away from buying electronics in stores. The small retailer's shares have been cut in half over the last year.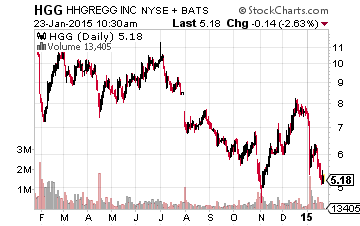 And there doesn't appear to be any relief in sight. HHGREGG's EBITDA margin is virtually nonexistent — coming in at 0.5% for the trailing twelve months. Once the losses start rolling in, it'll only be a matter of time before HHGREGG burns through its $40 million in cash on hand.
But the big bankruptcy story in electronics retail will be Conn's (NASDAQ: CONN), which is struggling to get a handle on its large credit portfolio that continues to hemorrhage losses. Shares are down 75% over the last year.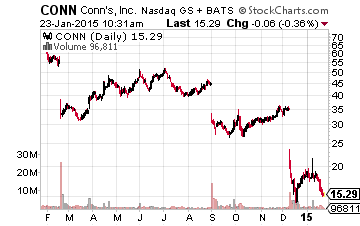 However, the stock is still in trouble. It has $700 million in debt, compared to its $555 million market cap. Its customers owe the company $1.1 billion, but actually collecting that money has been a real issue. The quality of its loan portfolio is in rapid deterioration and the market has no confidence in the company.