2 More Triple Digit Winners In Biotech
The small cap biotech and biopharma complex has been very kind to everyone who has followed Bret Jensen's picks over the past half year. Always trying to outdo himself however, here are two more recommendations that have the signature Bret Jensen "X" factors that make up a great small cap biotech investment.
Avanir Pharmaceuticals (NASDAQ: AVNR) more than tripled thanks to a predicted buyout offer since its inclusion in July's inaugural edition of my Small Cap Gems portfolio. In addition, I have had great success highlighting some attractive small cap plays in these spaces right here on Investors Alley. Curis Inc. (NASDAQ: CRIS) has more than doubled since I highlighted this promising small cap biotech concern from my own portfolio on December 26th. Not to be outdone, ZIOPHARMA Oncology (NASDAQ: ZIOP) has almost tripled despite a big secondary offering recently, since I tagged this speculative recommendation for major upside back on October 25th.
Hoping to continue this recent scorching streak within these sectors I offer up two more speculative but attractive biotech stocks under $5 a share that could produce triple digit returns if everything falls nicely into place.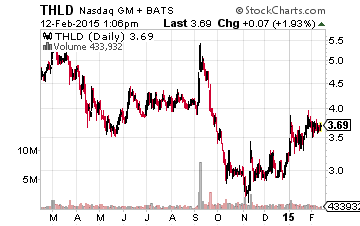 Let's start with Threshold Pharmaceuticals (NASDAQ: THLD) an aptly named biotech company with under a $250 million market capitalization which is on the verge of substantial upside if events pan out in 2015. Threshold discovers and develops therapeutic agents that target tumor cells for the treatment of patients living with cancer in the United States. Its lead investigational small molecule, TH-302, is being evaluated in two pivotal Phase III clinical trials for the treatment of soft tissue sarcoma indication and pancreatic cancer.
The company has a partnership with Merck KGaA to co-develop and commercialize TH-302 which also is in early investigative trials for other indications. The company is in midst of raising just under $30 million for R&D efforts which will bring its total cash balance to almost $100 million.
The company recently received fast track approval from the FDA for TH-302 for the treatment of previously untreated patients with metastatic or locally advanced unresectable soft tissue sarcoma. Results on survival rates should be available in the first quarter of 2016.
I like several things about Threshold Pharmaceuticals and they are why I took a speculative position in this biotech concern at $3.00 a share. I still like it as it nears $4.00 a share as the company has several "shots on goal", a very solid balance sheet and a partnership with a major pharma player.
In addition, analyst coverage is becoming more glowing on the prospects for this firm over the past two months. During that timeframe MLV & Company, Piper Jaffray and H.C. Wainwright all have reiterated their "Buy" ratings on this speculative but increasingly attractive small biotech play. Their price targets are $14.50, $15.00, and $12.00, respectfully pointing to major upside if trial results come in positive over the next year or two.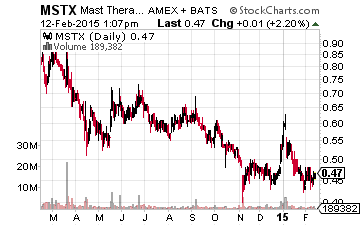 The second of the two speculative selections is Mast Therapeutics (NASDAQ: MSTX). Mast has a market capitalization of just $60 million, the lowest of any stock in my portfolio. Mast Therapeutics is a San Diego based biopharmaceutical company that is developing two clinical-stage assets, including one that is in a Phase III trial and four additional Phase II trials. Mast's leading asset is MST-188, a poloxamer that recently initiated a Phase II trial at 70 worldwide clinical sites to treat the painful vaso-occlusive crises that patients with sickle cell disease suffer from, roughly twice a year.
Despite its small market capitalization, famed investor Seth Klarman has a significant position in the stock. In addition, approximately three quarters of the company's market capitalization is represented by the company's cash on its balance sheet.
In the second half of 2014, the company reported positive results from a Phase II clinical trial evaluating the safety and efficacy of its compound AIR001for the treatment of patients with pulmonary arterial hypertension. Mast acquired the rights to AIROO1 via an acquisition of privately-held Aires Pharmaceuticals in February of this year.
The company just announced encouraging early stage and initial results of MST-188 used in conjunction with a tissue plasminogen activator to treat embolic stroke. The stock is one of two in my portfolio that go for under $1.00 a share which MSTX currently going for 45 cents a share.
Not surprisingly given its small market capitalization and lack of approved products on the market as of yet; the company receives little analyst coverage. The only analysts I can find that cover the firm are Piper Jaffray, Highline Research Advisors and Canaccord Genuity; all of which have "Buy" ratings on the stock with Highline having a $3.00 a share price target and Piper Jaffray a $1.00 a share bogey on Mast.
Given the company's small market capitalization, emerging pipeline and huge cash balance I would not be surprised if it is acquired for a substantial premium in 2015.
Both of these small biotech concerns are highly speculative but could pay huge dividends if events unfold positively. They make worthy candidates within a well-diversified biotech portfolio for aggressive growth investors.