HH

Two Million Restaurants Worldwide At Risk Of Collapse
After several months of a slow recovery in restaurant dining data in the U.S. and across the globe, there is absolutely no evidence of a V-shaped recovery in the food industry and suggests millions of eateries are on the brink of collapse, consulting firm Aaron Allen & Associates told Bloomberg.
"Based on our estimates, we believe up to 10% of all restaurants globally will disappear, with 20% or more also going through a restructuring process," said founder Aaron Allen. "This is a conservative case, in our view."
Of the roughly 22 million restaurants worldwide, about 2.2 million are expected to shutter operations. Global restaurant traffic data via OpenTable shows little improvement in late June.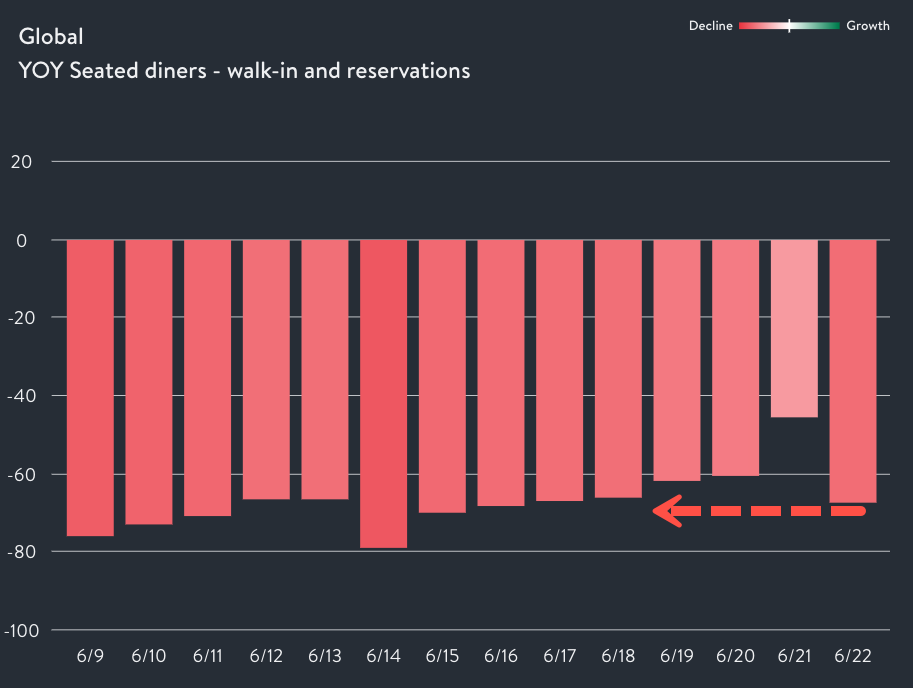 We noted, on Sunday, June 14, after months of slow improvement, restaurant traffic suddenly plunged, sliding from a -66.5% y/y decline as of June 13 to -78.8% globally. The plunge was mostly due to a sharp drop in U.S. restaurant diners, which plunged by 13% - from -65% to -78% - the biggest one day drop since the start of the shutdown in the U.S., and the second biggest one day drop on record.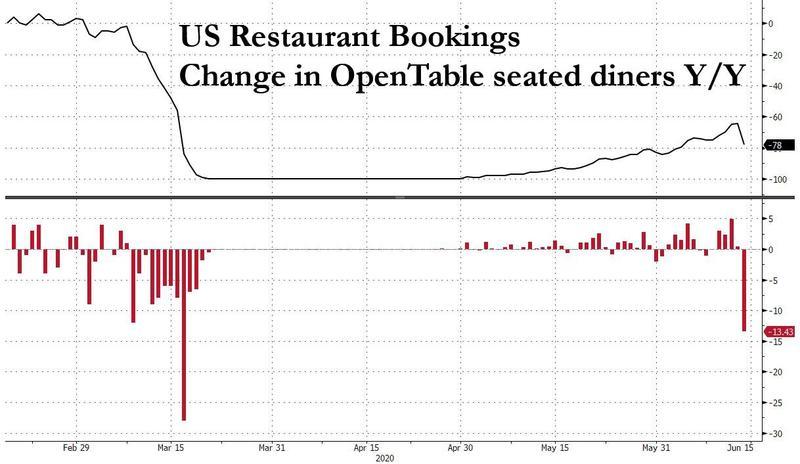 Another sharp drop in U.S. restaurant traffic was noticed on Monday, June 22, due mostly because of the emergence of the second virus wave in some states, Bloomberg reports:
Cases are surging in Texas, Florida, Arizona, and in California, which on Tuesday broke its record for new cases for the fourth day in the past week. Even in New Jersey, where numbers have been falling, Governor Phil Murphy warned that the transmission rate is "beginning to creep up."

Coronavirus cases in the U.S. increased by 35,695 from the same time Monday to 2.33 million, according to data collected by Johns Hopkins University and Bloomberg News. The 1.6% gain was higher than the average daily increase of 1.3% the past seven days. Deaths rose 0.7% to 120,913....
Disclosure: Copyright ©2009-2020 ZeroHedge.com/ABC Media, LTD; All Rights Reserved. Zero Hedge is intended for Mature Audiences. Familiarize yourself with our legal and use policies every time ...
more