The Value Of 1999's Five Top-Selling Works At Auction Updated
Investing tens of millions of dollars in works by Beeple or Banksy may seem extravagant today, but acquiring the most expensive artworks is statistically a winning strategy. Academic studies1 have shown that a masterpiece effect does indeed exist on the art market: the most expensive works continue to gain more value than the rest of the market. This is corroborated by the analysis conducted by Artprice's valuation service – Artpricing – on the five top-selling artworks in 1999.
Evolution of the portfolio: 1999 vs. 2021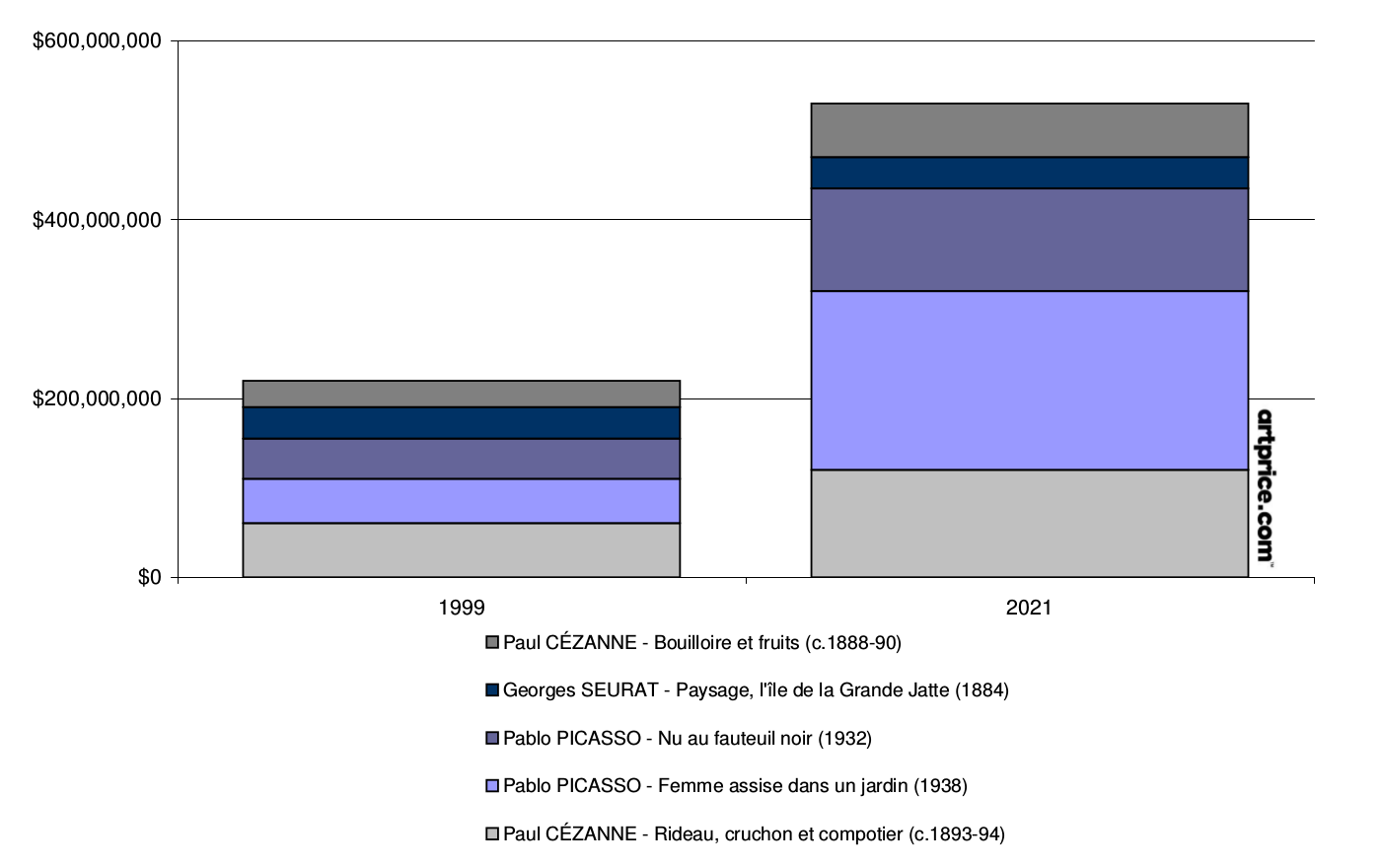 "By following the five most expensive masterpieces of 1999, Artprice finds that what was considered 'exorbitantly expensive' 22 years ago is no longer considered as such today, explains thierry Ehrmann, President and Founder of Artmarket.com and its Artprice department.
"Imagine that in the first quarter of 2021, you acquired the Boticelli portrait, Beeple's NFT and the three paintings by Basquiat, Banksy and Picasso. How much will these works be worth in a quarter of a century? The future will tell us which are the best operations, but experience so far suggests that a strategy of buying the most expensive works pays the highest dividends".
The 5 most expensive works at auction in 1999 vs. Artpricing's low estimates in 2021
Paul CÉZANNE (1839-1906) - Curtain, jug and fruit bowl (c.1893-1894)
1999: $60,502,500 → 2021: $120,000,000
Pablo PICASSO (1881-1973) - Woman seated in a garden (1938)
1999: $49,502,500 → 2021: $200,000,000
Pablo PICASSO (1881-1973) - Nude in a black armchair (1932)
1999: $45,102,500 → 2021: $115,000,000
Georges SEURAT (1859- 1891) - Paysage, l'île de la Grande Jatte (1884)
1999: $35,202,500 → 2021: $35,000,000
Paul CÉZANNE (1839-1906) - Kettle and fruits (c.1888-1890)
1999: $29,476,000 → 2021: $60,000,000
Cézanne's still lifes have doubled in value
Curtain, jug and fruit bowl (c.1893-1894) was purchased for $60.5 million on 10 May 1999 in New York, well above Sotheby's estimated range ($25 - 35 million). Twenty years later, this is still the record price for Paul Cézanne at auction. But that doesn't mean its value has contracted.