EC

HH

NFT Mania: The Perfect Viral Asset
I've been following the non-fungible token (NFT) space closely over the last three months. NFTs are a form of digital collectible. They're based on blockchain technology, which makes each one unique, indivisible and verifiable.
NFTs have gotten a lot of attention recently. But they've existed for years. In 2017, the CryptoPunks NFT project was launched on the Ethereum network. There were 10,000 'punks created — each with its own unique set of features.
Since then, 'punks have become an unofficial status symbol. Ethereum fans often use their punk as their avatar on sites like Twitter. If you own your punk avatar, you're an "OG," basically.
On Monday, August 23, Visa (V) announced the purchase of CryptoPunk #7610. The company spent 49.5 ETH, which at the time was worth about $150,000.
Here's what $150,000 bought them (besides the priceless PR).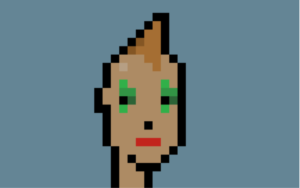 Over the last 60 years, Visa has built a collection of historic commerce artifacts - from early paper credit cards to the zip-zap machine. Today, as we enter a new era of NFT-commerce, Visa welcomes CryptoPunk #7610 to our collection. https://t.co/XoPFfwxUiu

— VisaNews (@VisaNews) August 23, 2021
The punk that Visa just bought first sold for 0.60 ETH on July 11th, 2017 — $114 at the time. We know this because all the transactions are recorded on the Ethereum blockchain, and we can see a record of sales on the project creator's website, LarvaLabs.com.
Visa's announcement caused an NFT mania. CryptoPunks started flying off the shelves, and a new record for daily sales was set — $69 million in a single day. The rarest 'punks now sell for millions of dollars.

Other Notable NFT Projects: $1.3M Rocks, Algorithmic Art
Other popular NFT projects also soared in price this week. Take a look at the Etherrock project, which also launched in 2017.
Only 100 Etherrocks were minted, making them very rare. And they are quite the hot ticket. For example, the rock below sold for $1.3 million on August 25, 2021.
Disclosure: I don't own a single NFT, so no conflict of interest to report here.
Disclaimer: Read our full disclaimer here.