The Price Of Bitcoin Will Surge On 500% User Growth
One of the simplest ways to understand the growth in the price of Bitcoin is to look at the amount of people using it. And that number is slated to surge over the coming years.
Bitcoin became the world's first cryptocurrency in 2009. Since then, it has grown exponentially with over 50 million unique Bitcoin wallets created and those users conducting roughly 300,000 transactions daily.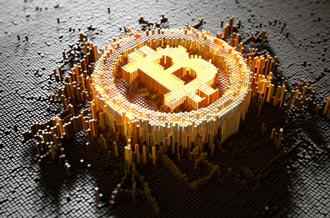 Those are some impressive numbers on their own given that a significant amount of this growth has come over the last few years. In January 2015, there were roughly 2.7 million wallets and the price of Bitcoin was at $281.
Now Bitcoin has reached over 50 million users and it's worth roughly $11,500 dollars. That's a 4,000% increase in value, handily outpacing the stock market. While its value has increased, its use case has as well. You can use Bitcoin to make purchases on Overstock.com Inc. (Nasdaq: OSTK), pay your phone bill with AT&T Inc. (NYSE: T), buy credits in games at Zynga Inc. (Nasdaq: ZNGA), and even spend money with Microsoft Corp. (Nasdaq: MSFT), one of the largest companies in the world.
With millions of people owning Bitcoin, it has become a very liquid market for trading. Over $4 billion worth is traded every day according to Coin Metrics, and if that number continues to grow at its historical growth rate, Bitcoin will need less than four years to exceed daily volume of all U.S. equities.
That's made other cryptocurrencies enormously profitable as well.
In fact, many of our customers trading with Tom Gentile's Microcurrency Trader have made some big gains on these cryptocurrencies too, like a 393.7% winner on Chainlink. If you want to see how they're doing it, just click right here.
But Bitcoin's growth is far from over, and that's creating a totally new opportunity for you…
Why the Price of Bitcoin Is Set to Explode Higher
Bitcoin's mainstream presence is just starting to take off. Just look at Square Inc.'s (NYSE: SQ) recent earnings on Aug. 5, 2020, to give you an idea of what's happening.
Disclaimer: Read our disclaimer here.