The Non-Cyclical Cycle Repeats
Industrial production rose year-over-year in December 2016, the first plus sign in more than a year. For the month, IP was up 0.5% from the same month in 2015, following declines of 0.7% in each of the prior two months. In seasonally-adjusted, month-over-month terms, IP increased by 0.8% in December after being essentially flat for four months before.
Under normal circumstances that would be cause for celebration, because in a cyclical paradigm when the whole economy or even part of it stops contracting it returns to growth. Though that still remains the widespread, mainstream expectation, it hasn't been the case at all during the Great "Recession's" aftermath. What we almost always find instead is contraction followed by slightly positive numbers, or, as has so far been the case in several economic accounts in late 2016, sideways.
It is the damnedest thing to see of economic considerations, as it really doesn't make much sense unless you step outside normal parameters. Industrial production displays these odd tendencies more than perhaps other statistics, whether that relates to just the contraction of the "rising dollar" 2014-15, or, as in IP of consumer goods, 2009 forward as a whole.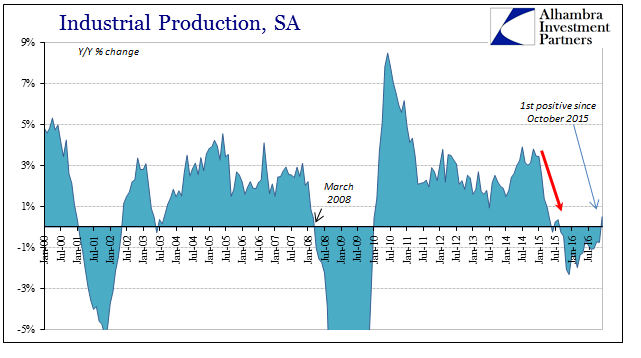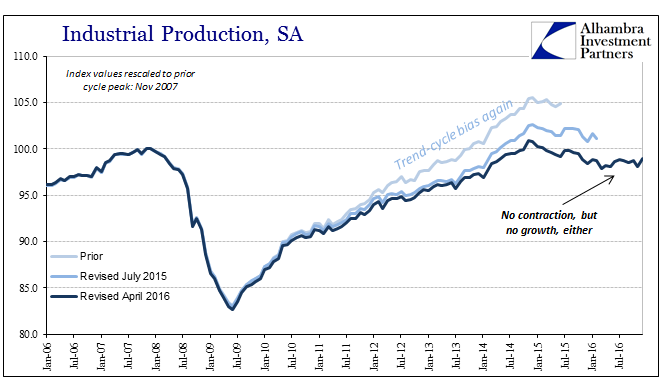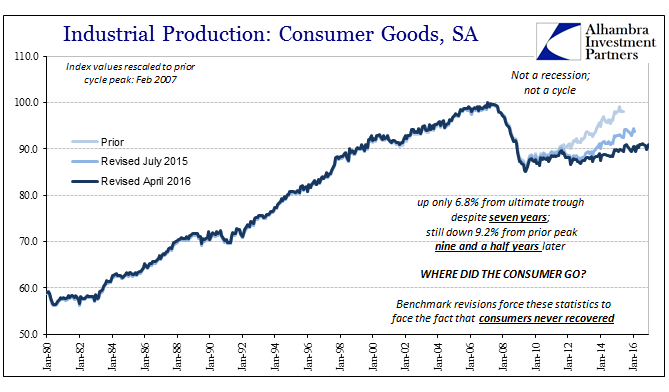 This lack of recovery after these variable declines is essentially the economy, or the related parts represented by whatever account, shrinking and remaining shrunk. That just isn't supposed to happen, yet here it is in vibrant detail. From capacity utilization to motor vehicle assemblies, even crude oil production, there is a decline followed by sideways nearly every time.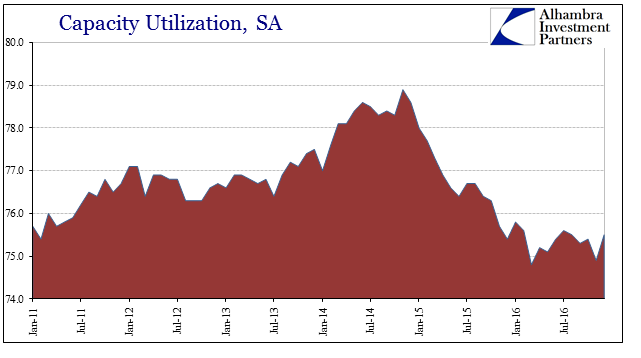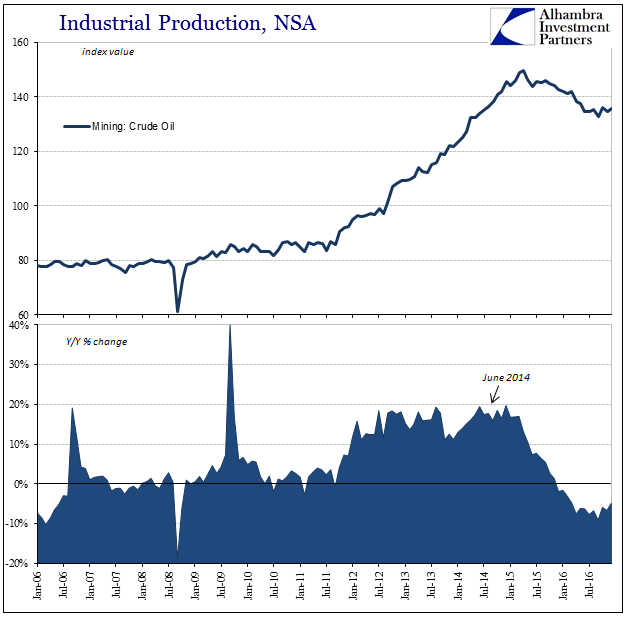 It is the motor vehicle segment that is most important out of the rest of the IP components, as it was automobile and truck manufacturing that supported what little growth was attained during the almost decade of aftermath. As far as motor vehicle assemblies, the estimate for December is 12.18 million (SAAR), which forms the most recent end of what is, again, a disconcertingly almost straight line. MV assemblies first reached 12.1 million as far back as, unsurprisingly, mid-2014, and peaked at just less than 13 million in July 2015 as all the "global turmoil" was about to be unleashed. Since that point, domestic production of autos has been stuck right around 12.1 million, the average over the last 17 months almost exactly that number.
Disclosure:
This material has been distributed fo or informational purposes only. It is the opinion of the author and should not be considered as investment advice or a recommendation ...
more