The Best Dividend Stocks With Yields Over 7%
The search for income will not be any easier in 2021 than it was for most of 2020. The U.S. Federal Reserve has vowed to keep rates low to support the economy as we deal with the pandemic's economic fallout.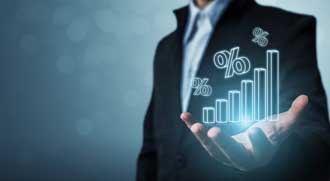 We can tell this from the Fed's projection at its August meeting. It doesn't look like we will see meaningful action toward higher interest rates until 2024 at the earliest.
But the best dividend stocks are still paying more than 7%. We're sharing them with you today.
The stock market has shaken off the pandemic thanks to actions taken by the Fed and stimulus packages from Congress. The continued move higher in stocks has removed many dividend stocks from consideration.
The only two ordinary stocks that provide an income of 7% or more are Altria Group Inc. (NYSE: MO) and AT&T Inc. (NYSE: T). On several occasions, we have suggested that on those rare down days in the stock market, income buyers who do not already own them should take a position.
Increasing investors searching for income will have to turn to alternative income opportunities from closed-end funds, master limited partnerships (MLP), REITs, and business development companies (BDC).
It may seem challenging to decide which income alternative investment to choose. But there is a simple strategy for determining which alternative investment opportunity is best at any given time.
Simply wait for a large insider purchase of the stock.
The people managing these assets have a good idea of how solid their loan portfolio is right now or how much volume is running through the pipeline and storage facilities. Closed-end fund managers know what assets they own and what steps the board may be preparing to take to narrow the discount to net asset value (NAV) or increase the dividend payout.
Keep in mind, insiders usually already own shares of the enterprise. No rule says they have to whip out their checkbook and make open market purchases of shares.
They are doing it because they believe they will collect a lot of dividends, and the value of the shares is going to increase over time.
Disclaimer: Any performance results described herein are not based on actual trading of securities but are instead based on a hypothetical trading account which entered and exited the suggested ...
more