The 2019 Manufacturing Recession
Based on Thursday's hard data reports, it looks like the manufacturing sector is heading into a recession, while the consumer is doing well. In an economy driven by consumer spending, that's a recipe for a modest economic slowdown, unlike 2008, perhaps closer to 2015. To be clear, this isn't a certainty especially since the latest consumer sentiment report was weak because of the trade tensions.
Economic Setup: How Important Is Manufacturing?
On the positive side, the trade war and economic slowdown have caused interest rates to fall which will provide a positive catalyst for the housing market which hasn't been doing well since 2018. Real residential investment growth has hurt GDP growth for 7 straight quarters. A rebound in housing and solid consumption growth brought about by positive real wage growth can prevent manufacturing weakness from causing an economic recession.
Manufacturing has shrunk as a percentage of the labor market because of automation. This explains why the economy can avoid a recession even if manufacturing does poorly. Industrial production growth might not get as weak in this recession because oil prices haven't recently cratered as they did prior to 2015-16. Therefore, there won't be a huge decline in mining output. The industrial production weakness in 2015 and 2016 didn't cause an economic recession. However, let's look at a counterpoint as to why manufacturing matters.
(Click on image to enlarge)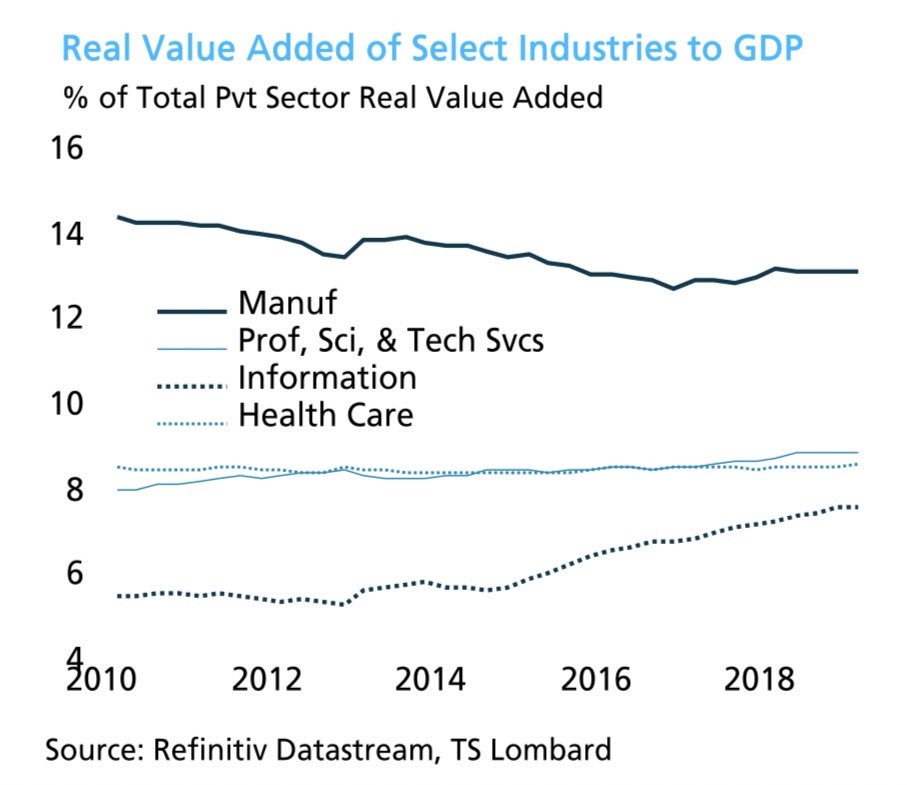 As you can see from the chart above, the manufacturing sector's percentage of total private sector real value-added is in the low double digits. It's higher than tech, professional, scientific, and tech services, and healthcare. Manufacturing still matters to the economy; it just doesn't matter as much to the labor market. This provides a defense to why we review it at all. It's also notable that the cyclical nature of manufacturing means it leads services. It also provides false recession calls such as in 2015-2016.
Disclaimer: Please familiarize yourself with our full disclaimer here.