Tesla Killer Lucid's SPAC Up 76%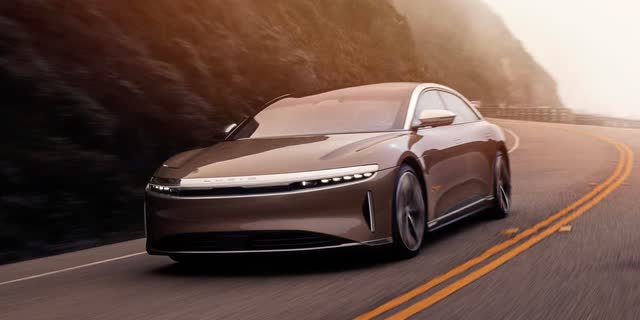 Churchill Capital Corp IV
$2 billion and change ($70 million is change at this scale) Churchill IV (CCIVU) is my biggest and best SPAC position and my second biggest overall position. Here's why.
The Bigger the better
First of all, SPAC Size Matters. I like big SPACs and I cannot lie. They get better deal flow and there is less competition from other SPACs of their size. Churchill IV is the second largest live SPAC, one of only five members of the billion dollar SPAC club and the second overall behind only Pershing (PSTH). When you buy a unit, you get a share of equity, free upside in the form of a fifth of a warrant that you can exercise later for $11.50 and free downside protection in the form of $10 of trust value. There is a great likelihood that they find a deal within their two year time window that ends on August 3, 2022 and a good shot that they find one in much less time than that. They didn't specify a sector which is my preference; it is best to be able to be opportunistic.
Who are those guys?
The sponsor team is led by Michael Klein, the axe in SPACs.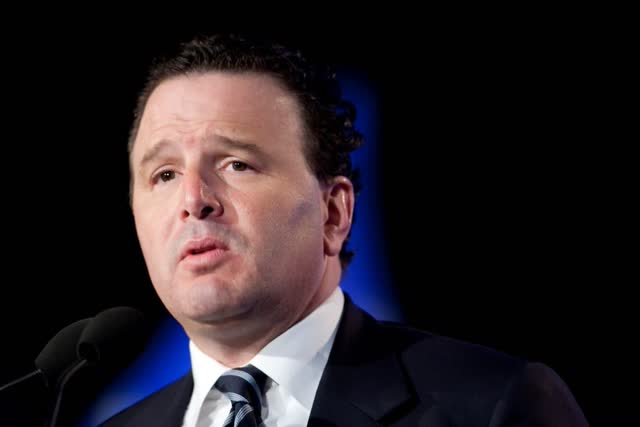 He has held various senior positions at Credit Suisse (CS) and Citi (C) but mostly he just consumes SPAC promotes like hot dogs at an eating contest.
What have you done for me lately?
The first Churchill SPAC bought Clarivate (CCC). Churchill II (CCX) announced a deal with Skillsoft and Global Knowledge. Churchill III (CCXX) bought MultiPlan (MPLN).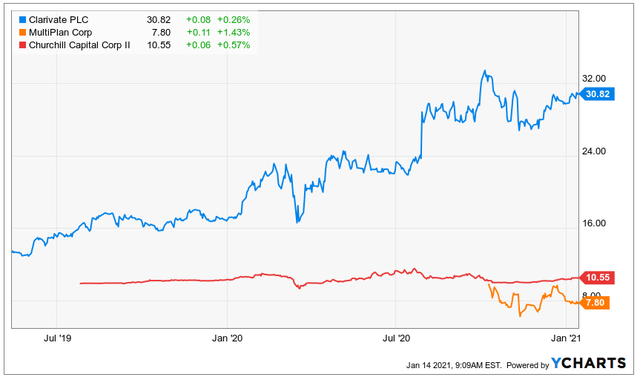 So far, the score is one win, one tie, and one loss.
Worth risking $0.02 and that's my $0.02
If they fail to find a deal, it will cost the sponsors $43 million. Outside passive minority investors will recover their $10 capital from the trust value, but warrants will be worthless. I first disclosed this position in early September, writing that,
Today, there are four SPACs seeking business combinations with over a billion dollars in their trust accounts – PSTH, CCIVU, BFTU, and WPFU – and all four are worth owning. Based on information and belief, all four are on track to announce business combinations well before their liquidation dates. My confidence in their consummating deals leads me to focus on their warrants. One can buy WPF+ warrants in the open market today; for the other three, one can buy units and then split them when that option becomes available in the weeks ahead.

These overdogs will be able to buy companies that are already big enough to absorb significant public company costs related to reporting and regulatory compliance. Their underwriters are meaningfully incented to aid them in lining up high-quality deals. Their fame opens doors. When they launched, there was wall-to-wall coverage on Bloomberg (itself a potential SPAC target) and CNBC. All that is free/earned media that doesn't cost sponsors a penny but catches the attention of potential targets. In the SPAC world, the bigger you are, the harder targets fall for you…

…I get no points for creativity for investing in PSTH units, CCIVU, BFTU, and WPFU, but they are all safe and potentially extremely profitable.
Members of Sifting the World get exclusive ideas and guidance to navigate any climate. Get started ...
more