Social Media Networks Vow To Censor "Misinformation" About Coronavirus
Guest post by Daisy Luther via The Organic Prepper blog,
Social media giants like Facebook (FB) and Twitter (TWTR), and search engine Google (GOOG, GOOGL) announced their intentions to censor – um, crack down on – so-called "misinformation" about the coronavirus that is spreading across the globe.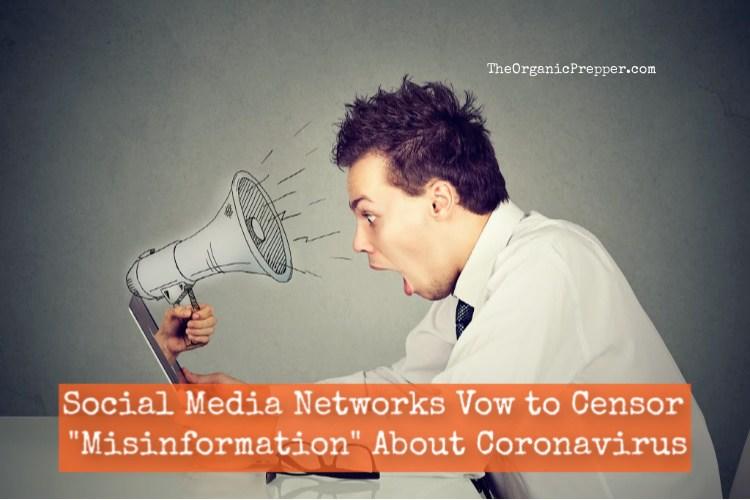 Before we get started here, admittedly, there's some absolutely terrible advice out there about preventing or curing coronavirus. There are some really wild stories about the origin of the virus which may or may not be true. But the issue here is that social media networks are setting themselves up as the arbiters of truth, making it seem as though the rest of us are incapable of separating good information from bad information.

Facebook is taking action.
Kang-Xing Jin, Facebook's head of health, wrote:
Our global network of third-party fact-checkers are continuing their work reviewing content and debunking false claims that are spreading related to the coronavirus. When they rate information as false, we limit its spread on Facebook and Instagram and show people accurate information from these partners. We also send notifications to people who already shared or are trying to share this content to alert them that it's been fact-checked.

We will also start to remove content with false claims or conspiracy theories that have been flagged by leading global health organizations and local health authorities that could cause harm to people who believe them. We are doing this as an extension of our existing policies to remove content that could cause physical harm. We're focusing on claims that are designed to discourage treatment or taking appropriate precautions. This includes claims related to false cures or prevention methods — like drinking bleach cures the coronavirus — or claims that create confusion about health resources that are available. We will also block or restrict hashtags used to spread misinformation on Instagram, and are conducting proactive sweeps to find and remove as much of this content as we can. (source)
So, don't worry, friends. "Independent fact-checkers" from the Ministry of Truth will protect you from conspiracy theories and false claims.
Maarten Schenk from Lead Stories, a fact-checking organization working with Facebook, scoffed at some of the "conspiracy theories" he's seen in a comment to CNN.
Disclosure: Copyright ©2009-2020 ZeroHedge.com/ABC Media, LTD; All Rights Reserved. Zero Hedge is intended for Mature Audiences. Familiarize yourself with our legal and use policies every ...
more