EC

Netflix Stock: The Cost Of Global Domination
Two of the world's largest brands entered subscription video on demand (SVOD) over the past quarter, which means the upcoming Netflix (NASDAQ:NFLX) earnings report on January 21 will be under pressure. However, financial analysts are overestimating Disney (NYSE:DIS) and Apple (NASDAQ:AAPL), as these companies will not easily catch up to the top streaming subscription service over the long term.

Netflix has a Firm Hold on OTT
There are more than 190 OTT providers to keep track of in the United States. This has the market in a frenzy, which is one reason we see whipsaw reactions to news of any kind in the OTT market. For instance, Netflix shed $24 billion in market value following the second-quarter earnings release in July. This could happen again, but in the long run, it won't matter.
According to Digital TV Research, the OTT market is set to grow from $68 billion in 2018 to $159 billion in 2024. Subscription services will grow by $51 billion between 2018 and 2024, reaching a total of $87 billion.
Netflix is the top subscription service in the OTT market by a wide margin, claiming 87% of OTT households in the United States. In Western Europe, Netflix has a penetration of 70-87% in English-speaking countries and 55-64% in non-English speaking countries.
Disney forecasts Disney+ to have between 60 million and 90 million subscribers by 2024. This is despite many free promotions. Netflix currently has 158 million paying subscribers and is adding roughly 28 million more per year. With this level of penetration, for Netflix, the opportunity that remains is global.

Netflix's Stock Price Hinges on Global Logistics
Before third-quarter earnings, I had pointed out that Netflix's opportunity is global, and this is why the balance sheet looks frightening to value investors. The stock price has most certainly reflected a market concerned with the company's debt as the stock has posted 0.17% returns - or nearly 0% - over the past 12 months, while Disney and Comcast (NASDAQ:CMCSA) are up 30% and 31%, which is more in line with the broader market.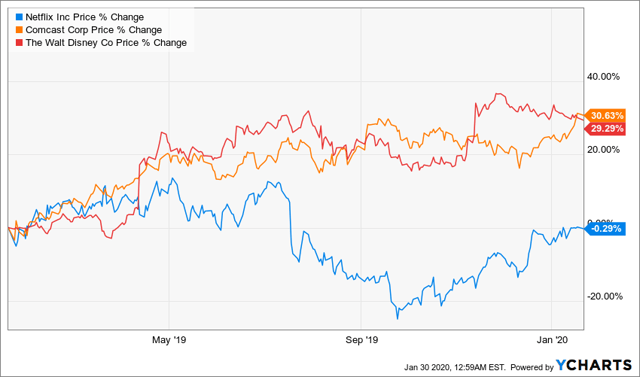 Source: YCharts - Chart shows Netflix had flat gains going into earnings on January 21st compared to Comcast and Disney at 30%.
The company is in the red with free cash flow, due to producing content for many geographic regions. However, as broadband coverage increases globally, and as 5G delivers faster speeds to developed countries, Netflix is well situated to grow its already-dominant user base and to reclaim these costs. Notably, Netflix's operating margins stand at 18.9%. (More on broadband penetration below).
There is plenty of evidence that domestic OTT players will not be able to handle the logistics of going global. For instance, while Friends and The Office are leaving Netflix in the U.S., many of the shows will remain with Netflix internationally. According to Amy Reinhard, VP of Acquisitions at Netflix, only Disney can compete in international distribution at this time. Netflix also partners with companies like Warner Bros. for international film rights.