Tale Of The S&P 500 Tailwind
On the morning of Wednesday December 26, the first trading day after the Christmas Day holiday, the ES (e-mini March S&P 500)) plunged to a new three-month corrective low at 2316.75, a full 21.4% beneath its September 21 high. In the hours thereafter, ES reversed strongly to the upside, from an acute oversold condition, and with a bit of prompting from the POTUS.
In my closing commentary in our member room at MPTrader.com, I wrote::
"Today, the besieged bulls finally got some payback after weeks of downside, and days of relentless late-session selling pressure. After an "iffy" start to the session, today turned out to be just the opposite of the prior 4 days, exhibiting a bullish intraday profile and strength during the last 20 minutes of trading. Indeed, the last few minutes of trading morphed from prior day's long liquidation events into FOMO — Fear of Missing Out — on a powerful upside reversal day that should have momentum tailwinds to the upside …
"Technically, there should be enormous near-term tailwinds generated by today's key upside reversal that point to a challenge of the upper channel boundary at 2540, into the 2560/70 overshoot target zone before this rally is exhausted."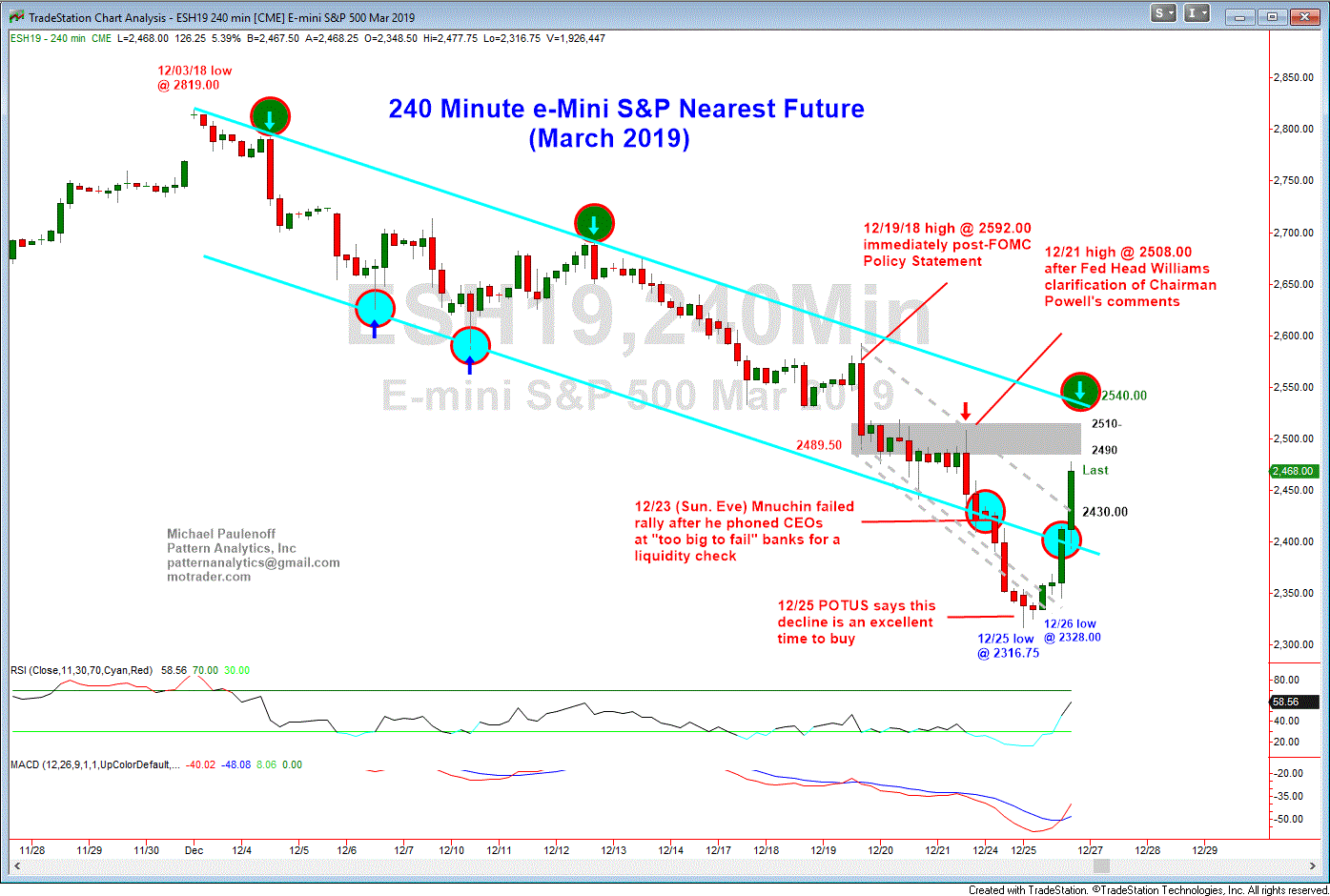 In the aftermath of the Christmas Upside Reversal, last week ES (e-Mini March S&P) traversed a range from 2438.50 to 2539.25, or 100.75 S&P points (4.1%), and ALL OF IT occurred on Friday after Jay Powell acquiesced to the wounded easy money masses, appearing to become a kindler, gentler, and more investor-sensitive Fed Chairman.
The "Powell Thrust" propelled ES up through the aforementioned "upper channel boundary at 2540," confirming my expectations for momentum tailwinds in the aftermath of the powerful December 26th Bullish Engulfing Candle (aka Key Upside Reversal Day).
Did the Powell Pop expend the remaining upside momentum from December 26? And if not, where might ES go from here? In that Friday's 100 S&P point up-day also represented a Bullish Engulfing Candle (aka Key Upside Reversal Day) — the second in the past 7 sessions — I am expecting follow-through strength that has as its next target zone 2580-2600, as noted on our latest chart.