Stocks Are Still Expensive And Momentum Is Negative: Be Careful Out There
Successful investing does not need to be too complex or sophisticated. At the end of the day, it all comes down to relying on time-proven return drivers to make investment decisions based on solid statistical evidence as opposed to emotions and speculation.
We can basically analyze the market environment based on two main factors: valuation and momentum. Ideally, you want to have both factors on your side, meaning that you want to buy aggressively when stocks are cheap and momentum is favorable. On the other hand, when valuations are expensive and momentum is negative, this tends to produce disappointing performance in terms of returns and downside risk over the long term.
Unfortunately, the big picture for U.S. stocks in terms of both valuation and momentum together does not look pretty at all.
The Two Main Drivers To Consider
Valuation matters in the long term. Price is what you pay, and value is what you get. You want to get as much value as possible when you purchase stocks, because the valuation you are paying can have a considerable impact on subsequent returns.
The CAPE ratio is a commonly used valuation metric for stock markets, and the data shows that it can have a huge impact on returns. The table below is from a research paper entitled Global Value: Building Trading Models With The 10 Year CAPE. The data shows how the starting CAPE ratio impacted returns over different time periods in 32 countries from 1980 to 2011.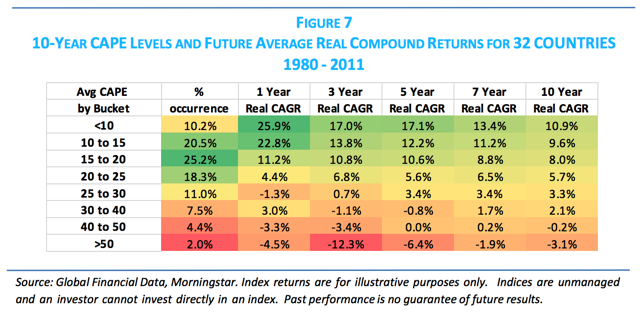 Global Value: Building Trading Models With The 10 Year CAPE
Sometimes, valuation does not work as expected. An expensive market can always get more expensive when risk appetite continues increasing over time. Besides, there is always the possibility that the economic fundamentals and corporate earnings will outperform expectations. In other words, markets and stocks can grow rapidly enough to justify an expensive valuation.
Also, buying cheap stocks does not guarantee future returns. When the fundamentals are deteriorating in a permanent way, even buying at a relatively low valuation can turn out being an expensive mistake.
Disclosure: I am are long SDS.
Disclaimer: I wrote this article myself, and it expresses my own opinions. I am not receiving compensation for it. I have no business relationship with ...
more