WRK: The One Cyclical Stock I'm Buying
Photo by Austin Distel on Unsplash

If you want to make some money (and quickly), buying cyclical stocks is one way to do it… if you time it just right.
Investors in the offshore drilling space experienced this recently after Transocean Ltd. (RIG) doubled from December 2022 to February 2023.
Coal investors saw it in 2021 when Peabody Energy Corp. (BTU) ripped from $4 to $18 in the span of just a few months.
Today, I'm recommending a cyclical stock that has its own shot at doubling from current prices.
The end markets this one plays in aren't as volatile as offshore oil or coal mining. And its balance sheet is in pretty good shape, so the chances of getting wiped out are extremely slim.
But it's the upside case that excites me…

Paper Products
WestRock Co. (WRK) is one of the largest integrated producers of paper products in North America. It has two main segments of paper products. The first is corrugated packaging, better known as cardboard. The second is consumer packaging—think paper packaging that holds fast food, toothpaste, or beverages.
Right now, the industry is in a bit of a slump.
According to Bank of America, US cardboard box shipments were down 8.3% in the most recent reading. And industry insiders overwhelmingly expect prices for containerboard to fall over the next few months.
This is obviously not good news for a company such as WestRock. It wants shipments flat to up, and it wants pricing to go up as well.
But that's a cyclical business for you. And for us, as investors, this negative sentiment is more than factored into the price.

Valuation
WestRock, had you known all these industry changes in pricing and expectations, would have been a good short a year ago.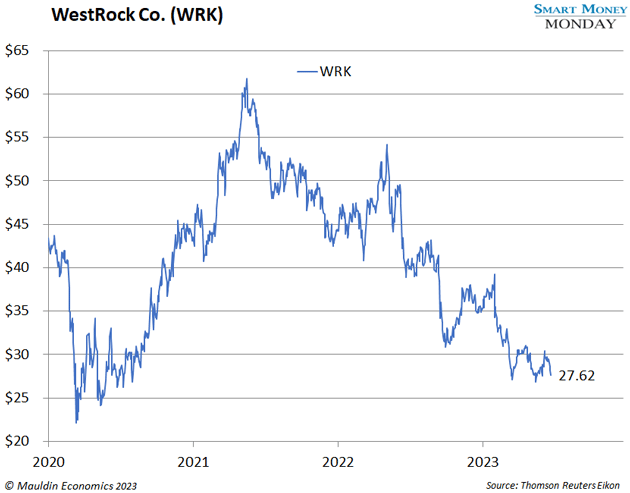 Fortunately, today, it's a good long idea.
First off, this is a pretty good business. It's generated positive free cash flow for the last 10 years, and it's used that free cash flow to pay dividends, repurchase stock, and buy up competitors.
During COVID, the company got spooked and cut its dividend. The market didn't like that, obviously, but going forward, the company is committed to a $1.10 per share dividend. That's a 10% increase over the last fiscal year when they paid out just $1 per share.
A steady and growing dividend is a great sign. And at today's price for WestRock, you're not paying much for this cash stream. At $27.60 per share, WestRock has a 4% dividend yield.
The second part about WestRock is that it's cheap. Yes, it's cyclical. But even on a worst-case-scenario basis, the company will still make money. It had previously guided to a 2025 target of $5.50 per share in free cash flow. That seems achievable, but it also needs the market to cooperate (i.e., WestRock needs to see pricing for its products go up).
If it can hit that, the stock today is trading for a little more than 5X forward free cash flow. That's extremely cheap. WestRock is a massive player in a "need to have" industry. Five times free cash flow is too cheap.
On a more reasonable basis, I think WestRock can generate at least $1 billion per year in free cash flow. That pencils out to close to $4 per share in free cash flow. So, at today's $27 price, again, it's cheap—at just 7X free cash flow.
The third and final reason why I like WestRock here is how it plans to grow. Historically, WestRock has been an acquisitive company. It was created in 2015 as a merger between two large paper companies. It's been very active on the M&A front since then.
But now, it's in "digest" mode. The company needs to digest these acquisitions and find areas where it can cut costs. While pricing for containerboard is not in the company's control, the costs to make it is. The company outlined a $1 billion cost-savings plan over the next few years. This is in its control, and it appears focused on it.
WestRock has already begun making major changes. It announced the closure of its Panama City, Florida, plant last year. And just last month, it announced it was closing its North Charleston, South Carolina, plant.
In a cyclical industry, sometimes you must take capacity out of the market. This is the right decision for the company and for the long term.

Greenhaven Associates
There's one other point worth making about WestRock…
Just last week, a well-respected value investing shop called Greenhaven Associates announced that it now owns over 5% of WestRock.
Greenhaven Associates is essentially a family office that manages money for two wealthy families: the Wachenheim and Wallach families. Coincidentally, these families made their money in the distribution of paper products—that is, the types of products WestRock manufactures!
Greenhaven Associates is still involved in that business today through Central National Gottesman.
It has a unique insight into the industry and its day-to-day performance. This gives it a leg up on the rest of us. And what has it decided to do with this information? Load up on shares of WestRock.
Tying all this together, WestRock Co. (WRK) is a buy. Is it a buy-and-hold forever? We'll see.
With cyclical stocks, you must know when to exit. And to me, that looks to be 50%–100% higher than today's share price. I'll take that.
---
More By This Author:
Small Caps Are Starting To Work—and We're Likely Still Early
There's Only One Way To Beat The Market
Trillion-Dollar Club—Bravo, Nvidia