Why This 'Strong Buy' Stock Looks Dirt Cheap Right Now
Century Communities, Inc. (CCS) is a large U.S. homebuilder that operates in over 40 markets from California and Texas to Illinois. CCS and many U.S. homebuilders benefitted from the covid housing boom. But Century Communities was thriving well before 2020 and the highly-ranked Zacks stock is starting to look like a steal at these levels.
The Quick Growth Story
Century Communities operates under a few brands and works in nearly every aspect of the building and selling process from the start to finish. CCS averaged 34% revenue growth in the past five years, including 33% expansion in FY21 that helped it pull in $4.2 billion. Last year also marked the firm's 19th consecutive year of profitability and its most profitable year ever, with its adjusted earnings up 136% to $14.47 per share.
Century Communities is focused on high-demand housing markets around the country that also have low availability of resale homes. The company continues to benefit from the millennial-driven housing market, with 75% of its deliveries in the entry-level range in 2021.
Millennials are now the largest generation and 6.4 million new households are expected to be formed by 2025. And its backlog climbed 35% YoY to 4,651 homes, which is valued at nearly $2 billion.

Image Source: Zacks Investment Research
Zacks estimates call for Century Communities to post another 15% revenue growth in FY22 and 19% higher adjusted earnings. CCS consensus earnings estimates have surged since its early February report on the back of strong guidance, with FY22 up 13% and FY23's 18% higher.
The bottom-line positivity helps Century Communities land a Zacks Rank #1 (Strong Buy). And CCS has topped our EPS estimates by an average of 40% in the trailing four quarters.
Other Fundamentals
Wall Street is worried higher mortgage rates and rising costs will hurt homebuilders. The higher costs are showing up across the economy and Century Communities is doing all it can to pass those rising prices onto consumers in the form of higher selling prices. Mortgage rates were already on the rise off their covid lows of around 2.65% in January 2021, having reached 3.45% by the early weeks of 2022.
The 30-year fixed rate mortgage did, however, surge nearly 1% since then to hover at 4.42%. But this is still below where it was in parts of 2018 and within the range of where they have been in the past decade. Plus, mortgage rates are historically low if we expand our view to pre-financial crisis levels. This should help Century Communities and other homebuilders, especially considering the positive demographic trends.
Furthermore, home prices are still surging as the demand far exceeds the supply. Some reports even suggest the U.S. housing market remains millions of homes short of demand even after the two-year housing boom. Century Communities' Building Products-Home Builders industry currently lands in the top 30% of over 250 Zacks industries despite the headwinds.
(Click on image to enlarge)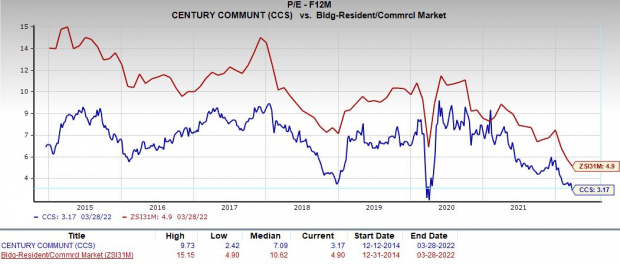 Image Source: Zacks Investment Research
Bottom Line
Century Communities shares have surged 140% in the last three years to top its industry's 54% climb and the S&P 500's 63%. The CCS outperformance extends over the past five years as well. CCS stock has been on a rather wild ride in the last 12 months, with some big swings. This includes a roughly 30% drop from its December records.
CCS stock did pop 5% through mid-afternoon trading Tuesday to around $58 per share. Investors might also be pleased to know that Century Communities trades 68% beneath its current Zacks consensus price target of $97.50 a share.
The recent wave of selling, coupled with its strong earnings outlook helps Century Communities trade near its all-time lows at 3.2X forward 12-month earnings vs. its industry's 5X. The only time the stock's valuation has looked more enticing was at the market's covid selloff lows.
Disclaimer: Neither Zacks Investment Research, Inc. nor its Information Providers can guarantee the accuracy, completeness, timeliness, or correct sequencing of any of the Information on the Web ...
more