Why Analysts Are Bullish On Broadcomm After Q1 Print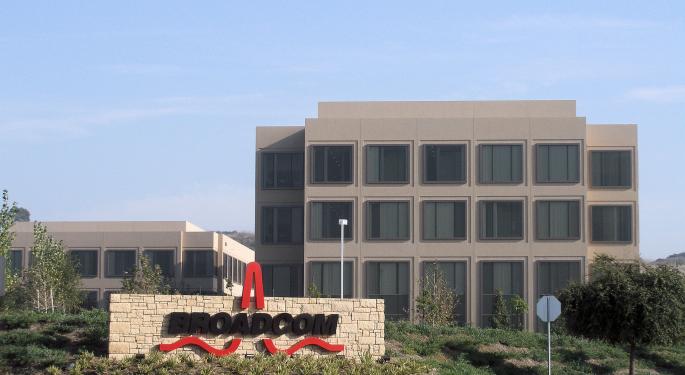 Chipmaker Broadcom Inc. AVGO reported late Thursday its fiscal-year 2021 first-quarter results, which came in ahead of expectations.
The Broadcom Analysts: Rosenblatt Securities analyst Hans Mosesmann reiterated a Buy rating on Broadcom shares and raised the price target from $470 to $540.
Raymond James analyst Chris Caso reiterated a Market Perform rating.
The Broadcom Theses:
Rosenblatt Left Impressed With Broadcom's Handling of Semi Cycle: Broadcom's handling of the current semiconductor cycle is impressive, Rosenblatt analyst Mosesmann said in a note. The company started the process of managing supply nine months ago, much earlier than the industry, and implemented a non-cancellable booking policy that now has covered about 90% of 2021 shipments, the analyst noted.
With its model of targeting leadership products to flagship customers, Broadcom's management has good visibility into what these customers need, Mosesmann said.
From a product perspective, the company is executing flawlessly in its business, including networking, wireless, storage, and broadband semiconductor strategic segments, plus infrastructure software stability, he added.
Delving on the quarterly results, Mosesmann said the better-than-expected revenues were due to a sequential increase in both the semiconductor solutions and infrastructure software segment. Higher top-line growth and lower operating expenditure helped the company exceed bottom-line expectations, the analyst said.
There's Upward Bias to Estimates, Raymond James Says: Broadcom's semiconductor solutions sales rose 17% year-over-year in the first quarter, thanks to a 52% jump in wireless business due to the delayed iPhone launch, Raymond James analyst Caso said.
Networking sales, the analyst said, rose 15%, driven by cloud data center and telco spending. The 80% increase in bookings supports growth through the balance of the year, he added.
© 2021 Benzinga.com. Benzinga does not provide investment advice. All rights reserved.