Which Dividend Payers Were Naughty In 2021?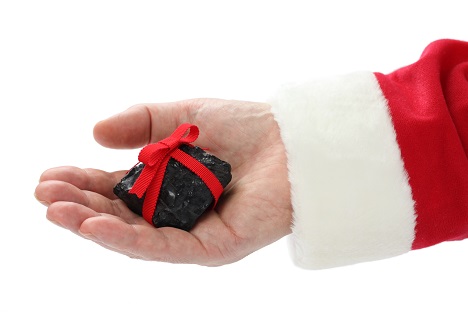 There are only a couple more days to worry about whether you've been naughty or nice this year.
But when it comes to dividends, the final judgment is already in for most stocks.
It was a good year for dividends. With profits soaring, many companies were able to raise their dividends. For the 12 months ending September 30, 2,678 companies increased or initiated a dividend, while just 177 lowered their payouts.
In 2021, I wrote about seven companies that were in serious danger of lowering their dividends in the next 12 or so months. Those stocks were rated "F" by SafetyNet Pro.
Those seven companies were Nordic American Tankers (NYSE: NAT), Icahn Enterprises (Nasdaq: IEP), Suburban Propane Partners (NYSE: SPH), Apollo Commercial Real Estate Finance (NYSE: ARI), AGNC Investment Corp. (Nasdaq: AGNC), Orchid Island Capital (NYSE: ORC) and Annaly Capital Management (NYSE: NLY).
In March, I compared Nordic American Tankers to that one crazy friend you have. You know the one – the friend who's a ton of fun but also a train wreck.
Sure enough, on August 30, Nordic American Tankers slashed its dividend in half to just a penny per share. The dividend is now down 95% from where it was in August of 2020.
When I wrote about Icahn Enterprises, also in March, I warned that the company's expected $81 million in profits wouldn't be enough to sustain the dividend. The news gets worse, as Icahn Enterprises is now forecast to lose money in 2021 before rebounding to $160 million in net income in 2022. That still won't come close to covering the dividend. I still expect the dividend to be lowered in the near future.
When I looked at Suburban Propane Partners in May, one of my concerns was that, while free cash flow was expected to be high enough to pay the dividend, it was declining. Combine that with two recent dividend cuts, and there was a lot to be worried about.
It turns out that free cash flow finished the fiscal year (ending in September) up, not down. Wall Street expects earnings to be lower in fiscal 2022, and I believe reduced earnings, along with higher capital expenditures, will lead to lower free cash flow. So I still believe a dividend cut is very possible in the next year.
My July review of Apollo Commercial Real Estate Finance had a story similar to that of Suburban Propane. Net interest income (the measure of cash flow for mortgage real estate investment trusts) was declining, and the company had reduced its dividend twice in the past 18 months.
For the first nine months of 2021, net interest income dipped slightly. However, it is forecast to improve in 2022, and as a result, SafetyNet Pro has upgraded the stock to a "D." There's still plenty of risk for a dividend cut, but the situation has gotten slightly better.
AGNC Investment Corp. has a long history of dividend cuts, and in July, I said another one is likely coming. The company has cut its dividend nine times in the last 13 years, never once raising it since its first decrease.
There's little doubt in my mind that another one is on the way.
In 2019, I warned investors that Orchid Island Capital would soon slash its dividend. It did so four months later. Then, in September, my colleague Kristin Orman reviewed the stock again. And like AGNC's bad reputation, Orchid Island's track record of dividend cuts makes it likely another cut will happen.
Just last month, I told Wealthy Retirement readers that Annaly Capital was on my naughty list in 2020 because, prior to last year, net interest income had fallen every year for nearly a decade.
The company turned that around in 2020. It should repeat that feat again in 2021, as net interest income is substantially higher than last year's through the first three quarters.
But Annaly has lowered the dividend five times since 2011.
There's no reason to think that the company wouldn't cut its dividend again if net interest income reverses.
So none of these seven improved enough to make the nice list. And for most of them, a dividend cut is still quite likely in the coming year.
A lump of coal for Nordic American Tankers, and we'll see what happens to the rest of them in 2022.
Disclaimer: Nothing published by Wealthy Retirement should be considered personalized investment advice. Although our employees may answer your general customer service questions, they are not ...
more