EC

What Will Q3 Bank Earnings Show?
The large money-center banks that will kick-off the 2021 Q3 earnings season for the sector this week have enjoyed an impressive run lately, helping these stocks handily outperform the broader market this year.
You can see this in the chart below that plots the year-to-date performance of JPMorgan (JPM - Free Report) and Bank of America (BAC - Free Report), which will report September-quarter results before the market's open on Wednesday (10/13) and Thursday (10/14), respectively.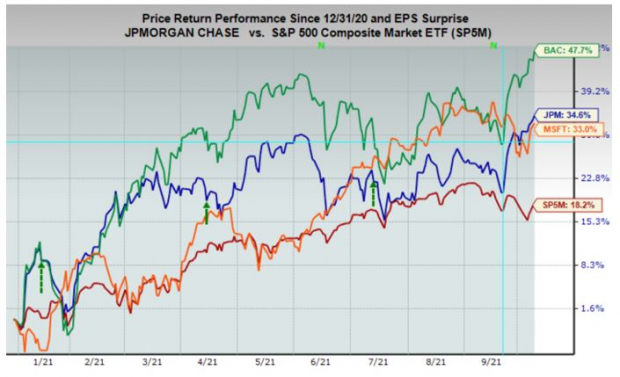 Image Source: Zacks Investment Research
We added Microsoft (MSFT - Free Report) to the chart above (orange line) to give you a sense of how the bank stocks have fared relative to one of the strongest performing mega-cap tech stocks. The red line in the chart represents the S&P 500 index, which is up only +18.2% and has clearly lagged these three stocks.
With respect to reserve releases, the bulk of the activity took place in the first half of the year. But we do expect some additional reserve releases in the Q3 reports, given the stable macroeconomic and credit market conditions.
On the core banking side, we don't expect any notable improvement in performance, with the market looking for evidence that the long-awaited loan growth trend has finally arrived. Net interest margin likely ticked up in Q3 on the back of the September rise in treasury yields.
While we don't expect much on the core banking side, we do expect strong numbers in the capital markets business, particularly on the investment banking side, while trading revenues are faced with tough comparisons to the year-earlier period. Trading revenues are expected to be below the year-earlier period, with fixed income weakness offsetting equities strength. The advisory side of the business continued to hum, with M&A activities continuing their record volume from the preceding period.
For the Zacks Major Banks industry, which includes these major banks and account for roughly 45% of the Finance sector's total earnings, Q3 earnings are expected to be up +11.2% on +2.5% higher revenues. This would follow +298.1% earnings growth on -2.1% lower revenues in the preceding period (2021 Q2).
Disclosure: Zacks.com contains statements and statistics that have been obtained from sources believed to be reliable but are not guaranteed as to accuracy or completeness. References to any specific ...
more