Wells Fargo Is The Best Bank Stock To Buy Now
Bank stocks have tremendous tailwinds right now, and if you're looking to ride them higher, then Wells Fargo & Co. (NYSE: WFC) is the best of the bunch.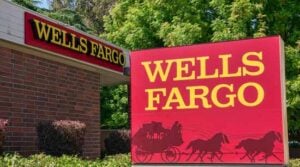 You see, bank stocks are finally hitting their stride, and the latest rally is going to carry them higher through the economic recovery.
When the pandemic hit last year, bank stocks took a terrible tumble. Unlike some other sectors of the stock market, once bank stocks fell, they stayed down.
There were fears that we would see widespread defaults on mortgages, credit cards, and auto loans as consumers struggled to make ends meet. Even more concerning was the possibility of widespread defaults in commercial real estate loans and other loans to businesses.
Even fiscal and monetary relief packages from the Fed and Congress did not help alleviate investors' concerns about bank stocks.
It wasn't until it was obvious that the vaccine is ending the crisis and the economy is going to come back that investors were comfortable buying bank stocks.
Comfortable is an understatement…
Why Bank Stocks Are Rallying Right Now
Investors have been ecstatic about buying back into the industry at relatively low valuations compared to the rest of the market.
Banks stocks took off and have rallied more than 70% in the past six months.
It will go higher from here.
Since the announcement of the availability of vaccines that will allow the world to get back to normal, banks have gotten more good news. Credit losses from the pandemic have been much lower than originally feared.
The Fed reviewed the stress test results of the nation's biggest banks and began allowing stock buybacks to resume. Most banks have been able to maintain and even increase their dividend payouts.
In the past few weeks, banks have gotten what may well be the biggest gift of all: Long-term interest rates have begun to move higher.
Traders have been anticipating better-than-expected economic growth after the U.S. Federal Reserve raised its 2021 GDP growth forecast to 6.5%.
Disclaimer: © 2021 MoneyShow.com, LLC. All Rights Reserved.