Walmart Is Not The Perfect Stock. So What?
Can you believe it?
Walmart (WMT) is becoming a battle stock. Gone are the days where Walmart was all about the dividend and same-store sales.
This has introduced an interesting dilemma. There is now a fundamental shift from thinking of Walmart as the gold standard of long-term holds, to short-term knee jerks.
It's old news that analysts and the general investing public (myself included) are keen to see Walmart gain more e-commerce market share. So far that hasn't happened.
Amazon.com (AMZN) is the clear leader and their advantage continues to grow.
Q4 market share numbers are not available yet, but even when you look at Q3 market share, Amazon is destroying the competition.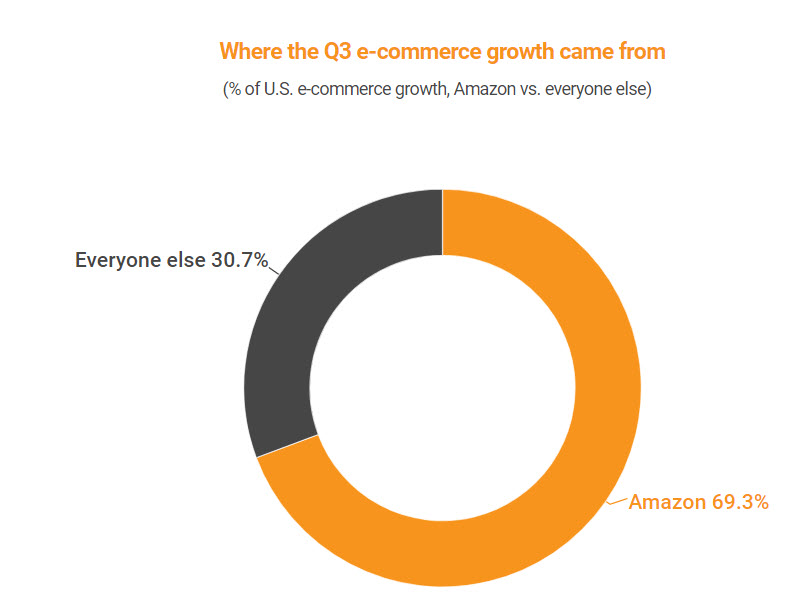 Source: Internet Retailer estimate, U.S. Commerce Department
Now combine this Q3 chart to the type of traffic and sales expected as Q4 rolls around. Think Thanksgiving, Christmas, end of year sales and promotions. The estimated number for Amazon's total 2017 market share is at 44%.
But why am I talking about Amazon?
The point is to show that the Amazon wall is supremely high and difficult to penetrate. Amazon's flywheel is in full motion and is spinning at breakneck speeds. Walmart is still trying to warm it's engine.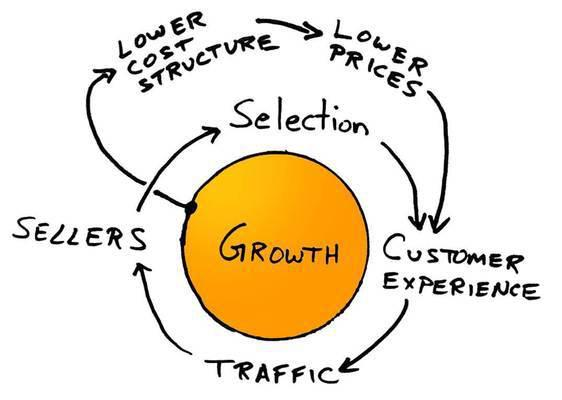 Amazon Flywheel | Source: The Everything Store
Putting things into perspective and context is important.
Walmart is a small fry compared to Amazon's online reach and competitive advantage. Walmart is a chimpanzee trying to overthrow King Kong at the moment. There's a lot of training that this little monkey needs to work on before it makes up more ground. But the argument is the same vice versa.
However, on the online front, here's a small list of Walmart disadvantages causing people to shop on Amazon.
There is no fulfillment option like Fulfilled By Amazon (FBA) for sellers to delivery goods quickly. No ecosystem to lock sellers in.
Search functionality is dumber and far below Amazon's algorithms.
Lack of enticing features for 3rd party sellers like PPC advertising.
Product pages are inferior with less information.
Less social proof