Wal-Mart And Jet.com: How Does The Combination Compare With Amazon?
Wal-Mart will acquire Jet.com in a bid to expand its e-commerce efforts
Wal-Mart Stores (NYSE: WMT) announced that it is acquiring Jet.com, a web retailer, and it signed a deal for $3.3 billion in stock and cash for the acquisition. The move comes as Wal-Mart's sales have weakened as e-commerce has greatly expanded versus brick-and-mortar store sales. Wal-Mart's acquisition demonstrates that the CEO finds it important to strengthen Wal-Mart's e-commerce presence as it faces existential threats from competitors such as Amazon.com (NASDAQ:AMZN).
Wal-Mart has its own e-commerce site, Walmart.com, which it started more than 15 years ago. Still, it has always focused on its core brick-and-mortar business, treating its e-commerce sales as secondary. The acquisition of Jet.com signals that Wal-Mart is refocusing how it views its e-commerce business, which may help to improve its overall profits and strengthen its sales.
Wal-Mart v. Amazon
Amazon has demonstrated explosive growth, and all signs point to it expanding even further. For its year-to-date figures, Amazon has increased by 14 percent. In its second quarter, Amazon reported earnings per share of $1.78. For that quarter, year-over-year net income was up by 900 percent from the same quarter in 2015. Amazon's foray into cloud computing has been a big driver for the company. Its revenue was up by 58 percent in the second quarter for its cloud-computing arm alone. Amazon Web Services reported a net income that was higher than Amazon's entire e-commerce business for last quarter.
In 2015, Wal-Mart had almost $14 billion in sales from its e-commerce business. By contrast, Amazon earned $107 billion during the same year. In the last quarter, Wal-Mart saw an increase in its e-commerce business of 7 percent. For the same quarter, Amazon saw an increase in its e-commerce business of 31 percent.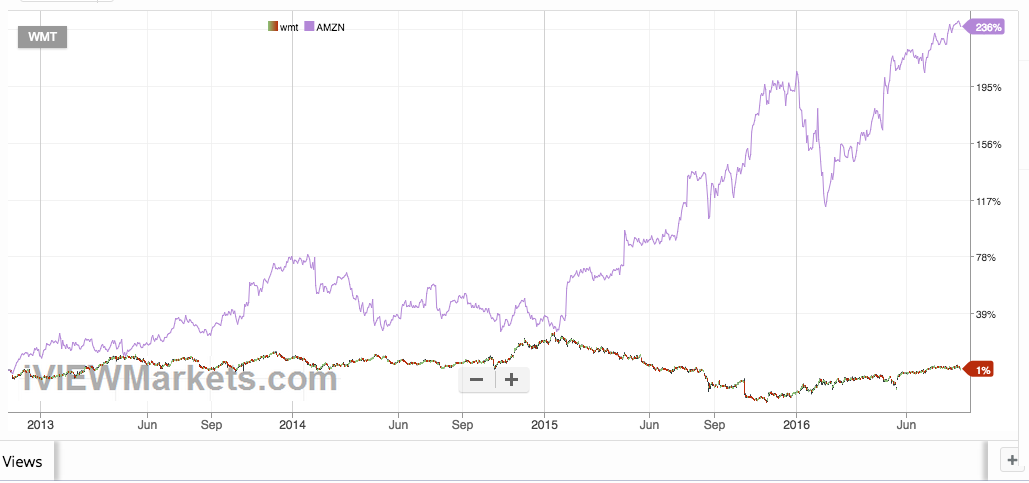 Conclusion: We're Cautious on WMT
Disclosure: No position.
I have no business relationship with any company whose stock is ...
more